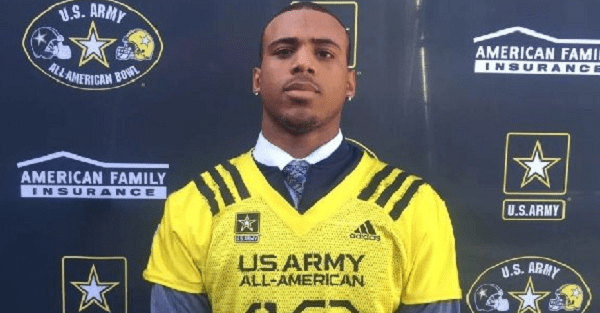 @d1sportsnet/Twitter
@d1sportsnet/Twitter
Five-star safety Jaiden Woodbey stunned quite a few people when he flipped from Ohio State to Florida State. It came seemingly out of nowhere and the Seminoles might have gotten some help from the most unlikeliest of places: Twitter.
The general rule for fans of any team is to not tweet at recruits because they're all 17 and 18-year olds who are trying to make a big decision on their future. They don't need extra pressure from grown adults living vicariously through them. Having said that, it appears that Woodbey actually listened to someone who tweeted at him and that got FSU going in his recruitment.
One Twitter user was being playful (and in no way malicious) with Woodbey when he tweeted this:
Woodbey then replied with this:
And what happened after that is pretty amazing. Woodbey landed an offer from the Seminoles not even six hours later:
He then took an official visit to Florida State four days later on Dec. 16. However, Woodbey had an eye on Florida State for some time as he tweeted comparison of himself to former Seminole great Jalen Ramsey and projected first-rounder in 2018's NFL Draft Derwin James.
Of course, people will want to attribute that initial Twitter reply as the reason why Woodbey flipped, but that is certainly not the only or even the biggest reason he did it. There were certainly other factors like his ability to start right away at Florida State or it could even be that he expects them to run a different scheme with their new staff.
Woodbey became Florida State's top commit of the 2018 class, and he helps strengthen the quality of a class that is really lacking in depth right now. head coach Willie Taggart will have a lot of work to do over the next six weeks to fill out the class, but Woodbey definitely helps provide a nice cornerstone as Taggart and his staff get to work.
The 6-foot-2, 204-pound safety out of California ranks as the No. 2 safety in the class and No. 4 recruit in the state as well as the No. 27 recruit overall according to 247Sports. He also had offers from USC, Alabama, Auburn, Florida, Georgia and LSU among others.
[h/t Tomahawk Nation]