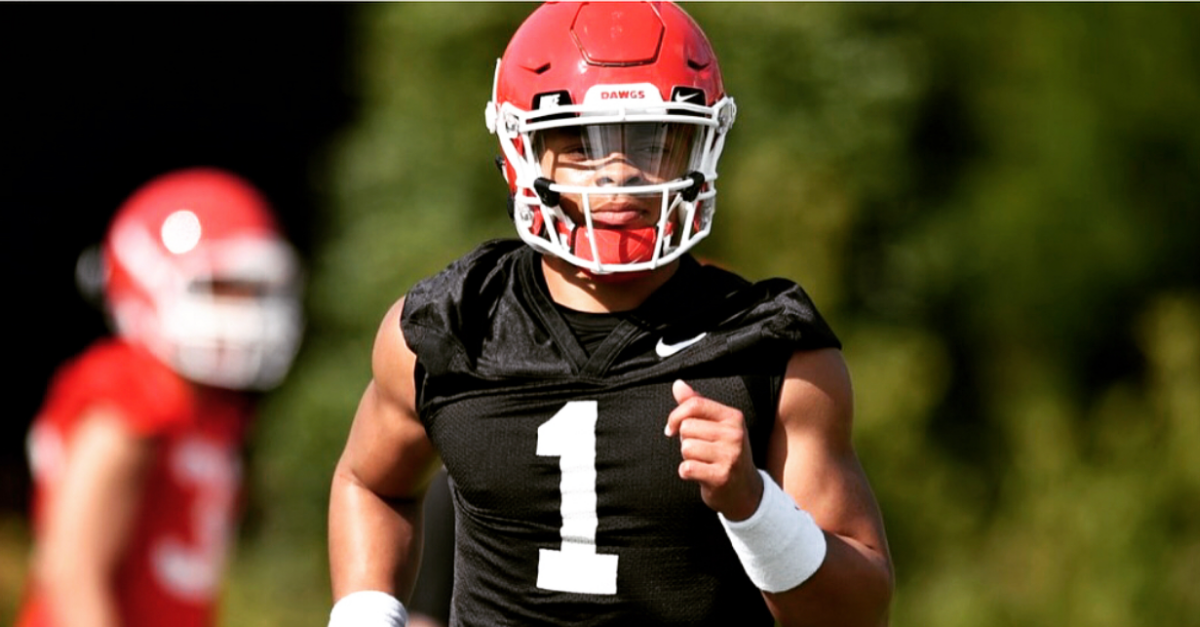 Instagram: @justnfields
What once looked like an uphill battle has turned into the best possible news for the Ohio State Buckeyes. Transfer quarterback Justin Fields has received a waiver from the NCAA and will be eligible to play the 2019 college football season.
Instead of waiting an entire year for Fields to play, the Buckeyes will get one of the most talented young quarterbacks on the field in Columbus for the next three years starting this fall, OSU officials announced on Friday.
"I am happy for Justin and his family," Ohio State head coach Ryan Day said. "I also want to express my appreciation to the NCAA for its assistance in getting this matter resolved efficiently and with such a positive outcome for Justin."
A 6-foot-3 dual-threat quarterback and former five-star prospect from Kennesaw, Georgia, Fields immediately boosts the Buckeyes? College Football Playoff outlook in 2019 after playing one season with the Georgia Bulldogs.
RELATED: The Early Favorite to Take Home the 2019 Heisman Trophy Is?
?I?m happy for Justin and his family and all the Buckeyes fans who?ve been waiting for this decision,? Fields? attorney, Tom Mars, told ESPN. ?Justin?s not only a great quarterback. He?s also an exceptionally mature and impressive young man. He fully deserved to receive a waiver.?
Fields completed 27-of-39 passes for 328 yards and four touchdowns while adding 266 rushing yards and four more scores as a true freshman in the SEC last season before entering his name in the NCAA Transfer Portal and enrolling at Ohio State's campus in January.
Being granted immediate eligibility in his waiver request to replace Heisman Trophy finalist Dwayne Haskins as the Buckeyes? starting quarterback is the best possible outcome.
?I thank God for His guidance during this time of uncertainty. I would like to thank the NCAA for its approval of the waiver allowing me to be eligible to play football this fall. I also want to thank all those who supported and encouraged my family and me during this process. While my case was pending before the NCAA, my family and I did not feel that I was appropriate to publicly speak about the circumstances leading to my transfer. In my silence, people began to speculate, and the story took on a life of its own.

?Now that this matter is concluded, I would like to clarify some facts. I have no regrets about my time at UGA and have no hard feelings for the school or football program. My overall experience at UGA was fully consistent with UGA?s commitment to diversity and inclusion. My sister is a softball player at UGA. I am still close friends with many of my UGA teammates. A part of me will always be a George Bulldogs fan.

?To Buckeye Nation: thank you for your warm welcome. I will work hard to represent you and The Ohio State University in a professional and respectful manner. My dad always tells me that ?you can?t get to where you are going by looking in the ?rear view mirror.?? I?m ready to move forward and embrace the next season of my life.

?I will not be speaking about my transfer again. Instead, I will focus all of my attention on getting to work in the classroom and on the field ? and doing whatever else I can to help my teammates as we prepare for the 2019 season.?

? Ohio State quarterback Justin Fields
Although it is still unclear as to why the former Harrison High School superstar ever left The Peach State, if it was more than Jake Fromm locking down the Georgia starting quarterback spot, that chapter is officially over and it?s now time to get ready for The Justin Fields Show at Ohio State in 2019.