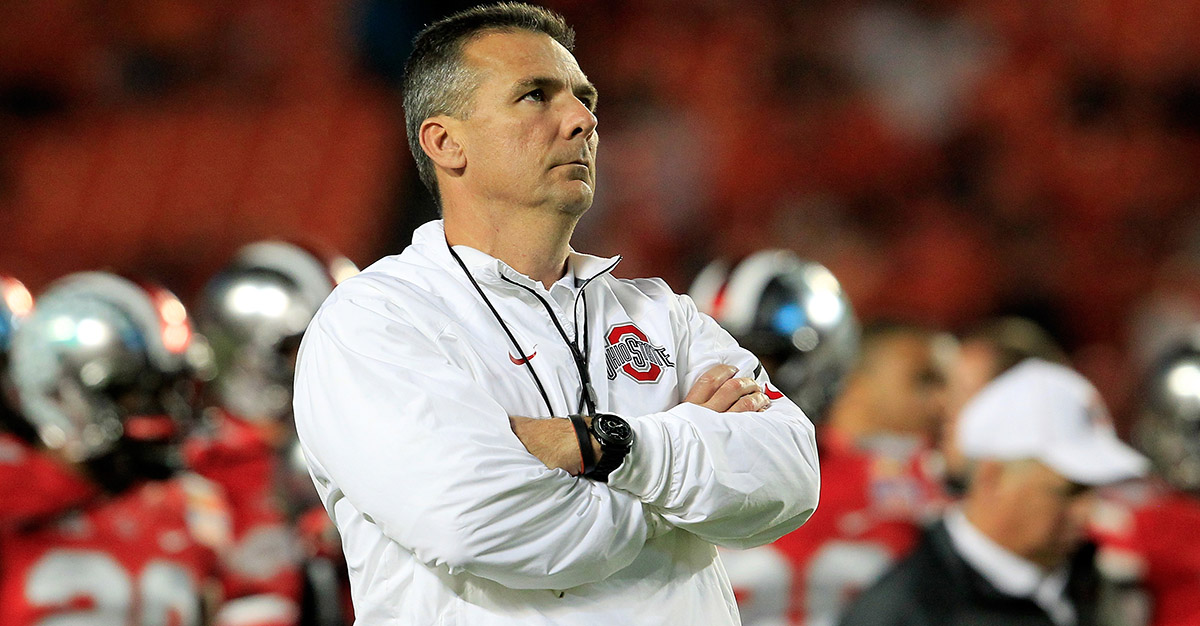 Chris Trotman/Getty Images
With his team checking in at 4-1 and No. 10 in the nation, Ohio State's Urban Meyer doesn't have a whole lot to complain about.
Sure, the Buckeyes lost in Week 2 to Oklahoma — currently ranked No. 3 nationally — but there's no shame in a loss against a team like the Sooners. OSU has looked great since, beating Army, UNLV, and Rutgers by a total score of 148-28.
OSU is coming off a 56-0 route of the Scarlet Knights, and though that was a huge win for the Buckeyes, Meyer did seem a bit sour this week. Specifically, he seemed a bit miffed while discussing night games on the road against in-conference opponents, something OSU has had to deal with twice already this season.
Per Meyer, playing more than two in-conference night games on the road simply isn't right, specifically for the players. These are games that start very late (in the 7:00 p.m. hour on the East Coast) and they don't usually end up getting over with until close to 11:00 p.m., if not later.
This isn't as big a deal for the home team, which can just saunter on back to the dorms after the game, but for the away team, these games can be grueling. Sure, there are few things better than playing under the lights in college football, but that's not considering the wear and tear of travel for the away team. It's also not considering the fact that these players are student-athletes.
For professional NFL players, playing late into the night is just part of doing business, because that's all that they do. Meyer seems to be genuinely worried about his student-athletes, though, who also have to focus on school while basically "working" a full-time job as a football player (sans paycheck).
Ohio State played at Indiana in a night game to start off the 2017-18 season and last weekend's game at Rutgers was under the lights as well.
Notably, Ohio State's mid-October game at Nebraska is also expected to be a night game, so it makes sense why Meyer is bringing this up.
(h/t The Spun)