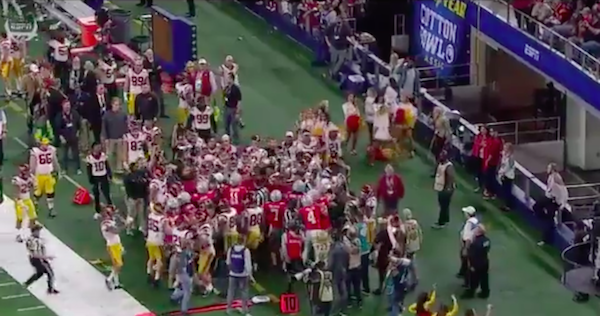 @gifdsports/Twitter
@gifdsports/Twitter
There was plenty of weirdness going on during the Cotton Bowl matchup between USC and Ohio State on Friday night.
With just over two minutes remaining in the fourth quarter of the 24-7 rout by the Buckeyes, Trojans quarterback Sam Darnold took a late hit on the sidelines after scrambling for 10 yards.
The play resulted in a scuffle between the two teams that included a USC ball boy running away from the melee and a cheerleader sporadically dancing as if nothing was going on.
But that's not all.
An alternate angle of the hit on Darnold shows the quarterback accidentally clipping a woman holding a microphone for ESPN during the live broadcast.
Strange things, indeed.
The fight resulted in USC's Jamel Cook — who entered the game off the bench — being ejected. No punches appeared to be thrown and there weren't any other altercations that took place afterward.
As noted, Ohio State won in dominant fashion, which could have been the cause of some hostility from the Trojans' sideline.