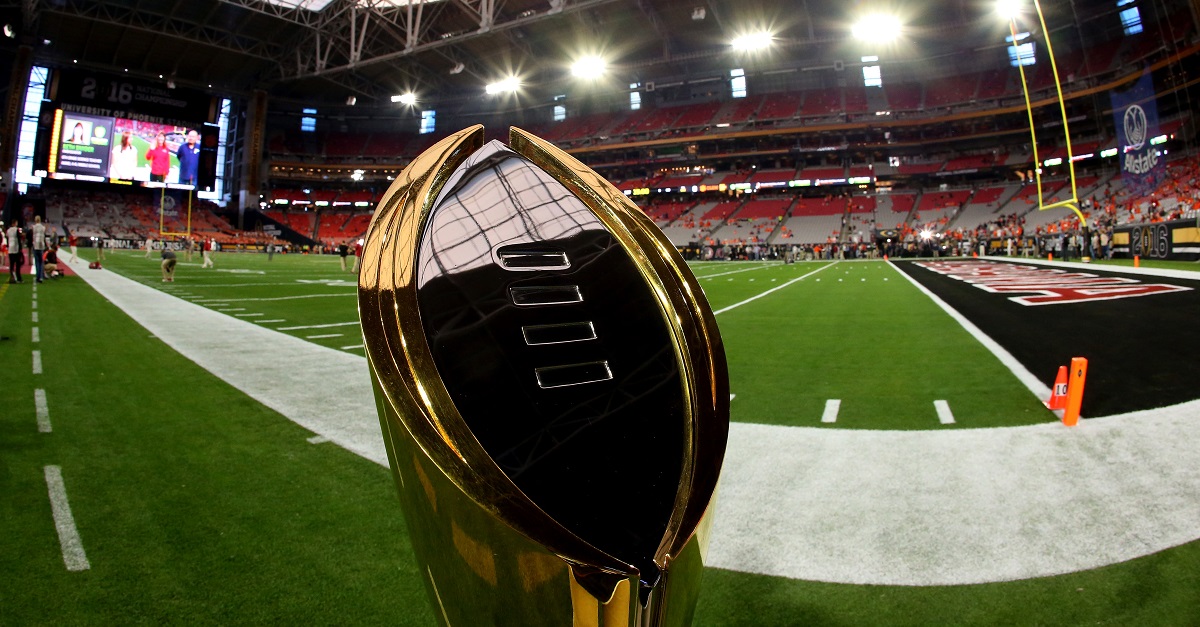 Ronald Martinez/Getty Images
GLENDALE, AZ - JANUARY 11: The College Football Playoff National Championship Trophy is seen on the field before the 2016 College Football Playoff National Championship Game between the Clemson Tigers and the Alabama Crimson Tide at University of Phoenix Stadium on January 11, 2016 in Glendale, Arizona. (Photo by Ronald Martinez/Getty Images)
College Football Playoff director Bill Hancock will not take UCF's complaints about being snubbed from postseason play without fighting back.
Following some harsh words from Knights head coach Scott Frost, Hancock defended UCF's No. 12 ranking.
"The selection committee respected UCF," College Football Playoff executive Bill Hancock told ESPN on Tuesday. "After all, they're the group that put the Knights in the Peach Bowl. To qualify for the playoff, teams need to play tough schedules against good teams – that is the way for all teams to stand out and be ranked high by the committee. UCF is an excellent team, but you still have to take into account who each team played and defeated during the regular season."
This is in response to Frost alleging the committee purposely ignored his team during the entire process.
"It wasn't right," said Frost. "I was watching [the selection show] every week, the committee sitting in a room and deciding that this two-loss team must be better than UCF because UCF is in the American, or this three-loss team must be better than UCF.

"It looked like a conscious effort to me to make sure that they didn't have a problem if they put us too high and a couple teams ahead of us lost. And oh, no, now we have to put them in a playoff? But we just beat [Auburn] that beat two playoff teams and lost to another one by six points, and we beat them by seven."
As for Hancock, after getting in his "week schedule" take, he seems set to move on to the championship game.
"The CFP is all about teams, not conferences," Hancock said. "And these are two really great teams coming off landmark semifinals victories over tremendous opponents. The atmosphere in Atlanta will be truly something to behold. All I can say is, buckle up and enjoy."
If nothing else, and it is probably nothing else, this constant bickering about which teams "deserve" to be wherever is good for the sport.