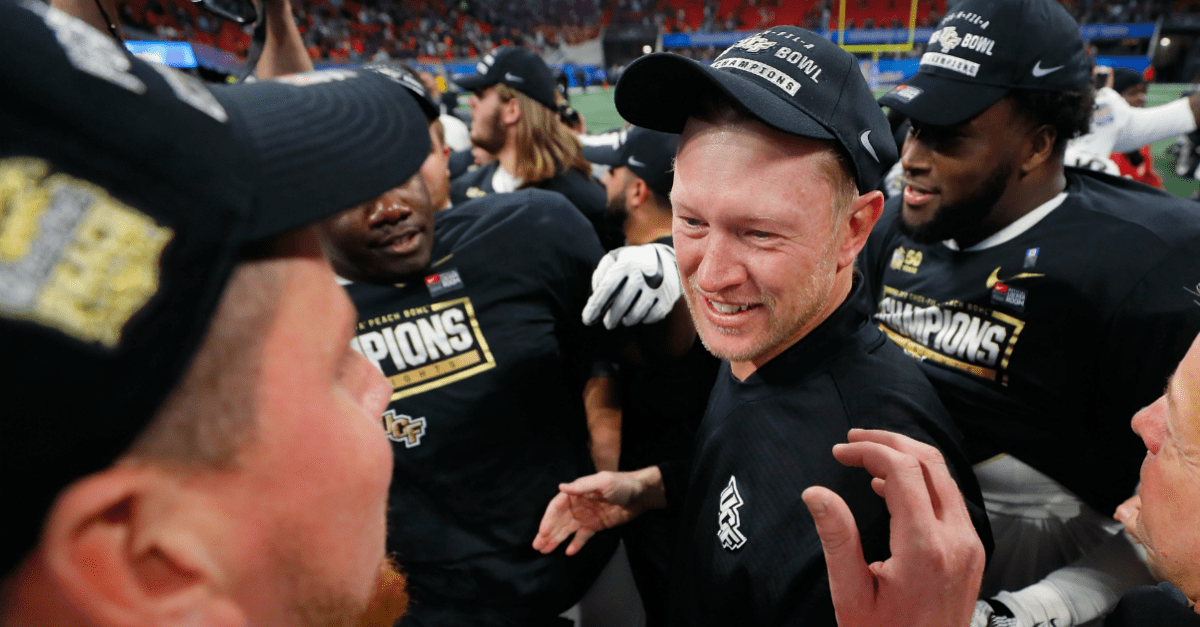 Kevin C. Cox/Getty Images
ATLANTA, GA - JANUARY 01: Head coach Scott Frost of the UCF Knights celebrates after defeating the Auburn Tigers 34-27 to win the Chick-fil-A Peach Bowl at Mercedes-Benz Stadium on January 1, 2018 in Atlanta, Georgia. (Photo by Kevin C. Cox/Getty Images)
After his last game as the head coach of the UCF Knights, Scott Frost claimed the Selection Committee purposely left his team out of the College Football Playoff. Worth noting, he said this after his team was able to defeat the Auburn Tigers in the Chick-fil-A Peach Bowl on Monday.
"It wasn't right," said Frost. "I was watching [the selection show] every week, the committee sitting in a room and deciding that this two-loss team must be better than UCF because UCF is in the American, or this three-loss team must be better than UCF.

"It looked like a conscious effort to me to make sure that they didn't have a problem if they put us too high and a couple teams ahead of us lost. And oh, no, now we have to put them in a playoff? But we just beat [Auburn] that beat two playoff teams and lost to another one by six points, and we beat them by seven."
That's obviously a dangerous accusation to make. To be fair to Scott Frost, he's clearly emotionally invested in his own team, and it isn't like he would ever discuss his team in terms of not deserving to be in the College Football Playoff. Especially after beating a team like Auburn that ended up beating two Playoff teams prior to the Peach Bowl.