Photo by Chris Graythen/Getty Images
Despite the serious bowl problem of players skipping out on their team one game early, the college football bowl season is the most important stretch of games for so many colleges and universities. Not only is this a chance for smaller schools to receive national attention, but the payday that comes with winning a college bowl game nearly pays for the whole party.
Sure, some of these ridiculous bowl games are basically handing out participation trophies mixed with an "atta boy!" While attendance and motivation for each games varies greatly depending on where the game takes place and who is playing, the most important figure to take away, as you'd expect, is the stone-cold cash prize at the end.
It's important to know that every school doesn't collect their winnings and scurry away to their home campus, though. Bowl game payouts are paid to each participating college football conference, which is then divided up to every school in that conference.
Yes, even though the Rutgers Scarlet Knights and their 15 combined wins in the last five years STILL get a piece of the pie for every Big Ten Conference team that wins their postseason game or makes the College Football Playoff.
Since the inception of the CFP, the money gets distributed a little bit differently than the BCS. Here is the revenue distribution for the six major bowl games — the Sugar Bowl, Fiesta Bowl, Orange Bowl, Peach Bowl, Rose Bowl and Cotton Bowl — and the rest of the sport's bowl games.
New Year's Six Bowl Game Payouts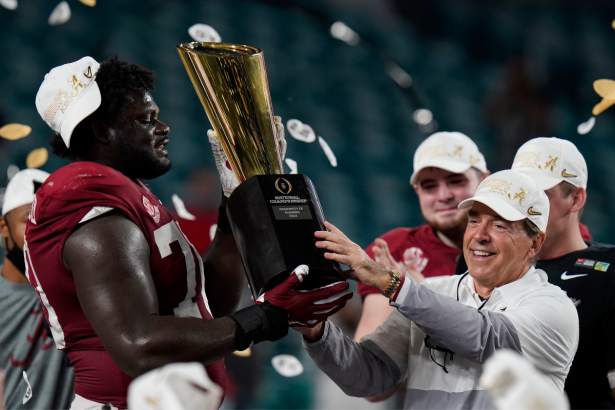 RELATED: How Nick Saban Spent His First Big Bonus Check is Inspirational
— Each conference gets $300,000 for each school that meets the NCAA's academic performance review (APR) for participation in a postseason bowl; FBS Independents like Notre Dame also receive the same amount.

— Each of the 10 conferences receive a base payout, again pending that academic performance review. For the Power 5 conferences with contracts to send its champion to the Orange, Rose and Sugar Bowl, each conference receives around $66 million. For the other Group of Five conferences that do not have automatic bids for its champion, they divide a total of around $90 million amongst themselves. Notre Dame automatically gets $3.19 million if it meets that APR review; all other independents split about $1.56 million.

— Each conference gets $6 million for every football team it sends to a playoff semifinal game. They also get an additional $4 million for participation in one of the other non-playoff New Year's Six bowl games. There is no additional revenue added for making the national championship game.

— Each conference gets an additional $2.43 million to cover travel expenses for each game.
In summary: there is A LOT of money on the line for these massive football games.
In addition to the College Football Playoff revenue pool, of course, each bowl matchup game pays out to the winner. Here is how much each bowl game will pay out for the 2021 bowl season.
They include teams from every conference in college football, including the Southeastern Conference (SEC), Atlantic Coast Conference (ACC), Pac-12 Conference, Sun Belt Conference, Big Ten Conference, Big 12 Conference, Conference USA, American Athletic Conference (AAC), FBS Independents, Mid-American Conference (MAC) and Mountain West Conference (MWC).
In all there are 42 bowl games, and that doesn't include the Celebration Bowl played between FCS champions from the MEAC and SWAC, which are the two prominent HBCU conferences.
College Football Bowl Game Payouts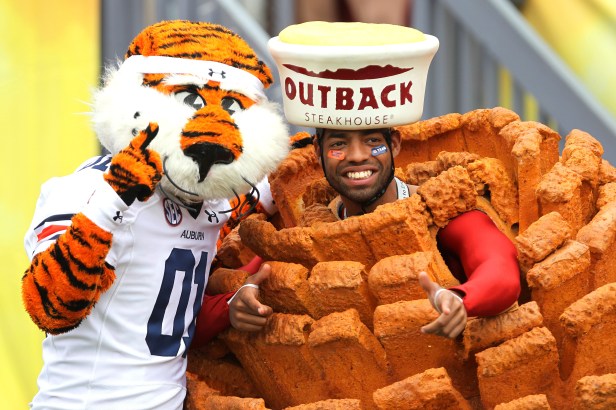 Alamo Bowl: $8,252,740 (Oklahoma Sooners vs. Oregon Ducks)
Arizona Bowl: $350,000 (Boise State vs. Central Michigan)
Armed Forces Bowl: $1,350,000 (Army Black Knights vs. Missouri Tigers)
Bahamas Bowl: $225,000 (Middle Tennessee State vs. Toledo)
Birmingham Bowl: $1,374,545 (Auburn vs. Houston)
Boca Raton Bowl: $1.00 million (Western Kentucky vs. Appalachian State)
Camellia Bowl: $300,000 (Georgia State vs. Ball State)
Cheez-It Bowl: $6,071,760 (Clemson vs. Iowa State)
Citrus Bowl: $8,224,578 (Iowa Hawkeyes vs. Kentucky Wildcats)
Cure Bowl: $573,125 (Northern Illinois vs. Coastal Carolina)
Duke's Mayo Bowl: $4,780,461 (North Carolina vs. South Carolina)
Famous Idaho Potato Bowl: $800,000 (Wyoming vs. Kent State)
Fenway Bowl: Unannounced (Virginia vs. SMU)
Frisco Bowl: $650,000 (UTSA vs. San Diego State)
Frisco FB Classic Bowl: Unannounced (Miami OH vs. North Texas)
Gasparilla Bowl: $1,125,000 (Florida Gators vs. UCF Knights)
Gator Bowl: $5,350,000 (Texas A&M vs. Wake Forest)
Guaranteed Rate Bowl: $1,625,560 (Minnesota vs. West Virginia)
Hawai'i Bowl: $1,200,000 (Hawaii vs. Memphis)
Holiday Bowl: $6,532,700 (NC State vs. UCLA)
Independence Bowl: $2,200,000 (BYU vs. UAB)
L.A. Bowl: Unannounced (Oregon State vs. Utah State)
Las Vegas Bowl: $2,900,000 (Wisconsin vs. Arizona State)
LendingTree Bowl: $1,500,000 (Eastern Michigan vs. Liberty)
Liberty Bowl: $4,700,000 (Texas Tech vs. Mississippi State)
Military Bowl: $2,066,990 (Boston College vs. East Carolina)
Music City Bowl: $5,700,000 (Tennessee vs. Purdue)
Myrtle Beach Bowl: Unannounced (Old Dominion vs. Tulsa)
New Mexico Bowl: $1,050,000 (Fresno State vs. UTEP)
New Orleans Bowl: $825,000 (Louisiana vs. Marshall)
Outback Bowl: $6,400,000 (Arkansas vs. Penn State)
Pinstripe Bowl: $4,400,000 (Virginia Tech vs. Maryland)
Quick Lane Bowl: $2,000,000 (Nevada vs. Western Michigan)
SERVPRO First Responder Bowl: $824,545 (Louisville vs. Air Force)
Sun Bowl: $4,550,000 (Miami vs. Washington State)
Texas Bowl: $6,400,000 (Kansas State vs. LSU)
Since college football moved from the BCS system to the Playoff era, money around the game has skyrocketed. While some believe the FBS should adopt the Football Championship Subdivision's (FCS) model of a 24-team tournament, it's not going to change when the current system is working so well for everyone involved.
After the Alabama Crimson Tide and Ohio State Buckeyes met in Miami Gardens to decide the 2021 National Champion, the money was divided, the checks were cashed and another year of college football was in the books with a few fat wallets to make it all worth while.
The 2021 season's playoff teams — Alabama, Michigan, Georgia and Cincinnati — should bring just as much excitement and money.
This article was originally published January 4, 2019.
Related Videos