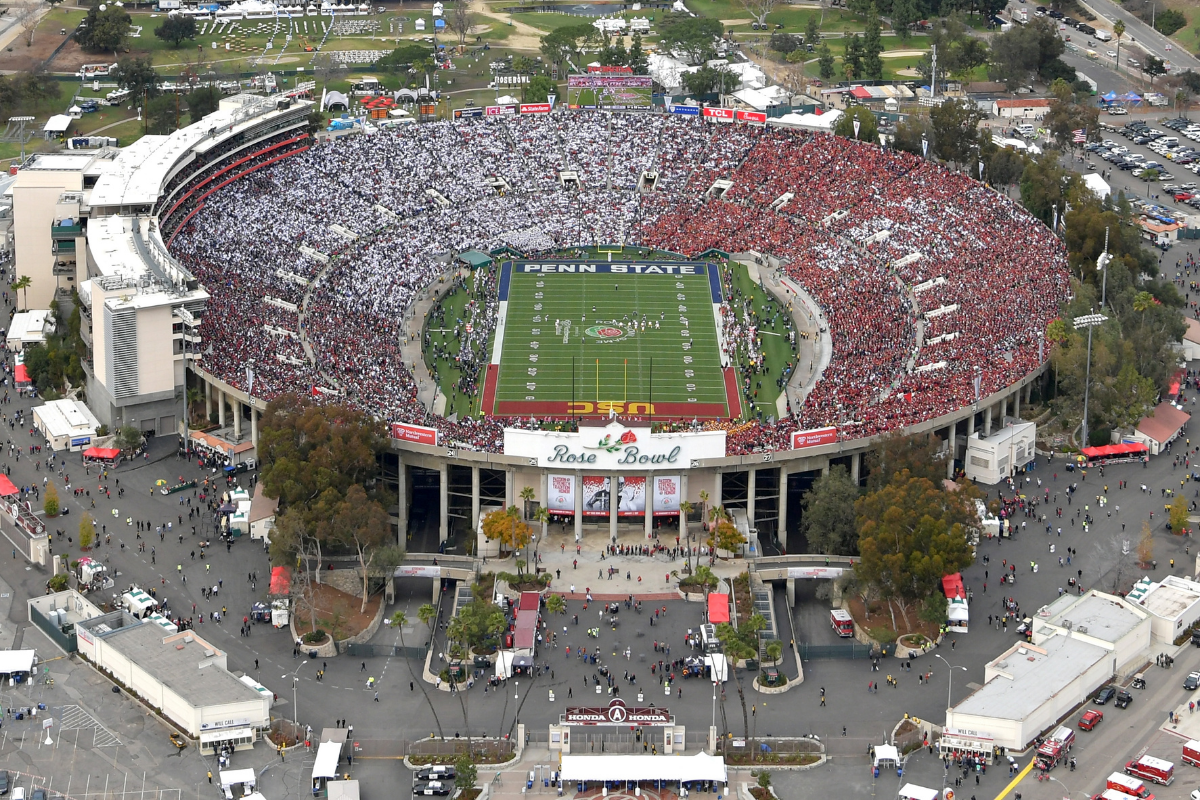 Tournament of Roses - Pool via Getty Images
Bowl games don't nearly carry the weight they used to since the College Football Playoff replaced the BCS in 2014. On top of a playoff system that most college football fans had been wanting for years, players started sitting out of postseason games to not risk injury before heading to the NFL.
There's nothing wrong with that. The CFP has emphasized the fact that only three bowl games truly matter and a freak injury could cost a player millions. That being said, there's still a sense of pride in making a postseason game. It's the final chapter of the college football season before it becomes a part of the history books. Plus, we get to see a ton of intriguing non-conference matchups between football teams from the ACC, Big Ten, Pac-12, AAC, Big 12 and SEC.
So, with bowl games coming and going over the years, just how many are there?
How Many College Football Bowl Games Are There?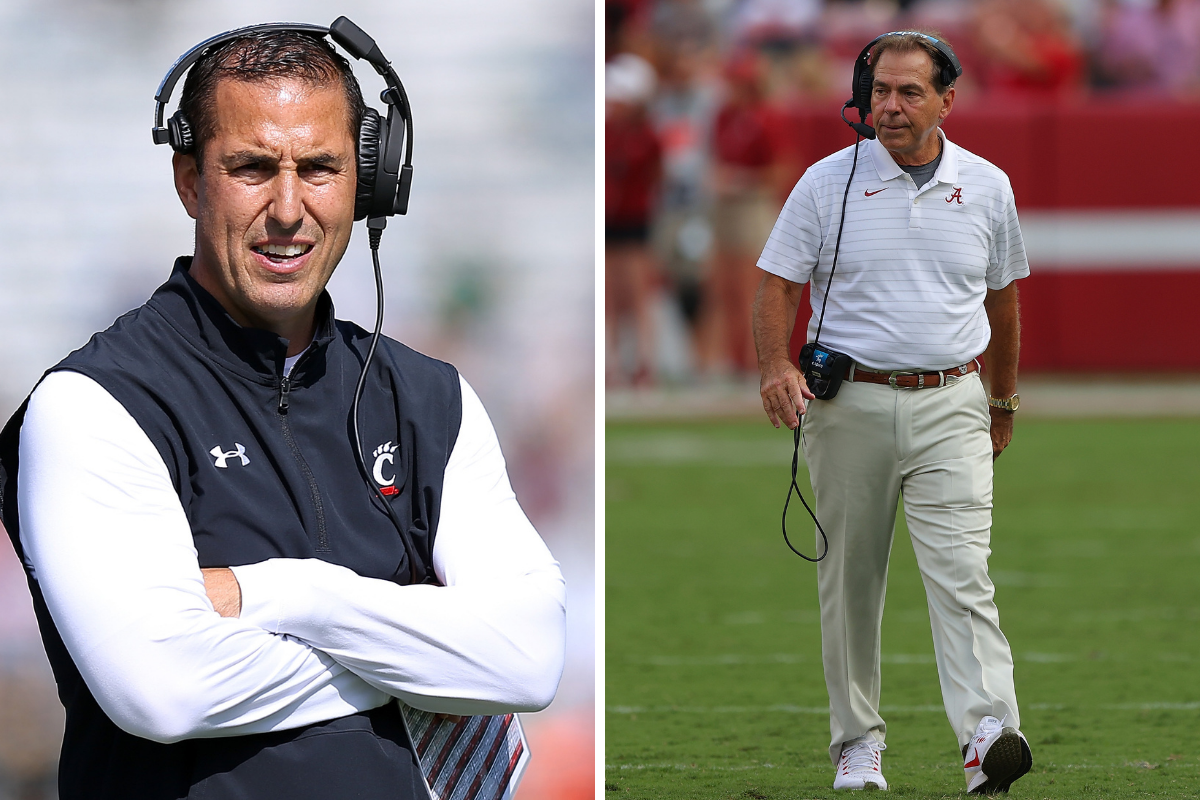 RELATED: The 5 Active College Football Coaches With National Titles
The college football bowl season has grown substantially. Back in the day, bowl games were primarily played on New Years Day and only the best teams participated. Today, all a NCAA FBS team needs is six wins to become bowl-eligible and it'll have a spot in one of the 42 bowls. Additionally, the Celebration Bowl is the annual FCS bowl game between the champions from the MEAC and SWAC–the two prominent HBCU conferences.
Bowl games begin on December 17th and end with the CFP National Championship Game on January 10th, which is technically the 44th game of the college football postseason.
Here is the full schedule:
2021-22 College Football Bowl Schedule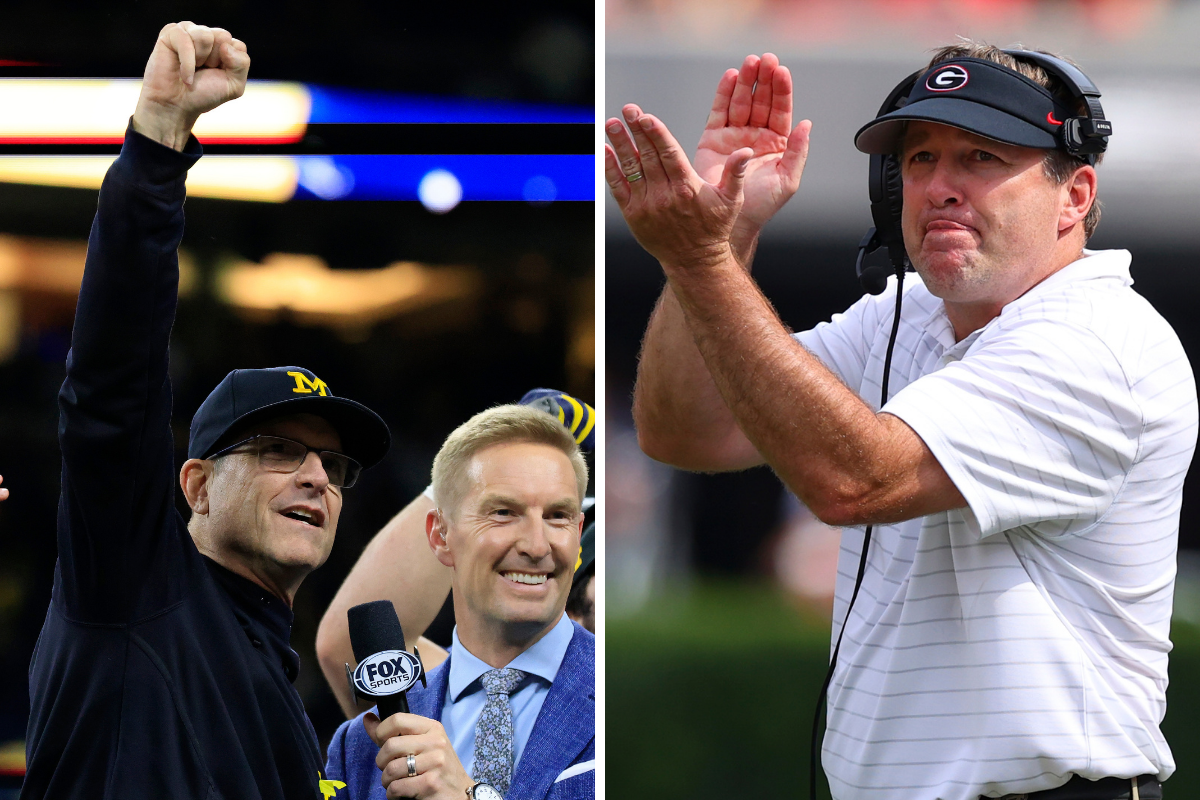 December 17
Bahamas Bowl: Middle Tennessee vs. Toledo; 12 p.m.; ESPN; Nassau, Bahamas
Cure Bowl: Coastal Carolina vs. Northern Illinois; 6 p.m.; ESPN2; Orlando, FL
December 18
Boca Raton Bowl: Appalachian State vs. Western Kentucky; 11 a.m.; ESPN; Boca Raton, FL
Celebration Bowl: South Carolina State vs. Jackson State; 12 p.m.; ABC; Atlanta, GA
New Mexico Bowl: Fresno State vs. UTEP; 2:15 p.m.; ESPN; Albuquerque, NM
Independence Bowl: BYU vs. UAB; 3:30 p.m.; ABC; Shreveport, LA
LendingTree Bowl: Eastern Michigan vs. Liberty; 5:45 p.m.; ESPN; Mobile, AL
LA Bowl: Oregon State vs. Utah State; 7:30 p.m.; ABC; Los Angeles, CA
New Orleans Bowl: Louisiana vs. Marshall; 9:15 p.m.; ESPN; New Orleans, LA
December 20
Myrtle Beach Bowl: Old Dominion vs. Tulsa; 2:30 p.m.; ESPN; Conway, SC
December 21
Famous Idaho Potato Bowl: Kent State vs. Wyoming; 3:30 p.m.; ESPN; Boise, ID
Frisco Bowl: San Diego State vs. UTSA; 7:30 p.m.; ESPN; Frisco, TX
December 22
Armed Forces Bowl: Army vs. Missouri; 8 p.m.; ESPN; Fort Worth, TX
December 23
Frisco Football Classic: Miami (Ohio) vs. North Texas; 3:30 p.m.; ESPN; Frisco, Texas

Gasparilla Bowl: UCF vs. Florida; 7 p.m.; ESPN; Tampa, FL
December 24
Hawaii Bowl: Memphis vs. Hawaii; 8 p.m.; ESPN; Honolulu, HI
December 25
Camellia Bowl: Ball State vs. Georgia State; 2:30 p.m.; ESPN; Montgomery, AL
December 27
Quick Lane Bowl: Nevada vs. Western Michigan; 11 a.m.; ESPN; Detroit, MI
Military Bowl: East Carolina vs. Boston College; 2:30 p.m.; ESPN; Annapolis, MD
December 28
Birmingham Bowl: Auburn vs. Houston; 12 p.m.; ESPN; Birmingham, AL
First Responder Bowl: Air Force vs. Louisville; 3:15 p.m.; ESPN; Dallas, TX
Liberty Bowl: Mississippi State vs. Texas Tech; 6:45 p.m.; ESPN; Memphis, TN
Holiday Bowl: N.C. State vs. UCLA; 8 p.m.; Fox; San Diego, CA
Guaranteed Rate Bowl: Minnesota vs. West Virginia; 10:15 p.m.; ESPN; Phoenix, AZ
December 29
Fenway Bowl: SMU vs. Virginia; 11 a.m.; ESPN; Boston, MA
Pinstripe Bowl: Maryland vs. Virginia Tech; 2:15 p.m; ESPN; New York, NY
Cheez-It Bowl: Clemson vs. Iowa State; 5:45 p.m.; ESPN; Orlando, FL
Alamo Bowl: Oklahoma vs. Oregon; 9:15 p.m.; ESPN; San Antonio, TX
December 30
Duke?s Mayo Bowl: North Carolina vs. South Carolina; 12 p.m.; ESPN; Charlotte, NC
Music City Bowl: Purdue vs. Tennessee; 3 p.m.; ESPN; Nashville, TN
Peach Bowl: Michigan State vs. Pittsburgh; 7 p.m.; ESPN; Atlanta, GA
Las Vegas Bowl: Arizona State vs. Wisconsin; 10:30 p.m.; Las Vegas, NV
December 31
Gator Bowl: Texas A&M vs. Wake Forest; 11 a.m.; ESPN; Jacksonville, FL
Sun Bowl: Miami vs. Washington State; 12:30 p.m.; CBS; El Paso, TX
Arizona Bowl: Boise State vs. Central Michigan; 4:30 p.m; Barstool Sports; Tuscon, AZ
Cotton Bowl Classic (College Football Playoff Semifinal): Alabama vs. Cincinnati; 3:30 p.m. ESPN; Arlington, TX
Orange Bowl (College Football Playoff Semifinal): Michigan vs. Georgia ; 7:30 p.m.; ESPN; Miami, FL
January 1
Outback Bowl: Arkansas vs. Penn State; 12 p.m.; ESPN2; Tampa, FL
Citrus Bowl: Iowa vs. Kentucky; 1 p.m.; ABC; Orlando, FL
Fiesta Bowl: Notre Dame vs. Oklahoma State; 1 p.m.; ESPN; Glendale, AZ
Rose Bowl: Ohio State vs. Utah; 5 p.m.; ESPN; Pasadena, CA
Sugar Bowl: Baylor vs. Ole Miss; 8:45 p.m.; ESPN; New Orleans, LA
January 4
Texas Bowl: Kansas State vs. LSU; 9 p.m.; ESPN; Houston, TX
January 10
College Football Playoff National Championship Game: Orange Bowl winner vs. Cotton Bowl winner; 8 p.m.; ESPN; Indianapolis, IN
Related Videos