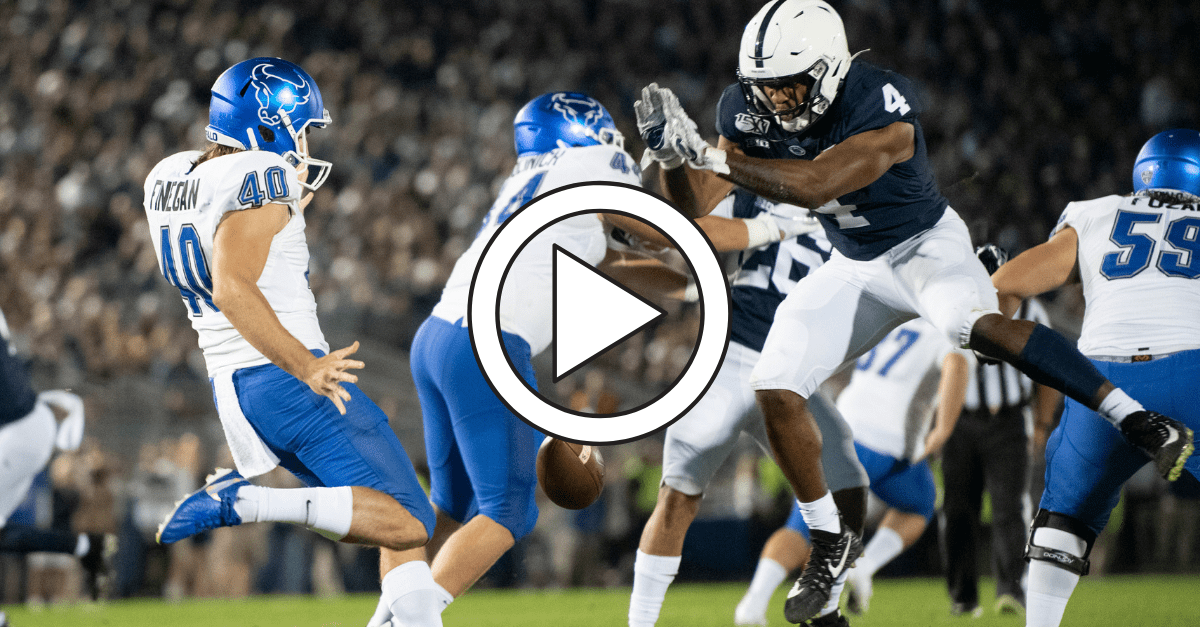 AP Photo/Barry Reeger
The 13th-ranked Penn State Nittany Lions weren't expected to be tested by the Buffalo Bulls on Saturday night. Coach James Franklin's team actually trailed at halftime, but ended up exploding in the second half to seal a 45-13 victory inside Beaver Stadium. PSU quarterback Sean Clifford tossed four touchdown passes, but the highlight of this contest was one that the game's broadcast wouldn't even show more than once.
In the third quarter, Buffalo punter Evan Finegan lined up for his fourth punt of the game. It's nothing new for a redshirt sophomore who broke the school's single-season record for punting average in 2018 (41.8 yards per punt). But this time, his season was turned upside down when Finegan's leg connected with Penn State's Journey Brown and snapped like a twig.
The play was legal, as Brown partially blocked the 33-yard punt that PSU's K.J. Hamler made for the fair catch. In the aftermath of the gruesome leg injury, Finegan was taken off on a stretcher.
WARNING: Video contains graphic content.
RELATED: Monster Hit Knocks Poor Punter Into Next Week, Maybe Even Next Year
Finegan waved to the crowd after he was taken off the field. The following morning, Finegan updated his status on Twitter, saying that he suffered a broken fibula and tibia, which required surgery. Finegan thanked medical staffs from both Penn State and Buffalo for keeping him in "such great hands."
There has been an outpouring of support from both Penn State and Buffalo fans as the Michigan native begins his road to recovery.
Finegan joined Buffalo back in 2017 after being named First-Team All-State, All-Catholic and All-County at Bishop Foley High School in Sterling Heights, Michigan. He already owns one school record with the University of Buffalo Bulls, and after he returns from this gruesome injury, there are likely to be several more school records held by Evan Finegan before he's done in college football.
UPDATE: Finegan told the Detroit Free Press that while he was leaving the hospital following surgery, he received an unexpected phone call.
On the other line was the 1983 NFL Most Valuable Player and Super Bowl XVII champion, Joe Theismann.
"He was very worried," Finegan said. "He wanted to know all of the details."
Theismann infamously suffered a career-ending injury similar to Finegan's back in November 1985 when he was sacked by Lawrence Taylor and Harry Carson of the New York Giants.
"We talked in the car. The phone reception went out a couple of times, going through the mountains. Cell service wasn?t the greatest, but he called back every single time. Joe Theismann is being very supportive and gave me his phone number. We've been texting back and forth since then. He asks if there is anything he can do and he gives advice. 'Here's what to watch out for. Look out for these symptoms.'"

? Evan Finegan, via Detroit Free Press
Finegan faces a long road to recovery, but it is awesome to see an NFL legend with no previous connection to the Buffalo punter reaching out and showing his support.
He was also visited by Penn State head coach James Franklin, PSU punter Blake Gillikin, and several specialists while recovering at Mount Nittany Medical Center.
This post was originally published September 9, 2019.