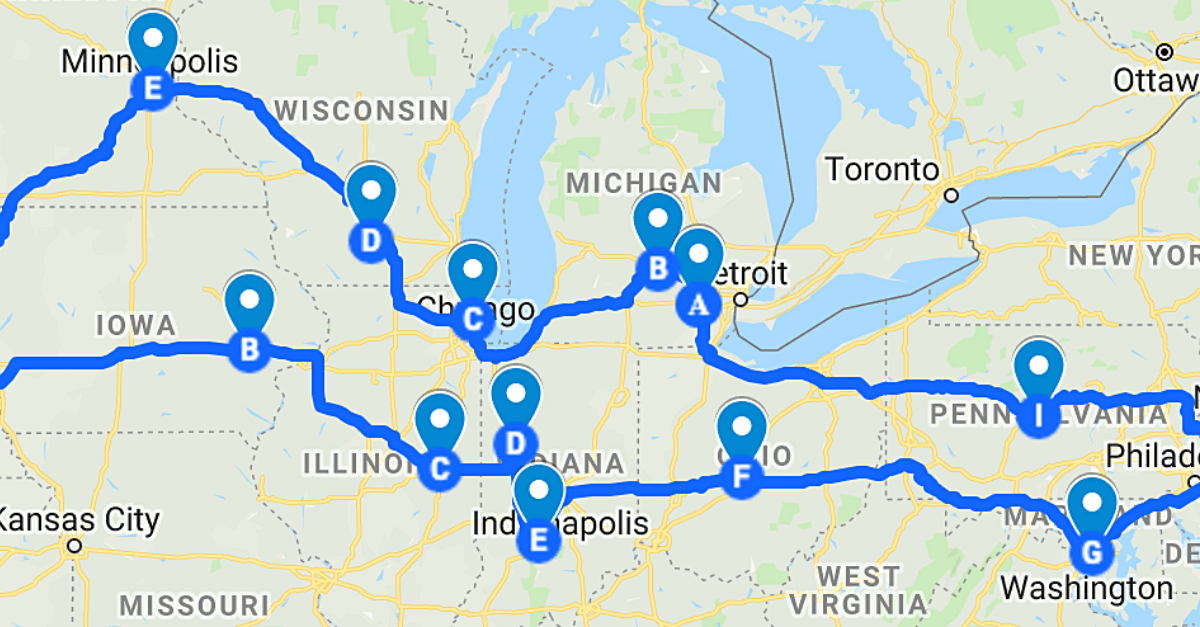 Google Maps
Growing up in Pennsylvania and living all over the state, I know there's just nothing like this area of the United States. I'd put the beauty of the Great Lakes in the summer and the foliage change across the Appalachian Mountains in early fall against any place in the country. And us Northerners know that when those leaves start to change, college football is coming with it.
Sure, the Southeastern Conference (SEC) gets a lot of the publicity for their high-profile coaches and elite talent that translates to the NFL, but the hard-nosed, smash-mouth, farm-raised boys that dominate the Big Ten Conference bring the mentality of this part of the country to life. If you really want to know what Big Ten football and the North/Midwest is all about, pack up the car, grab your favorite snacks and take off on this spectacular Big Ten stadium road trip.
Beaver Stadium
Naturally, we're going to start at my alma mater in State College, Pennsylvania. The Penn State Nittany Lions pack the craziest student section in the country into this 100,000-plus seat mecca known simply as Beaver Stadium. Hiding in the shadows of Mount Nittany, Happy Valley is surrounded by central Pennsylvania beauty, has some incredible fishing spots, and is home a fan base that loves their hometown.
Make sure to stop at the Allen Street Grill for lunch. You won't regret it!
Michigan Stadium
Heading West, you'll pass through Pittsburgh (come visit me!) and cruise around Lake Erie into Michigan where the home of the Wolverines awaits. "The Big House" housed over 112,000 people back in 2012 to set college football's single-game attendance record, which is no blip on the radar. This place is always rocking.
The University of Michigan has plenty to keep you busy on campus, but you'll be hard pressed to find a better stadium than this one.
Spartan Stadium
It's a short trip to East Lansing, but you'll need some extra time visiting the Michigan State Spartans. When you're done seeing the Big Ten's sixth-largest stadium, you can spend several days at the Michigan History Center, a five-level museum. One TripAdvisor user even said, "You could visit this museum twice a year and never be bored."
Ryan Field
Heading West, you'll pass through South Bend where you can make a pit stop at the University of Notre Dame, then travel around the southern-most tip of Lake Michigan before you reach Chicago, Illinois. After seeing the Skydeck in Willis Tower, Cloud Gate (also known as "The Bean") and Soldier Field, which is home to the NFL's Chicago Bears, you'll reach Evanston, Illinois and Northwestern University.
Ryan Field is the only FBS college football stadium without permanent lighting, but head coach Pat Fitzgerald and the Northwestern Wildcats are shining in the Big Ten having won three-straight bowl games their first Big Ten West division title in 2018.
Camp Randall Stadium
The home of the Wisconsin Badgers is over 100 years old and sits on a training ground for the Union Army during the Civil War. Over 80,000 people pack Camp Randall on college football Saturdays, but that's not all to see and do in Madison.
The state capital of Wisconsin is home to several parks and museums, but seeing the sunset on Lake Mendota will set the tone for the rest of your road trip.
TCF Bank Stadium
It's onto the Land of 10,000 Lakes to visit the University of Minnesota. The Golden Gophers' football team only has one 10-win season since 1905, but living in The Twin Cities certainly has its perks. You can visit gorgeous Minnehaha Falls if you're all about the outdoors, or you get lost at the Mall of America for hours on end!
Memorial Stadium
The Sea of Red might not be on your radar, but this is the most loyal fan base in the country, and you won't convince me otherwise. Don't believe it? As of last season, the Nebraska Cornhuskers have had 368-straight home game sellouts dating back to 1962, easily the NCAA record.
Lincoln is Nebraska's state capital, but the Sunken Gardens and the Museum of American Speed will keep the polar opposites on your road trip crew busy during your stay in the Midwest.
Kinnick Stadium
If you've ever seen the Iowa Hawkeyes' Wave from Kinnick Stadium across the street to the University of Iowa's Stead Family Children's Hospital, you know that Iowa City is a place full of love. The city is quaint, quiet, and the perfect place for you to kick back and get some relaxation at the midway point of this Big Ten stadium road trip.
Memorial Stadium
The Illinois Fighting Illini haven't been a major bowl games since losing the Rose Bowl in 2007, but this fan base is expecting big things with head coach Lovie Smith at the helm. Don't let the city of Champaign fool you, this city is packed with theaters and museums that'll keep you away from the bars, unless of course you're in need of a drink for the rest of your journey…
Ross-Ade Stadium
The Purdue Boilermakers don't have the greatest tradition of powerhouse football teams, but what they do have is an incredible support system in West Lafayette, Indiana. Fort Ouiatenon was one of the first fortified European settlements and is now a national park. Every October, the Feast of the Hunters' Moon is held as a tribute to French settlers and Native Americans who came together in the 18th century to barter and feast with one another.
Memorial Stadium
Also known as "The Rock," the home of the Indiana Hoosiers holds around 52,000 people, but their football tradition leaves a lot to be desired. They've won eight games in a season only once in the last 30 years…
Still, Bloomington has places like the Oliver Winery, which Travel + Leisure called one of the 25 best wineries in the United States. You can even head north to Indianapolis, where there are more than a few things to keep you busy!
Ohio Stadium
Heading east, we've finally arrived at one of the truly incredible meccas of college football. Known simply as "The Shoe," more than 100,000 screaming Ohio State Buckeyes fans pack Ohio Stadium every single weekend to cheer on their eight-time National Champions.
According to TripAdvisor's ever-faithful crowd, the Franklin Park Conservatory and Botanical Gardens and the Easton Town Center are the must-see attractions during your trip to Columbus.
Capital One Field at Maryland Stadium
College Park might be where Seinfeld co-creator and Curb Your Enthusiasm funny man Larry David got his start, but getting to the University of Maryland is no joke. You'll have to venture into the always-difficult to navigate area surrounding Washington D.C., but there's PLENTY to keep you busy while you're there.
I forget the name of it, but there's some kind of white house nearby that I hear is pretty awesome to see.
HighPoint.com Stadium
Up the East Coast towards your final destination we'll go, passing through Baltimore and Philadelphia before ending up at Rutgers University. To be honest, any stadium that is sponsored by a website probably tells you all that you need to know before seeing a Rutgers Scarlet Knights football game…
You've made it! After 14 football stadiums, a few thousands miles and more than 20 cities, your Big Ten football road trip has left you just outside of The Big Apple, a.k.a. New York City. You've come this far, so why not check it out while you're here, right?