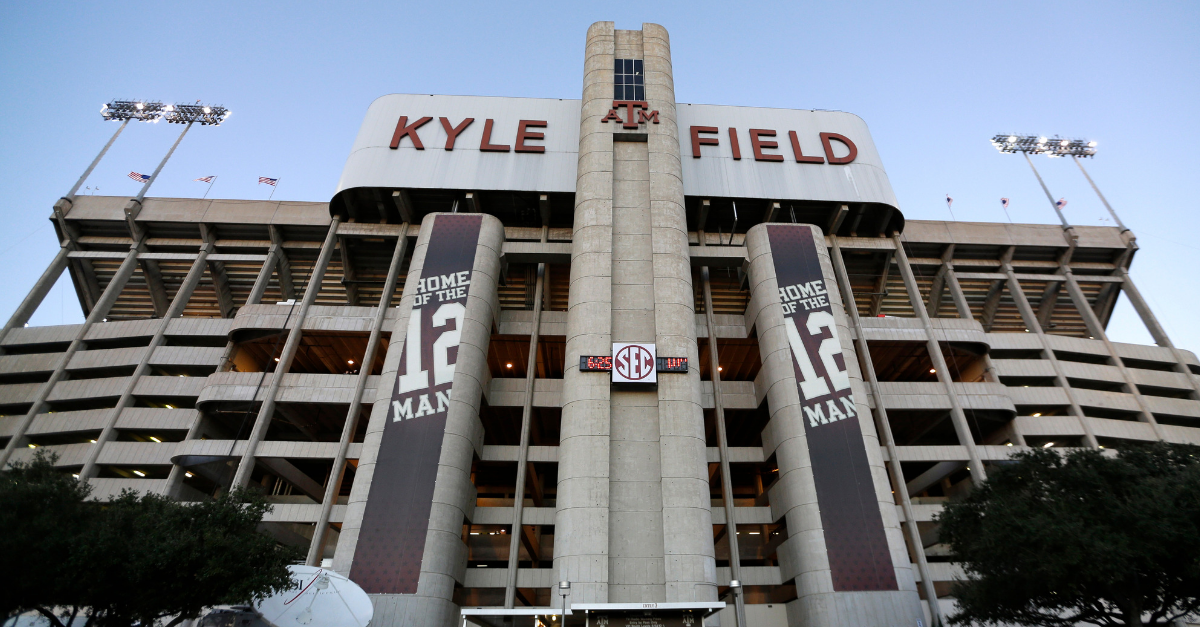 AP Photo/David J. Phillip
A college football stadium doesn't just host football games on a few weekends every fall. Each one tells a unique story and creates memories of fame, fortune, triumph, heartache, and everything in-between that will last the test of time.
Although Michigan Stadium and Penn State's Beaver Stadium are the largest stadiums and hold the most fans on Saturdays, there are a few stadiums across the country that have housed generations of fans for over 100 years with some amazing renovations along the way. Without further ado, here is a look at the seven oldest NCAA college football stadiums in the United States.
Boone Pickens Stadium (Oklahoma State)
Location: Stillwater, Oklahoma
Year Built: 1919
Capacity: 60,218
Last Updated: 2005
What once started as a 8,000-seat stadium at Lewis Field as gone to "The Next Level" since the turn of the millennium. Boone Pickens Stadium is certainly a first-class stadium in the Big 12 and has become a nightmare for opponents with small sidelines and the fans within feet of the field of Cowboys home games.
 Camp Randall Stadium (Wisconsin)
Location: Madison, Wisconsin
Year Built: 1917
Capacity: 80,321
Last Updated: 2005
A staple in the Big Ten Conference, the home of the Badgers lies on the grounds of a former Union Army training camp during the Civil War. Its famous history along with the 80,000-seat capacity makes this one of the coolest atmospheres in all of college football.
Nippert Stadium (Cincinnati)
Location: Cincinnati, OH
Year Built: 1915
Capacity: 40,000
Last Updated: 2015
The smallest stadium of the bunch, Nippert Stadium has received a few facelifts over the years, but the important fact is the Bearcats still play there. The stadium is named after former UC player James Gamble Nippert suffered a spike wound injury and died a month later of blood poisoning.
Vaught-Hemingway Stadium (Ole Miss)
Location: Oxford, Mississippi
Year Built: 1915
Capacity: 64,038
Last Updated: 2016
This started as a federally sponsored project before a few expansions made it the home of the Rebels for the next few decades. Vaught-Hemingway Stadium at Hollingsworth Field is a must see football stadium in the SEC and currently the state's record for attendance ever at 66,176 against the Alabama Crimson Tide in 2016.
Davis Wade Stadium (Mississippi State)
Location: Starkville, Mississippi
Year Built: 1914
Capacity: 61,337
Last Updated: 2014
Less than 100 miles down the Magnolia State sits another SEC staple. If the two schools needed something else to call a rivalry, Davis Wade Stadium at Scott Field is just one year older than the in-state rival and you better believe all Bulldogs fans will let those bragging rights known.
Bobby Dodd Stadium (Georgia Tech)
Location: Atlanta, Georgia
Year Built: 1913
Capacity: 55,000
Last Updated: 2003
Often known as the Ramblin' Wreck, Georgia Tech was in rudimentary form in 1905 and often recognized as the oldest stadium in the FBS stadium. However, this unique ACC stadium wasn't technically the first to be played in.
Kyle Field (Texas A&M)
Location: College Station, Texas
Year Built: 1904
Capacity: 102,733
Last Updated: 2015
Call it a technicality if you want, but Kyle Field has been the home for the Aggies since 1904, when Edwin Jackson Kyle used his own money to build wooden bleachers to help promote football. The beautiful concrete stadium and the largest in the SEC has had a permanent structure since 1927. It's hard not to call this the oldest with it being in rudimentary form since 1904.
The Next Wave
Husky Stadium (Seattle, Washington — Washington — 1920)
David Booth Memorial Stadium (Lawrence, Kansas — Kansas — 1921)
Neyland Stadium (Knoxville, Tennessee — Tennessee — 1921)
Rose Bowl Stadium (Pasadena, California — UCLA — 1921)
Ohio Stadium (Columbus, Ohio — Ohio State — 1922)
Vanderbilt Stadium (Nashville, Tennessee — Vanderbilt — 1922)
California Memorial Stadium (Berkeley, California — California — 1923)
Los Angeles Memorial Coliseum (Los Angeles, California — USC — 1923)
Memorial Stadium (Champaign, Illinois — Illinois — 1923)
Memorial Stadium (Lincoln, Nebraska — Nebraska — 1923)
Spartan Stadium (East Lansing, Michigan — Michigan State — 1923)
Michie Stadium (West Point, New York — Army — 1924)
Darrell K Royal—Texas Memorial Stadium (Austin, Texas — Texas — 1924)
Folsom Field (Boulder, Colorado — Colorado — 1924)
Ross-Ade Stadium (West Lafayette, Indiana — Purdue — 1924)
Tiger Stadium (Baton Rouge, Louisiana — LSU — 1924)