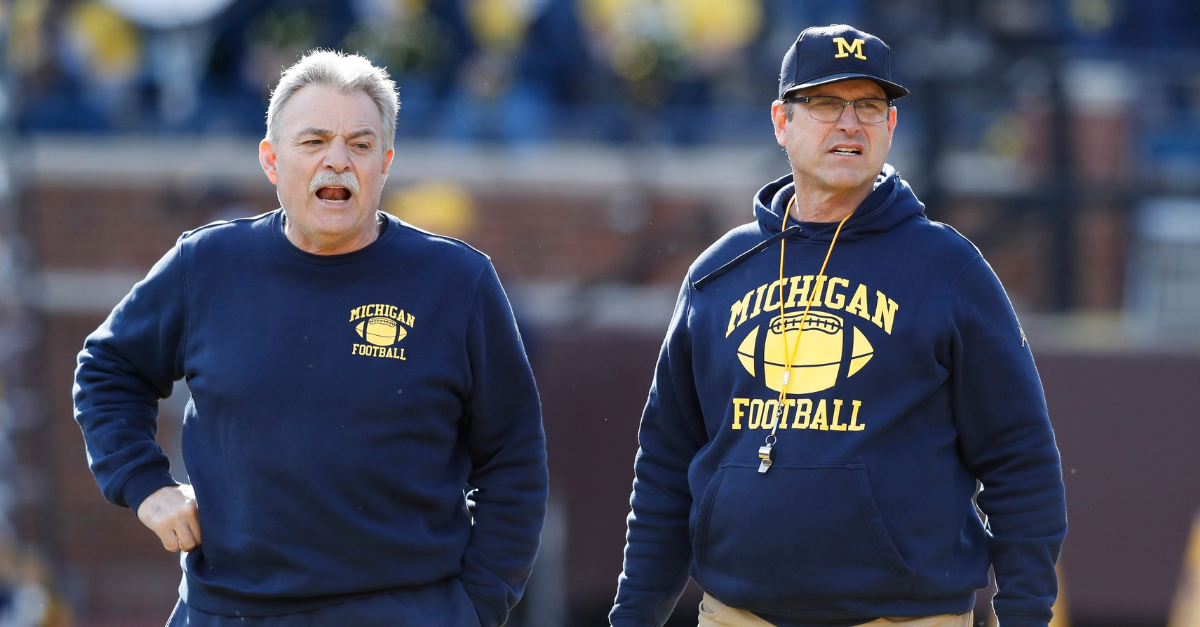 AP Photo/Carlos Osorio
From the moment Michigan Wolverines head coach Jim Harbaugh was hired by his alma mater, the expectations for the college football program have been through the roof. Fans in Ann Arbor expect national championships, but all they have seemingly received in return are a few participation trophies.
In four seasons at the helm, Harbaugh has led Michigan to a 38-14 overall record, including a 26-9 in Big Ten Conference play. The Wolverines have three 10-win seasons, one bowl victory, and tied for first in the Big Ten East last season with the Ohio State Buckeyes. Respectable? Absolutely. Reasonable? Sure. Good enough? Not at all for the Maize and Blue faithful.
One knock for the team is its offense. The defense has always been stout, especially last season, but the Wolverines averaged a rather pedestrian 419.5 yards per game, which ranked No. 49 in the country, with quarterback Shea Patterson under center. They also ran the ball a lot more than they threw it (549 rushing attempts to 347 passing attempts) and got smacked by the Florida Gators in the Peach Bowl.
So when it was time for Michigan?s spring game over the weekend, one person took it upon themselves to make fun of Harbaugh by purchasing an airplane banner to fly over Michigan Stadium.
RELATED: Notre Dame?s Brian Kelly Trolls Michigan Football With Hockey Game Jab
?Hey Jim, this is God,? the banner read. ?It?s okay to pass on 1st down. Let?s try it!?
While this provides a pretty decent chuckle and comic relief for the rest of the college football world, perhaps this person forgot changes have already been made to perhaps improve Michigan?s offense starting next season.
Not only does Patterson return with another year under his belt, last year?s offensive coordinator Pep Hamilton is no longer there. Harbaugh hired Alabama?s Josh Gattis for the role and will likely let him run the show.
There?s potential for things to change in a big-time way. However, there are Michigan fans willing to troll the Michigan coach until it happens.