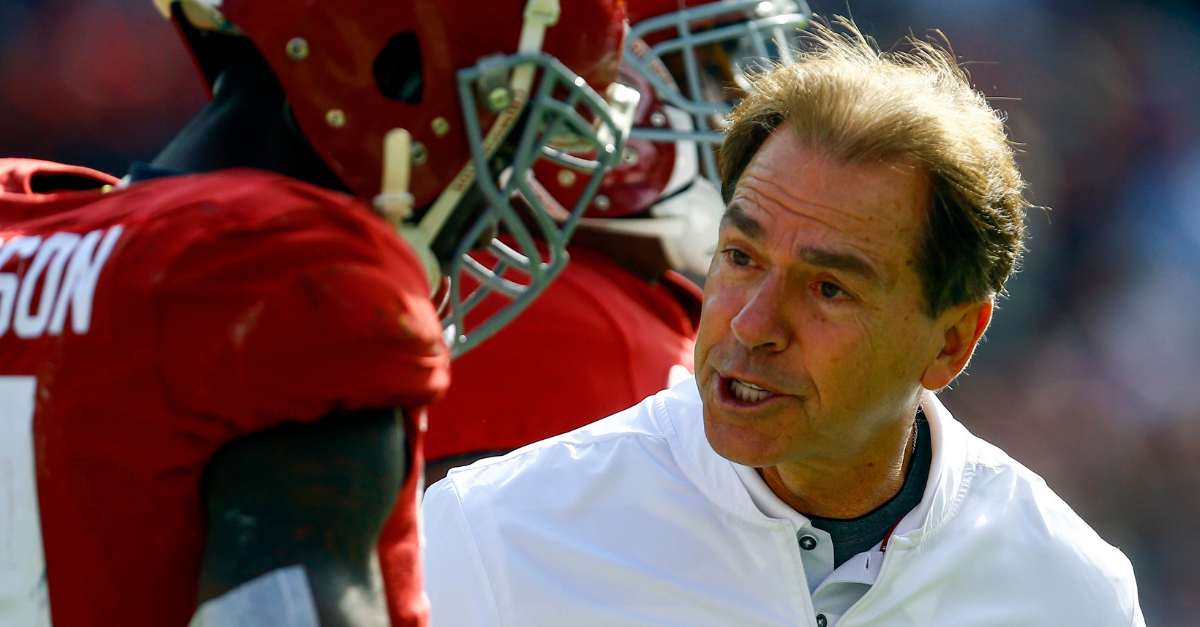 AP Photo/Butch Dill
AP Photo/Butch Dill
The line of Alabama football coaches leaving the program this offseason is longer than most people's grocery lists. Offensive coordinator Mike Locksley left for Maryland. Quarterback coach Dan Enos jumped to Miami. Offensive line coach Brent Pry bounced for Georgia Tech. If that all wasn't enough, defensive coordinator Tosh Lupoi, one of Nick Saban's best recruiters, will join the Cleveland Browns in 2019, according to Bruce Feldman of The Athletic.
Arguably one of the biggest losses is former Alabama co-offensive coordinator and wide receivers coach Josh Gattis, who was hired by Jim Harbaugh as the Michigan Wolverines' offensive coordinator. During his first public comments on The Harbaughs Podcast, Gattis detailed the story in which he told Saban he was leaving. At first glance, it sure doesn't sound like a conversation you want to be a part of.
Gattis was considering taking a job alongside Locksley, who was hired as head coach of the Maryland Terrapins after Alabama beat Georgia in the SEC Championship Game. After the team's national championship loss to Clemson, that's when Gattis went to meet Saban and break the news of his departure as well.
What transpired sounds like what happens when a kid doesn't finish all of their chores:
"When coach Harbaugh called, it kind of caught me off guard. I had just left a meeting with Nick Saban getting my butt chewed out for about 20 minutes telling him I was leaving and he was trying to get me to stay. It didn't go over well. So if there was any Band-Aid to the bruise it was that (Harbaugh) phone call."

? Josh Gattis, via The Harbaughs Podcast
Gattis was also considered to take over as Alabama's offensive coordinator before Dan Enos took that job (and then backed out to join Miami). Gattis went on to commend Harbaugh and the Michigan staff for the short time he's been in Ann Arbor after agreeing to three-year deal worth $2.9 million.
"I think our chemistry is one of the things that's important. Those guys have been open-armed to me and my family," Gattis said. "This is, by far, the most hospitable staff that I've been around."
Gattis also referred to Harbaugh and Michigan as "the right staff, the right head coach" for the next chapter of his career.
Coming from a coach that spent several years with James Franklin at both Penn State and Vanderbilt, that sure speaks volumes to his only season winning 14 games with Alabama.
RELATED: A Ghost of Football's Past Returns to Alabama, and Fans Absolutely Hate It
After that podcast was released, and many saw his words as a cheap shot to the Alabama football program, Gattis raced to the defense of his former employer by saying the quote on Jim Harbaugh's podcast was taken out of context in this tweet:
"Anyone who has taken words from my podcast out of context as a shot on someone and a program I have tremendous respect for is completely wrong! Reading without listening is a complete assumption. The joke was poorly made lightly not to reflect someone I have the utmost respect for!"

? Josh Gattis, via Twitter
It's no secret that the demands of working for Nick Saban and the Crimson Tide are higher than anywhere in the country. For a college football program that's won 127 games over the last 10 seasons, you'd better prepare for the high expectations that come with the Alabama football program.
But even if those words were taken "out of context," isn't it strange for Gattis to even bring up the fact that Saban apparently chewed him out over a 20-minute span?
Based on Gattis' explanation, it sure sounds like the Crimson Tide's fearless leader is, at the very least, feeling the heat of yet another coaching staff collapsing around him in Tuscaloosa.
Then again, maybe this is all just another day in the life of the Alabama Crimson Tide.