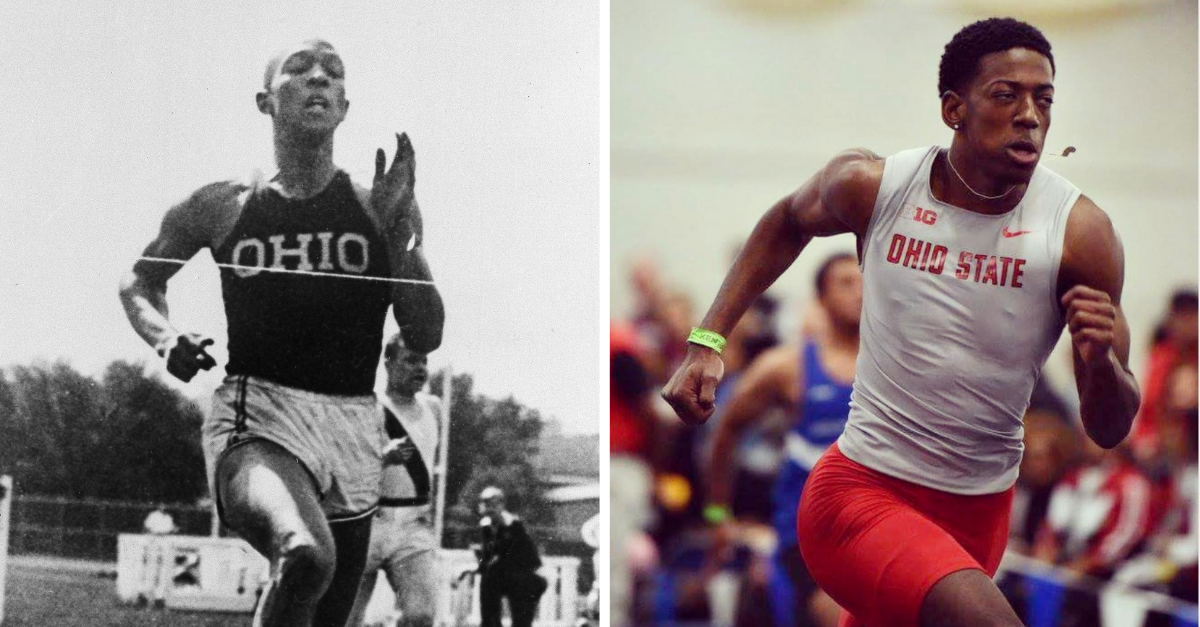 AP Photo and Instagram: @saintnick__
When it comes to track and field, Jesse Owens is considered the gold standard. After all, he set three world records in less than an hour at a Big Ten track meet with the Ohio State Buckeyes in 1935, and then famously won four gold medals at the 1936 Olympic Games in Berlin, Germany in the 100 meters, 200 meters, long jump and 4×100 meter relay. Even today, every athlete chases his greatness.
Someone who has always eyed Owens? records from a young age is Ohio State senior sprinter Nick Gray. A native of Pickerington, Ohio, he will definitely leave Columbus as one of the most decorated NCAA Division I track athletes in school history on his. Gray is already a five-time USTFCCCA First Team All-American and owns eight Big Ten championships. The only thing he really hadn?t accomplished was breaking a record set by Owens?. Until now.
At the Gamecock Invitational in Columbia, South Carolina, Gray broke Owens? 80-year-old school record with a 10.17 second 100-meter dash. Owens? record was 10.20 seconds.
RELATED: The 10 Most Influential African-Americans in Sports History
What?s crazy is that Gray, who went to Pickerington North High School, didn?t even win the gold medal in the 100-meter track & field event hosted by the University of South Carolina. He took home the silver while South Carolina State?s Demek Kemp won the event with a blazing 10.03 second final heat. OSU Buckeyes teammate Eric Harrison finished with the bronze at 10.26 seconds.
Breaking the school record set by Jesse Owens should be good enough for Nick Gray, but he wasn?t done. He also broke a 26-year record to win the 200-meter dash with a time of 20.20 seconds.
?2 school records in one day. I?d be lying if I said my body isn?t in shambles right now. I had my eyes set on that Jesse Owens record since high school? happy to have finally put my name in the outdoor record books in the 100m and 200m.?

? Ohio State Buckeyes Men?s Track & Field Senior Nick Gray
Whether it?s outdoor records or indoor track championships, Nick Gray can now almost say he?s done at all at Ohio State University.