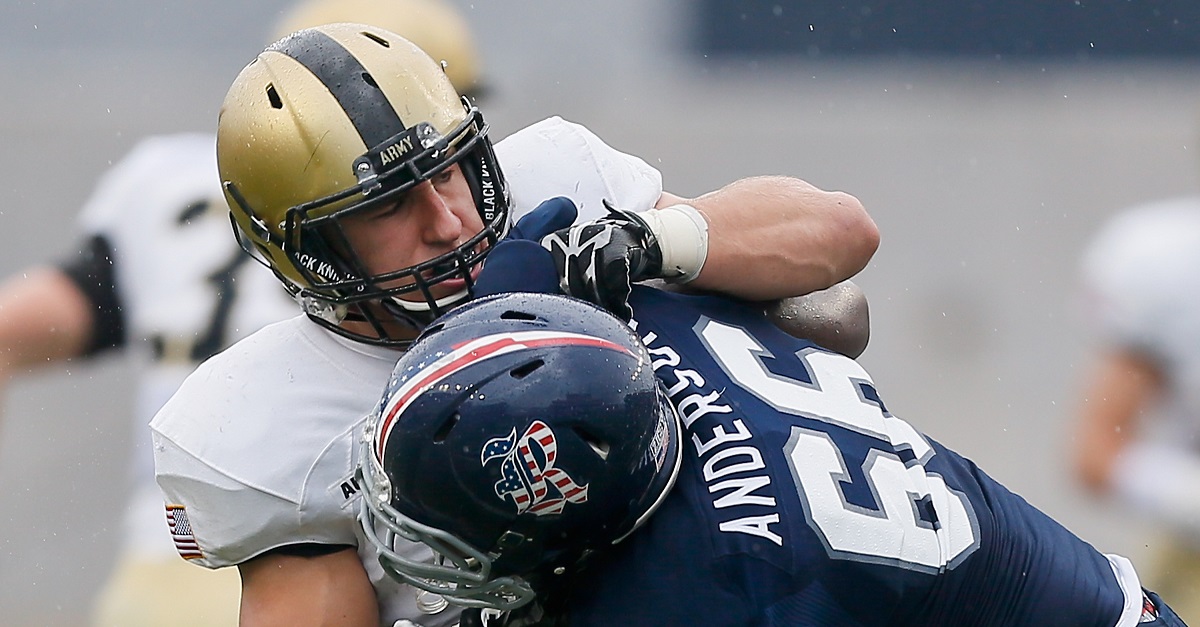 Bob Levey/Getty Images
HOUSTON, TX - OCTOBER 24: Calvin Anderson #66 of the Rice Owls locks up with Brandon Jackson #28 of the Army Black Knights at Rice Stadium on October 24, 2015 in Houston, Texas. (Photo by Bob Levey/Getty Images)
Calvin Anderson announced in January that he would seek a graduate transfer from Rice and since then he has gotten a ton of attention and offers from schools. The 6-foot-5, 300-pound offensive tackle has narrowed down his choices and told SI.com which schools he favors right now.
?The best way I?d put it now is that Texas and Michigan are first tier,? Anderson says. ?Behind them is Auburn, and then [Oklahoma] and then TCU. It?s mostly fluid, though, from No. 1 through 4, with TCU a little less likely.?
He also set a deadline to make his decision by March 25?the day he turns 22?but adds that he?ll likely make his decision before then. So it looks like one of those schools will get a nice spring time bonus for their squad.
Texas reached out pretty early last month and they are the closest school to his hometown of Austin. They also have an advantage as Anderson was first seen by former Auburn offensive line coach Herb Hand, but shortly after the visit he made the move to the Longhorns. That could help them out, as well as their location, but they seem to be in good standing as of now since they are in the first tier of schools.
Anderson specifically said that he would have loved playing for head coach Mike Bloomgren — who just took the job for this season — but that he needs a bigger challenge in his last year of eligibility and on a bigger stage.
?As soon as Bloomgren got on campus, I spoke to him that same day,? Anderson says. ?If I was just considering Coach Bloomgren, it would?ve been perfect, but part of the problem is what I need out of my next year to play at a higher level on a bigger stage with better competition. It wasn?t really about Coach Bloomgren. It was more about Conference USA and trying to move up from that.

?I think it is more about who I am playing against. I want to display my talents against better players. Obviously, it?s a bonus to be on a good team, a team that can win a championship. All of that stuff is great. The motivation for the transfer was to play against better defensive linemen.?
He will definitely be seeing better competition and better defensive linemen whether he's playing in the Big 12, Big Ten or SEC by the time it's all said and done.