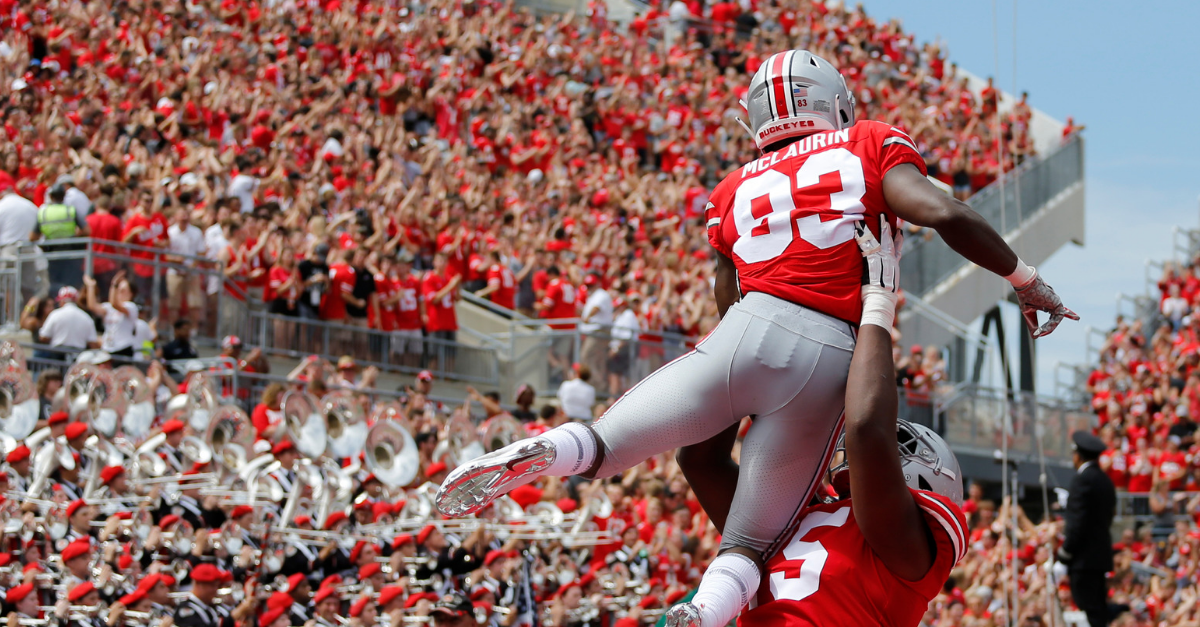 AP Photo/Jay LaPrete
AP Photo/Jay LaPrete
College football is all about big numbers, fast offenses and lots of points. Interested parties can rejoice that legal in-casino gambling is now available in several states, including Mississippi, with almost half of the United States working legislation through state governments to make it happen as soon as possible.
There are so many games to bet on week after week, it'd make your head spin trying to find the best bets. Luckily, with the help of Fanbuzz's friend, Dave Bartoo, we've narrowed down a few of the best games to place your hard-earned dollars on (where legal) and sit back and watch that money grow.
For those unfamiliar, there are three main ways you can bet on a game:
1. You Bet the Line: For example, Houston is (-3.5) — that means, the Cougars are favored to win, and if you bet on them, they would have to win by four or more points. If they win by three or less, or they lose altogether, then you lose.
2. You Bet the Over/Under: At the time of this article, UCLA and Oklahoma are projected to score 66 points in their game. You can either bet that the two teams score more than that or less. If it's 66 on the nose, then the game is pushed. Easy, right?
3. You Bet the Money Line: This one is tricky, but it's a great way to bet on games that could go either way. For example, here's the money line for BYU versus California:
California: +130
BYU: -150
You'd have to wager $150 on BYU to collect $100, but if you wagered $100 on Cal, you'd win $130. In other words, you'll have to wager more money on BYU than you would California in order collect on a bet.
In-person legal sports gambling is a billion dollar industry that is finally taking flight, and it's going to become the new normal sooner than you think.
Now that the logistics are out of the way, it's time to look at the best bets in College Football for Week Two. All the lines below are listed by Bovada.
Georgia Tech (-3.5) at South Florida
Both teams trounced their opening weekend FCS opponents, but this game figures to be a swing game that'll be decided on the last few possessions. According to CFB Matrix's Dave Bartoo, the Yellow Jackets are 12-3 against the spread since November 12, 2016, and this is a juicy line to take because of South Florida's inability to stop the run — The Bulls allowed 192 yards on the ground to Elon last week.
Georgia Tech's triple-option attack enters its 11th season under head coach Paul Johnson, and it could very easily put a HUGE rushing number on Charlie Strong's young South Florida defense. Expect Georgia Tech to wear down South Florida as a hot Saturday in Florida drags on, but the Yellow Jackets are primed to cover this spread easily, especially if it that line closes even tighter as the weekend comes.
Northwestern vs. Duke (O/U: 49 points)
For some reason, the Pat Fitzgerald's Northwestern Wildcats are continually disrespected. The program has had two 10-win seasons the last three years and are positioned to challenge Wisconsin for the Big Ten's West Division title. They handled business against Rondale Moore and Purdue last week, and they're now back home to face the Blue Devils.
Northwestern showed last week that their offense is capable of big games on the legs of running back Jeremy Larkin (163 total yards and two TDs in week one). For Duke, they easily covered their minus-14 spread against Army, totaling 184 yards on the ground and averaging 5.3 yards per carry. Both defenses though? In total, the two teams allowed 837 total yards of offense.
Expect a lot of points. Bet the over.
Fresno State (+135) at Minnesota
The Golden Gophers started true freshman walk-on quarterback Zack Annexstad in their 48-10 opener against New Mexico State, and the kid shined as Minnesota ran up 522 total yards of offense on the afternoon. Fresno State's ridiculous 79-13 win against Idaho was inflated by the fact that they forced seven turnovers and ran for seven touchdowns. Don't expect the Bulldogs to do THAT every week, but they're a sneaky pick to knock off Minnesota on the road.
Second-year coach Jeff Tedford guided the Bulldogs to 10-4 record last season and the program's first bowl win since 2007. They could very well win the high-scoring Mountain West Conference this year. Minnesota is favored at home, but Fresno State has experience on their side returning 16 starters from a season ago. I like them to win a tight one on the road this Saturday.
Miami (OH) (-115) vs. Cincinnati
The Redhawks of Ohio might have played the best game of any team to take a loss on opening weekend. Miami played Marshall to a 35-28 final and dropped their Mid-American Conference opener. Miami quarterback Gus Ragland threw for 357 yards and three touchdowns, but the comeback ended after a holding penalty stalled Miami's final drive with just over two minutes to go.
Cincinnati took advantage of Chip Kelly's ugly debut as head coach at UCLA and knocked off the Bruins 26-17. The Bearcats held the ball for over 34-minutes of game time and pounded the Bruins with 35 carries courtesy of Michael Warren II.
Miami gets another shot at home, and this time it's an 8:00 p.m. ET kickoff under the lights. I love the Redhawks on the money line.
Rutgers at No. 4 Ohio State (O/U: 65 points)
Ohio State proved that they don't need Urban Meyer to dominate inferior competition, hanging 77 points and 721 total yards of offense on Oregon State. They're in the business of embarrassing everybody they can to overcome the early-season stigma that comes with the Zach Smith scandal, and Rutgers is, sadly, next in line.
Rutgers ran for 218 yards and handled business against Texas State, so I'd expect them to manage a few scores on the road in a hostile Big Ten environment. I'd expect Ohio State to reach 50 on their own, and some help from Rutgers should easily take this game over 65 total points.