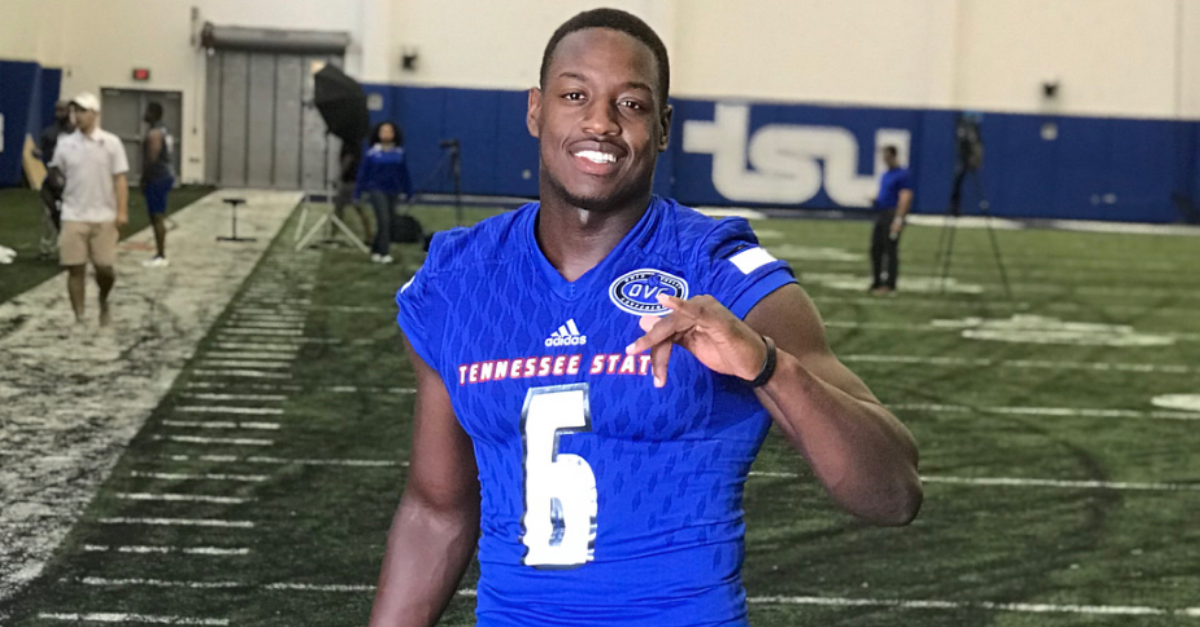 Instagram: @1018ab_
Tennessee State sophomore middle linebacker Christion Abercrombie remains in critical condition in Nashville after undergoing emergency brain surgery on Saturday. His status is being checked by the minute, his family has not left his side, and now the entire nation can help Abercrombie?s family during this difficult time.
After getting approval by the NCAA, Tennessee State University was allowed to launch fundraising efforts for the critically injured TSU football player and his family. A GoFundMe page has been made for Abercrombie to help his family with expenses.
Unlike some cases, the approved fundraising page would not risk Abercrombie?s eligibility.
With the goal to raise $250,000, over $17,000 was raised by 360 people during the first 19 hours, and this is only the beginning.
The 20-year-old Abercrombie was injured on what appeared to be a routine play, according to Tennessee State head coach Rod Reed, in the second quarter during Tennessee State?s 31-27 loss at Vanderbilt this past weekend. The 6-foot-3, 230-pound linebacker even made it to the Tigers sideline after the play before complaining to trainers about a headache and collapsing a short time later, becoming unresponsive.
Abercrombie, an Atlanta native, was then rushed from Vanderbilt Stadium to Vanderbilt University Medical Center and underwent emergency brain surgery.
?Christion is resting. He?s fighting. We?re trusting God and please continue to pray.? ? Staci Abercrombie, Christion?s mother
Many of the mothers of Abercrombie?s teammates have teamed up to make sure the family has not been alone, according to The Tennessean, since neither Derrick or Staci Abercrombie have left the hospital since their son was rushed there just before halftime of Saturday?s game.
Vanderbilt has also provided support, including visits from athletics director David Williams and Commodores football coach Derek Mason.
?David Williams and his staff were with us all night Saturday,? TSU athletics director Teresa Phillips told the paper. ?I?ve been at the hospital the whole time except to go home to sleep for a few hours and take a shower. When I went back Sunday morning the first person I saw off the elevator was Derek Mason. He had been there and visited for a long while with the family.?
TSU is also holding a prayer vigil at 9 p.m. Tuesday night at the Floyd-Payne Campus Center.
Everyone is rallying around Christion Abercrombie and his family after the scary head injury and emergency surgery. Thanks to the approved NCAA rules, some crowd-funding attempts can now help with medical expenses, too.