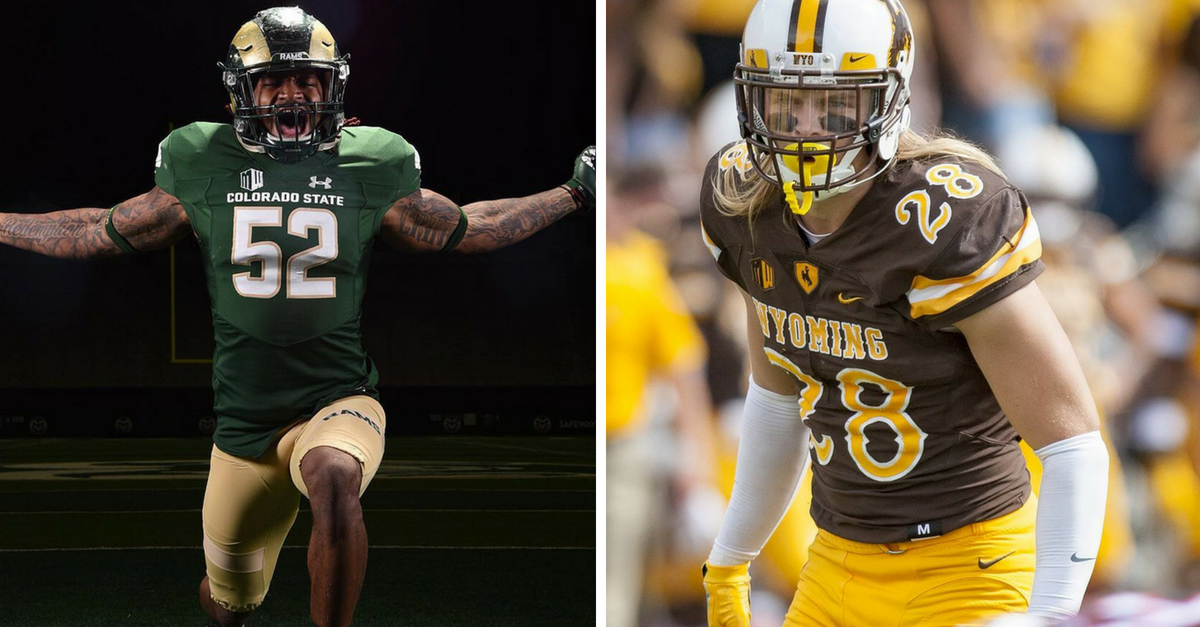 Instagram: @csufootball, @wyo_football
Instagram: @wyo_football
Instagram: @csufootball
While College Gameday and the powerhouses of college football use this time to prepare for next weekend, there are four games taking place this Saturday that actually count. Week Zero in college football has officially arrived.
From two FCS schools looking to shake up their program to a top-10 defense in action to another school coming off its first bowl win in 57 years, this weekend signals the start of the college football season, and we're here to preview all of it.
Week Zero, much like its used in high school football, is the official start to the season, although it's typically overlooked with the bulk of teams starting the following week.
These eight schools scheduled the extra game this week, and game day is finally upon us.
Big or small, good or bad, football is football, and it's finals back with these four games to kickoff the 2018 season.
Wyoming (-6) at New Mexico State
Wyoming Cowboys
Wyoming led the nation in turnovers and turnover margin last season on their way to an 8-5 record and a 37-14 win over Central Michigan in the Famous Idaho Potato Bowl. For a team that lost quarterback Josh Allen to the first round of the NFL draft, they'll be relying heavily on their defense in 2018.
Preseason All-American safety Andrew Wingard picked off five passes last season (T-11th in the nation), junior linebacker Logan Wilson led the team with 9.2 tackles per game (29th in the nation), and senior defensive end Carl Granderson gobbled up 9.5 sacks last season (T-13th in the nation). All three return this year to one of the best units in among all Power 5 teams.
New Mexico State Aggies
The Aggies finished 7-6 last year and knocked off Utah State to win their first bowl game since 1960 and finished above .500 for the first time since 2002. The program enters their first year as an FBS Independent this year, and they'll have big shoes to fill — The Aggies are the only FBS program who has to replace its leading passer, rusher, receiver and tackler from last season.
Running back Jason Huntley and center Jamin Smith are the high-profile players returning to the offense, as both have been named to national preseason watch lists. Head coach Doug Martin enters his sixth season at the helm, and New Mexico State has a lot of momentum after breaking their nearly 60-year bowl drought in 2018.
PREDICTION: Wyoming 27, New Mexico State 10
Hawai'i at Colorado State (-14)
Hawai'i Rainbow Warriors
The Rainbow Warriors once potent offense has softened over the years, but the Mountain West school has been a mess on both sides of the ball. Last season, the ranked 105th in scoring offense (22.8 points scored) and were 106th in scoring defense (33.9 points allowed).
Nick Rolovich, always one for flare at Media Days, returns for his third season that returns only 10 starters on both sides of the ball. CFB Matrix's Dave Bartoo predicts Hawai'i winning only four games this season, which probably won't save Rolovich's job.
Colorado State Rams
The Rams won seven games last season, but lost in the New Mexico Bowl 31-28 to Marshall to close the season. They lost All-American wide receiver Michael Gallup to the NFL, and the Rams will have to retool an offense that racked up 492.5 yards per game on offense last year, good for 11th in the nation.
Redshirt senior linebacker Josh Watson is the team's leading returning tackler, but otherwise Colorado State will look totally different in 2018. Dave Bartoo has the Rams winning seven games once again, and another bowl eligible season will start with taking care of Hawai'i at home.
PREDICTION: Hawai'i 24, Colorado State 35
Duquesne (FCS) at Massachusetts
Duquesne Dukes
The Dukes started last season 7-1 before dropping their final three games. The NEC powerhouse have won 12 conference titles since 2000, but haven't had a chance in recent years to take on an FBS opponent.
Junior running back A.J. Hines returns, after being an All-NEC selection last season and returns to an offense that average 32.2 points per game last season. The Pittsburgh-based Dukes can run it up with the best of them.
Massachusetts Minutemen
The FBS independents have won 19 total games over the last seven seasons. Despite finishing 2017 with a 4-8 record, the Minutemen's offense was ranked in the top-ten all-time in school history a season ago.
Redshirt senior quarterback Andrew Ford returns, and he's already been named to the Davey O'Brien preseason watch list given to the top quarterback in the FBS. He'll finish his career as the No. 2 passer in school history. Senior running back Marquis Young will look to eclipse 1,000 -yards for the first time, despite being a four-year starter.
PREDICTION: Duquesne 31, UMass 35
Prairie View A&M (FCS) at Rice
Prairie View A&M Panthers
Redshirt senior quarterback Lavell McCullers and junior running back Dawonya Tucker were the team's second-ranked passer and rusher respectively last season, and they return to return Prairie View A&M to FCS glory.
The Panthers are coming off a 6-5 season, including a 4-3 conference record in the SWAC. Prairie View has won one conference championship since 1965, but are hopeful they'll be able to start the season off on the right foot by knocking off a low-tier FBS program on the road.
Rice Owls
The Owls didn't have much to celebrate after a 1-11 season last year. They haven't won since September 9 last year against UTEP. The lone bright spot for this team is redshirt sophomore wide receiver Aaron Cephus, whose 24.88 yards per reception actually led the nation last year.
First year head coach Mike Bloomgren comes over from Stanford, and he also spent time with four seasons with the New York Jets. They haven't had a winning record since 2014, but expect Rice to be better this season.
PREDICTION: Rice 31, Prairie View 17