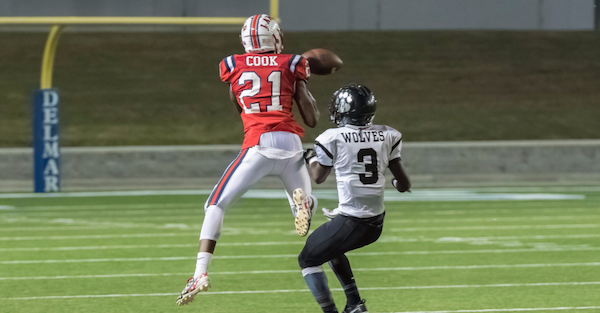 @_ACook21/Twitter
@_ACook21/Twitter
Five-star cornerback Anthony Cook is four months away from announcing his decision for his commitment, and there are still several schools in the mix for him.
Ohio State and Texas are at the top of the list for Cook, who is the No. 1 corner and No. 5 overall player according to 247Sports. But he recently said he is still strongly considering LSU given their track record with defensive backs.
"Don't count (LSU) out," Cook said. "It's DBU. You can't ever count LSU out. I love the environment, and it's close to home. I have a good relationship with (defensive backs coach Corey Raymond), and I talk to (Ed Orgeron) and I like him. LSU is definitely in the running. I have been there once and it wasn't too long ago. Coach Orgeron said I can come in and make an impact and help the Tigers out whenever I come. (Raymond) told me the same thing."
Related: A favorite has reportedly emerged for five-star DB Anthony Cook
The Houston product said he will make his decision no later than Halloween, and Ohio State is the current leader in the 247Sports Crystal Ball.
Cook said while he doesn't have a top three schools, Ohio State would be in the top three based on how many defensive backs they've sent to the NFL in recent years.
Cook has developed a strong relationship with Texas coach Tom Herman, and he said the environment is different in Austin since he took over in the offseason.
Despite his interest in Ohio State, Texas and LSU, Cook only has one visit planned for the rest of the summer. He is visiting defending national champion Clemson in July.
The 6'0, 168 pound prospect is the No. 1 player from the state of Texas.
(h/t 247Sports)