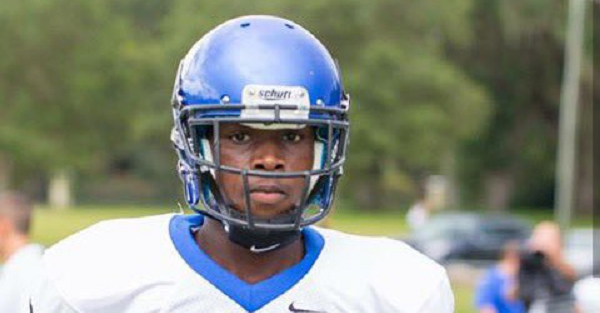 Twitter/@Im_showtime_
Twitter/@Im_showtime_
Well this would absolutely shake the recruiting world to its foundations.
Tyreke Johnson is one of the most highly-touted members of the 2018 recruiting class, as he is ranked as the nation's No. 2 safety and as a five-star recruit by the 247Sports Composite. Johnson recently named Georgia, Florida, UCLA and Ohio State as four schools near the top for him, but in an interview with Rivals, it looks like one much smaller school could have a shot for him.
Florida Atlantic.
Via Rivals:
?I give every school a fair shot, even Florida Atlantic has a fair shot with me right now because they have my brother at quarterback and I say any school that takes him will have a great shot of getting me.?
Johnson's brother, De'Andre, is a former three-star recruit that was originally signed with Florida State. De'Andre was then kicked out of school after striking a woman in a bar, and he later transferred to a JUCO for the 2016 season. Johnson has since signed on with Lane Kiffin at Florida Atlantic, where he could become a valuable chip to play in recruiting.
It's safe to still consider the Owls a longshot at this point, but how well Kiffin is able to recruit in his first season at Florida Atlantic will tell a lot about his future prospects as a head coach with a Power 5 school.