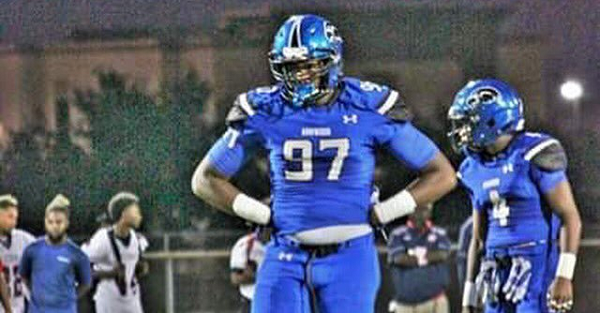 Twitter/@mlamar35
Malcolm Lamar is a huge 6'5″, 250-pound strong side defensive end in the 2018 recruiting class and he's said before that Alabama and Florida are sticking out to him. Now that's all fine and dandy, but guys have been known to switch and flip before February comes around for signing day.
RELATED: Malcolm Lamar has two rivals sticking out in his recruitment
However, the Armwood High (Seffner, Fla.) standout does like what he's seeing in Gainesville right now and went so far as to tell 247Sports that it's feeling like home.
"It was great," Lamar said of his most recent trip to see the Gators. "There's just something about Gainesville, every time I come up here, I feel like I'm at home."
Jim McElwain also told Lamar that he would have the chance to play early and that is always something that recruits like to hear. Lamar is a four-star recruit in the upcoming class and is ranked as the No. 12 strong side defensive end and No. 50 recruit in the state of Florida by 247Sports.
Here's some of his highlights: