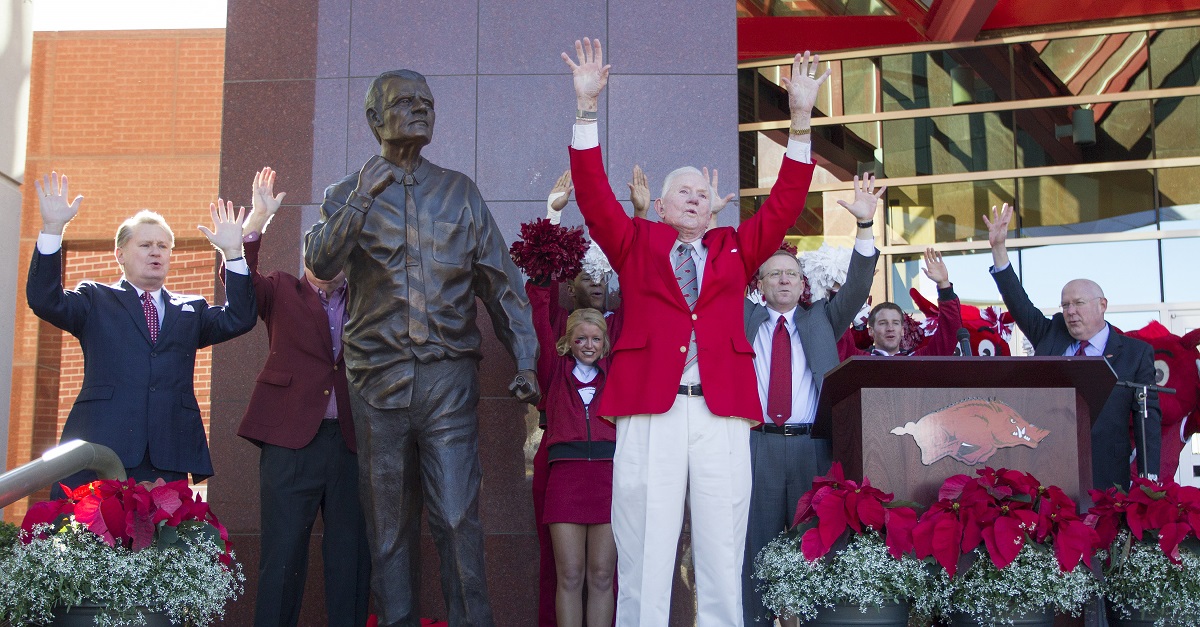 Wesley Hitt/Getty Images
FAYETTEVILLE, AR - NOVEMBER 23: Coach Frank Broyles of the Arkansas Razorbacks calls the Hogs with fans at the dedication of a statue in his honor before a game against the LSU Tigers at Razorback Stadium on November 23, 2012 in Fayetteville, Arkansas. (Photo by Wesley Hitt/Getty Images)
When college football icon Frank Broyles suffered a stroke in July, an entire generation of younger fans was able to learn more about the 92-year-old legend. After a battle of a few weeks since that unfortunate event, Broyles has now passed away at the age of 92.
The Broyles family released on an official statement through the University of Arkansas and a portion reads as follows:
"It is with profound sadness that we announce the passing of Coach Frank Broyles. He passed peacefully in his home surrounded by his loved ones.

For 92 years John Franklin Broyles lived nothing short of a remarkable life. To all who would listen, Frank Broyles was quick to proclaim, in his unmistakable and infectious southern tone, that he was blessed to live 'A Charmed Life'.

For more than five decades, he served the University of Arkansas and all citizens of his adopted home state in his role as a coach, administrator and goodwill ambassador for his beloved Razorbacks.

We wish to express our heartfelt gratitude to all those who helped contribute to his charmed life. Whether you were one of his players, coaches, colleagues or friends, a Razorback fan or fellow caregiver, you were an integral part of his fairy tale story. To his family, he was quite simply, our hero."
As noted above, Broyles spent more than 50 years affiliated with Arkansas in an official capacity and 19 of those years were spent as the program's head football coach. That stint resulted in an overall record of 144-58-5 and that included a split national championship during an undefeated season in 1964. He also won seven Southwest Conference titles and was inducted into the College Football Hall of Fame in 1983.
There will be what the family describes as a "public celebration of his life" on the Arkansas campus in the near future. Our thoughts and prayers go out to his family and all who came into contact with Frank Broyles over the years.