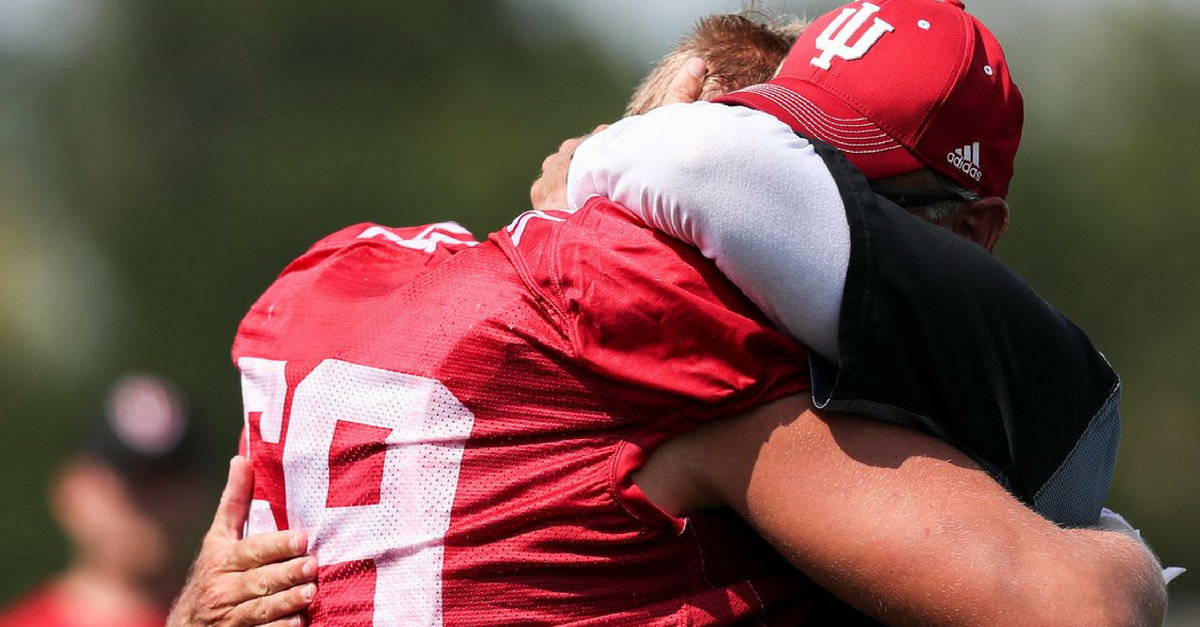 Twitter: CoachAllenIU
Tom Allen was fired up. Man, was he ever. The Indiana football head coach had that look and tone in his voice like he was ready to knock down a concrete wall, and there wasn?t a single person on that practice field who could stop him.
There was a reason for it, too, but it?s not what you might think. It actually had nothing to do with yelling or even trying to motivate his football team. Allen just wanted to set the scene for an incredible surprise, and he did it masterfully.
Calling the Hoosiers to circle around and asking for walk-on redshirt junior defensive lineman Gavin Everett to go up against junior offensive tackle Coy Cronk to battle in a one-on-one drill was merely a gimmick. The whole thing was a set up for Allen to surprise Everett with a scholarship.
If that doesn?t give you goosebumps, just watch.
There are few things in sports quite like watching walk-ons earning scholarships, and this one in Bloomington proves just that.
Allen setting the stage with the bullhorn was amazing. The surprise was awesome, the way the Indiana players mobbed Everrett was special, and then Allen?s Big Ten Championship level speech after was storybook.
?I love that guy because all he does is work. He doesn?t make excuses, came here as a walk-on, he came to compete, and he came to play. I love it.?
What a moment.
After starring at nearby Center Grove High School and then not seeing any playing time at Western Illinois in 2015, Everett walked on at Indiana in the spring of 2016.
And ever since his arrival, the 6-foot-3, 260-pound defensive end has done nothing but make plays for the Indiana Hoosiers.
Everett was the scout team player of the week twice while he sat out the 2016 season due to NCAA transfer rules and then made seven tackles with a half-sack and one forced fumble in nine games last season.
Nothing has likely compared to this unforgettable moment, though, and now Everett has this special surprise to watch over and over again for the rest of his life.