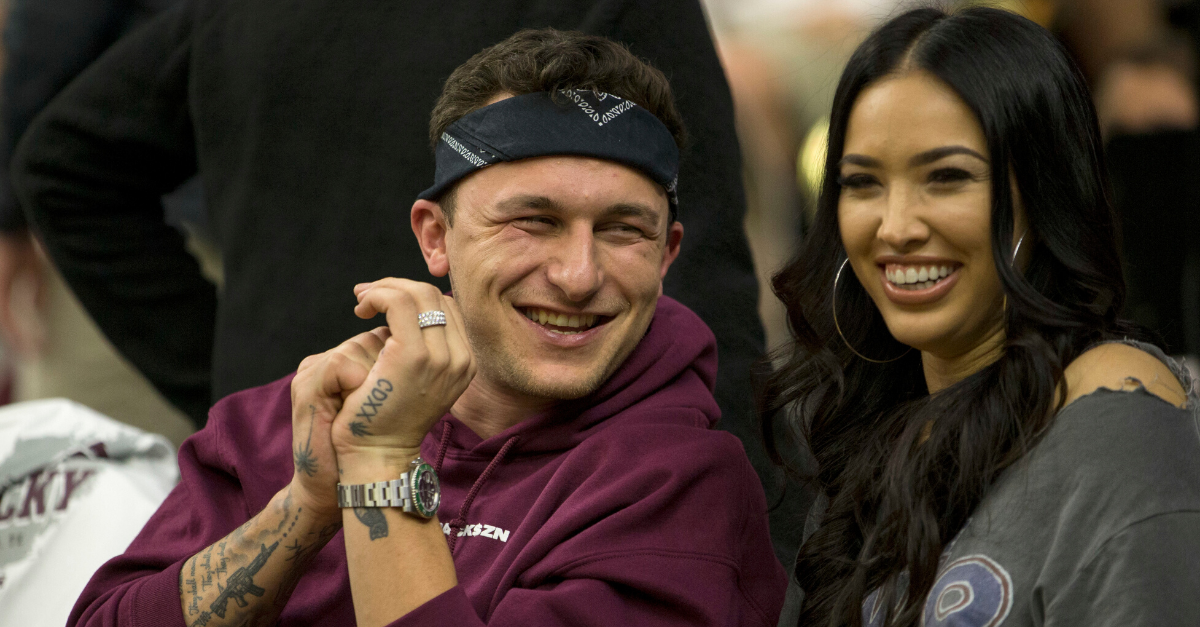 AP Photo/Sam Craft
Once upon a time, Johnny Manziel was on top of the football world. The man had it all. From becoming a Heisman Trophy winner to millions in his bank account, the star quarterback was seemingly untouchable. Then, life spiraled completely out of control.
Ever since his glory days playing for Texas A&M, Manziel has struggled to keep relevant. The former Cleveland Browns quarterback was out of the NFL just two seasons after he was a first-round pick, and had failed runs in the Canadian Football League (CFL) and Alliance of American Football (AAF).
Most recently, one of the constants in his life has been wife Bre Tiesi, but even that?s no longer a thing. According to TMZ Sports, the Instagram model filed for divorce Wednesday morning in Los Angeles after just a year of marriage.
Johnny Manziel?s Wife Bre Tiesi Files for Divorce
This news isn?t overly shocking. After all, the two split up earlier this year after Tiesi claimed Manziel cheated on her and that ?vows were broken? in a since-deleted social media post.
??u been married? U been betrayed I don?t do betrayal for a person I was devoted to period. Vows were broken f? money and f? u and every other loser on here,? she wrote.
When the couple got married, former NFL quarterback Johnny Manziel was looking to make a comeback. He signed with the Hamilton Tiger-Cats and played for the Montreal Alouettes in the CFL. He even tried his luck with the Memphis Express before the AAF folded.
However, that?s when the allegations came out, and he opened up to TMZ Sports.
"This is all very, very personal and very sad. I appreciate everyone who has been so supportive of both of us and I would just ask that everyone respect our privacy at this difficult time. My hope is to put my head down and be allowed to focus on work and what is required of me on the football field.?
Unfortunately, Johnny Football and model Bre Tiesi couldn?t make up, and the divorce is the next thing on the list for the troubled quarterback.