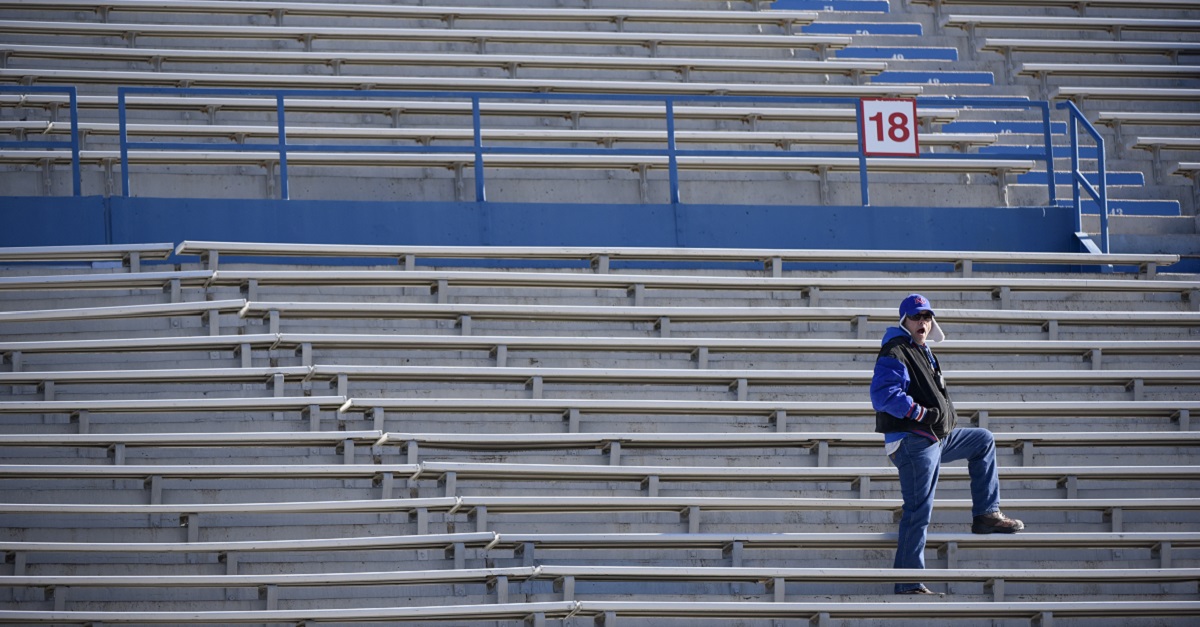 Ed Zurga/Getty Images
LAWRENCE, KS - NOVEMBER 21: A lone fan watches a game between the West Virginia Mountaineers and Kansas Jayhawks in the first quarter at Memorial Stadium on November 21, 2015 in Lawrence, Kansas. (Photo by Ed Zurga/Getty Images)
I guess if you want to try and spark your program, this is a good way to start.
According to KUSports.com, Kansas is set to invest $300 million into upgrades to the school's football facilities. Those upgrades will include renovations to Kansas's Memorial Stadium, as well as construction of an indoor football practice facility.
Related: One unlikely program is now building a $55 milllion football complex
The renovations would be a huge step for the Kansas program, which has been terrible over the past decade. Ever since Kansas went 12-1 in 2007, the Jayhawks have averaged just three wins a year since, which is mostly propped up by an eight-win season in 2008. That run also includes an 0-12 season in 2015, but hey, they beat Texas last year before going 2-10.
Kansas athletic director Sheahon Zenger pointed out that 10-year time frame on part of the reasons the program has fallen off so badly. From KUSports:
?The stuff we?re going to do first is like I talked about, things that we should?ve had 10 years ago,? Zenger said. ?At the top of the list is an indoor facility. So as we begin the stadium, we?re going to start with an indoor facility. We?re going to do things that will help young guys on the field."
[H/T The Spun]