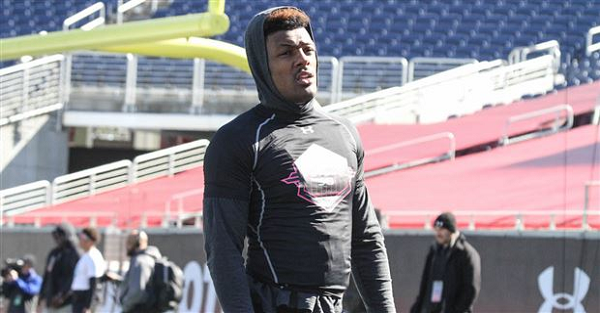 @GregBiggins/Twitter
@GregBiggins/Twitter
Kayvon Thibodeaux is a five-star defensive end and the class of 2019's top overall recruit according to the 247Sports Composite rankings. The 6-foot-5, 235-pound defensive end out of California said back in July that the four schools recruiting him the hardest were USC, LSU, Texas A&M and UCLA.
Coincidentally, those are also four schools that he knows will make his first top schools list when he releases it eventually. He told 247Sports that he's got quite a few schools that he know will make the list including the four above.
"A few schools I know that will make my list will be Alabama, Texas A&M, LSU, USC, UCLA and Michigan. That's not a top list or anything, just a few schools that I feel good about right now. I have Bama winning the National Championship and I like how they play. A&M has produced some good defensive ends and I'm looking forward to building that relationship more."
He's already taken unofficial visits to LSU and UCLA. Now that it's the spring of his junior season though, he will be able to start taking official visits and will likely get on some more campuses over the summer for camps as well. He also named a few schools he wants to visit, although he didn't say if they were going to be official visits or not.
"I want to visit Alabama for sure and maybe Georgia or Clemson if I have time. I want to get out to Washington and Michigan as well. Jim Harbaugh came to see me play this past season and I like him and their staff a lot. It's a great school, a great program with a great tradition and I have interest for sure."
Thibodeaux won't be playing for anyone until 2019 of course, but he's certainly going to become one of the biggest names on the recruiting trail as the 2018 class finishes signing in February.