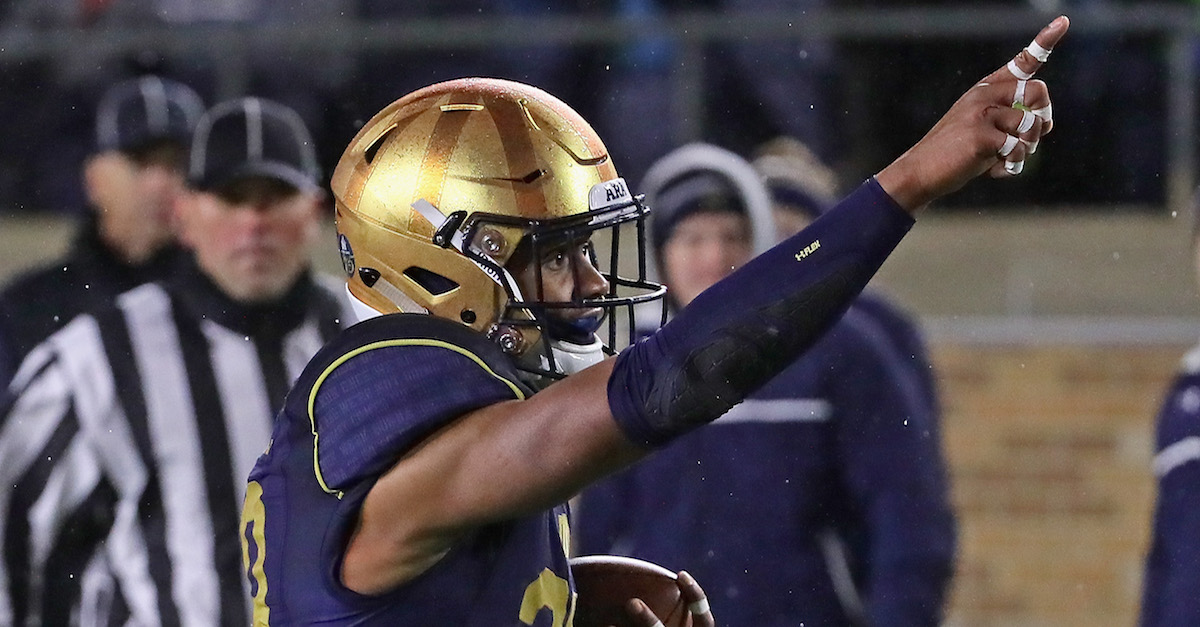 Jonathan Daniel/Getty Images
SOUTH BEND, IN - NOVEMBER 18: Kevin Stepherson #29 of the Notre Dame Fighting Irish celebrates scoring the game-winning touchdown against the Navy Midshipmen at Notre Dame Stadium on November 18, 2017 in South Bend, Indiana. Notre Dame defeated Navy 24-17. (Photo by Jonathan Daniel/Getty Images)
Former Notre Dame wide receiver Kevin Stepherson will reportedly remain in jail after he was arrested when arriving for a violation of probation hearing on Tuesday, according to the South Bend Tribune.
He will remain in jail until his next hearing on February 6 as he is not allowed to post bond while he awaits his next hearing. Since enrolling at Notre Dame, the former three-star recruit from Florida has been arrested a total of four times.
Stepherson was first arrested in August after he and three other teammates were pulled over. He was charged with possession of marijuana and accepted a plea agreement to have the charges dropped if he remained out of trouble for one year.
He was pulled over again in December and arrested for possession of marijuana, speeding and driving without a valid driver's license. Then, he was arrested for allegedly trying to steal a pair of sweatpants at a Macy's. Stepherson was also arrested last week for possession marijuana, among other charges.
The university dismissed Stepherson from the team earlier this month, but did not cite a reason for their decision. He was also suspended for four games to start the 2017 football season and was also suspended for the bowl game against LSU following his shoplifting arrest.
Stepherson was third on the team in receiving in 2017 as he caught 19 passes for 359 yards and five touchdowns.