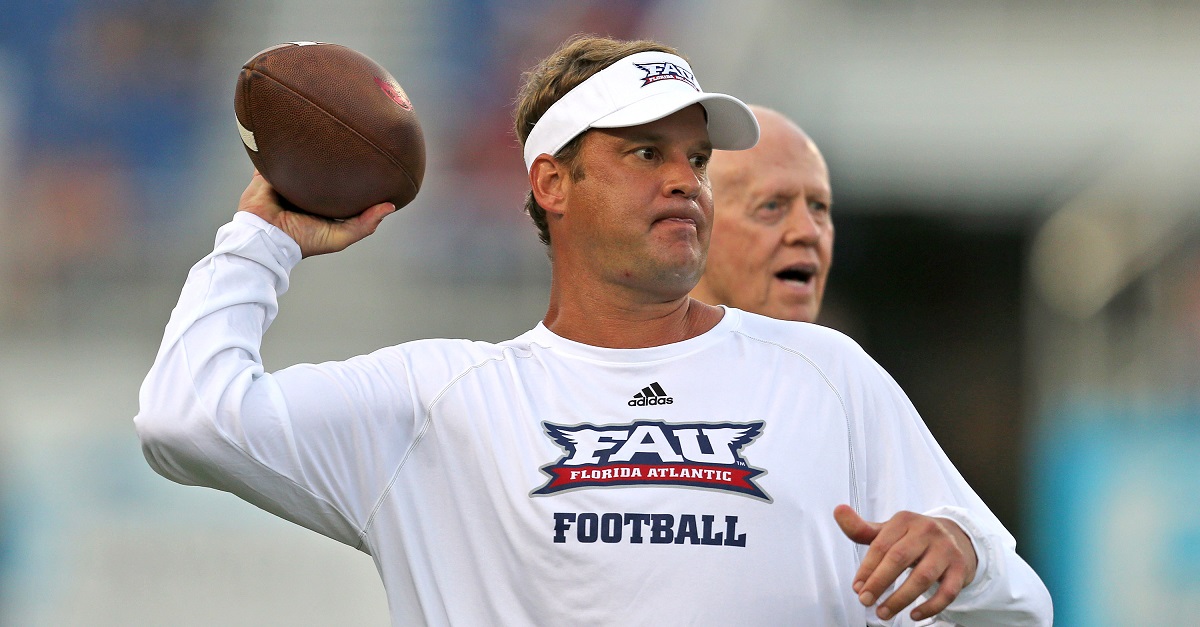 Joel Auerbach/Getty Images
Photo by Joel Auerbach/Getty Images)
Lane Kiffin went in-depth with CBS Sports about his 24-year-old coaching prodigy, Charlie Weis Jr.
While talking up Weis, Kiffin discussed how successful his new coach is at almost everything and how he uses his wife to determine whether he's a good recruiter.
Here's Kiffin, per CBS:
"He had all A's in every single thing he's ever done," Kiffin said. "Normally those kids can't socialize. That's not him at all.

"He's got a beautiful wife. How'd Charlie get her? I look at assistant coaches' wives. It tells me if they are good recruiters or not."
Weis, the son of former New England Patriots coordinator and Notre Dame head coach Charlie Weis Sr., worked as an offensive assistant with the Atlanta Falcons this season and previously worked under Kiffin as an offensive analyst at Alabama. Weis, 24, is set to become the youngest FBS coordinator.
Kiffin guided FAU to the best season in program history after earning an 11-3 record and a win over Akron in the Boca Raton Bowl. Since wrapping up the season, Kiffin has been quite busy recruiting and filling in his coaching staff. It was reported last week that Kiffin will be adding dismissed Auburn wide receiver Kyle Davis to his roster this season. Following that news, it was reported that Kiffin would be adding former Alabama defensive analyst Wes Neighbors as his new safety coach.
With the latest addition of Weis, it appears as though Kiffin is building what could be a special program at FAU.