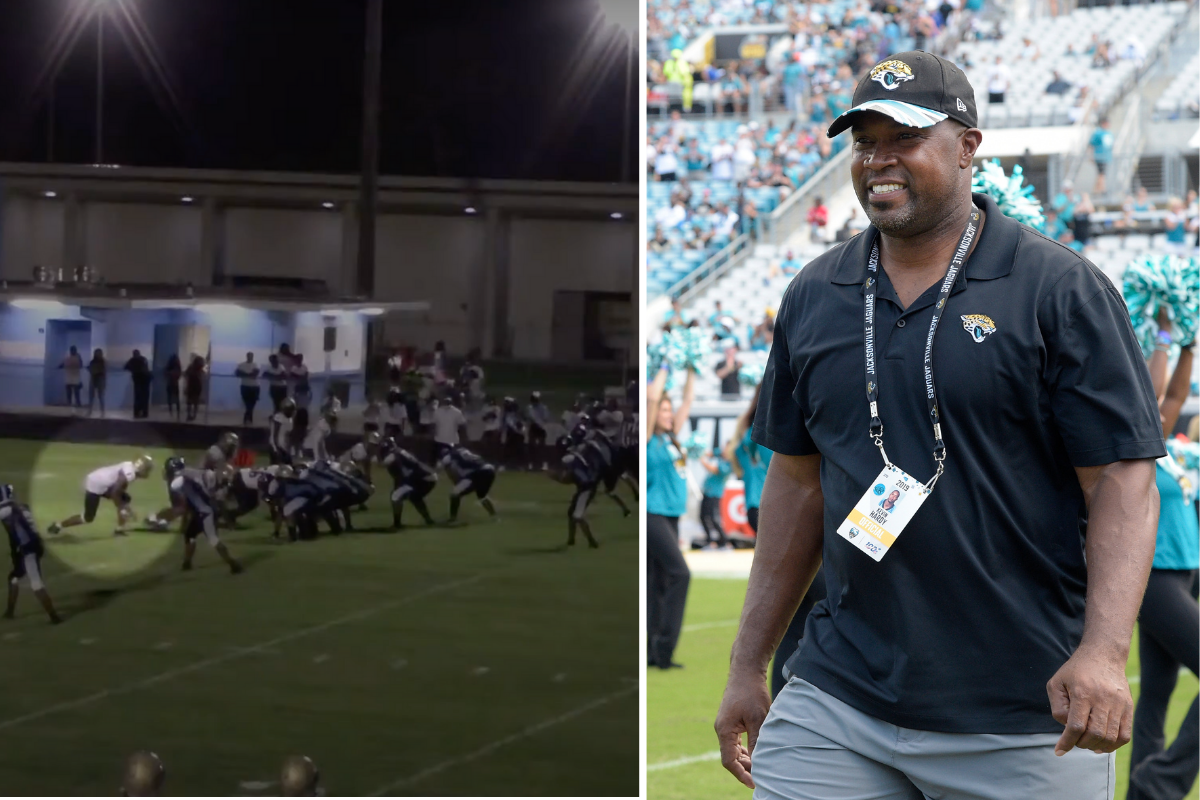 Screenshot from YouTube (left), AP Photo/Phelan M. Ebenhack (right)
The Connecticut Huskies are not exactly known as a college football juggernaut. They haven't reached a bowl game since 2015, and don't look like they're heading toward a national title any time soon.
That lack of recent success isn't discouraging Langston Hardy, however. The three-star defensive end and outside linebacker from Sandalwood High School in Jacksonville, Fla., is set to make an impact for the program this fall.
Scouts tend to pay attention to a recruit's bloodlines, and Hardy has some great ones.
His father, Kevin Hardy, is a former No. 2 NFL Draft pick who spent the bulk of his career with the Jacksonville Jaguars.
Langston Hardy Commits to Connecticut
RELATED: Stud DE, Son of NFL Coach, Taking Talents to Pac-12 Power
UConn Football beat out some solid teams in the recruiting war for Hardy.
Cincinnati, Coastal Carolina, Florida Atlantic, Georgia Tech, Marshall, Maryland, USF, and Wake Forest all followed the DE and OLB on the recruiting trail, but Randy Edsall's pitch was too enticing.
Kevin Hardy shined as an All-American at Illinois, but the Fighting Illini didn't offer Langston.
Edsall's recruiting class is ranked as the 114th-best in the nation, but there are still positives that have come out of it.
The Huskies have spread its wings and received commitments from players in Florida (Hardy) and Texas (Max Modeste), which are two high school football hotbeds. Is this a sign of better things to come?
Langston Hardy Highlights
Hardy has athleticism in spades. He can play outside linebacker if necessary, but UConn could be using him on the defensive line.
That versatility will come in handy in case of injury or ineffectiveness that is sure to occur throughout a season. Though he hit his stride at Sandalwood, Hardy also spent time playing at the Episcopal School.
More often than not, UConn is one of the NCAA's perpetual cellar dwellers.
While it would be too bold to declare that those days are behind them, acquiring talented players like Langston Hardy may break the spell eventually.
For now, Hardy will have to focus on making an impact in the AAC.