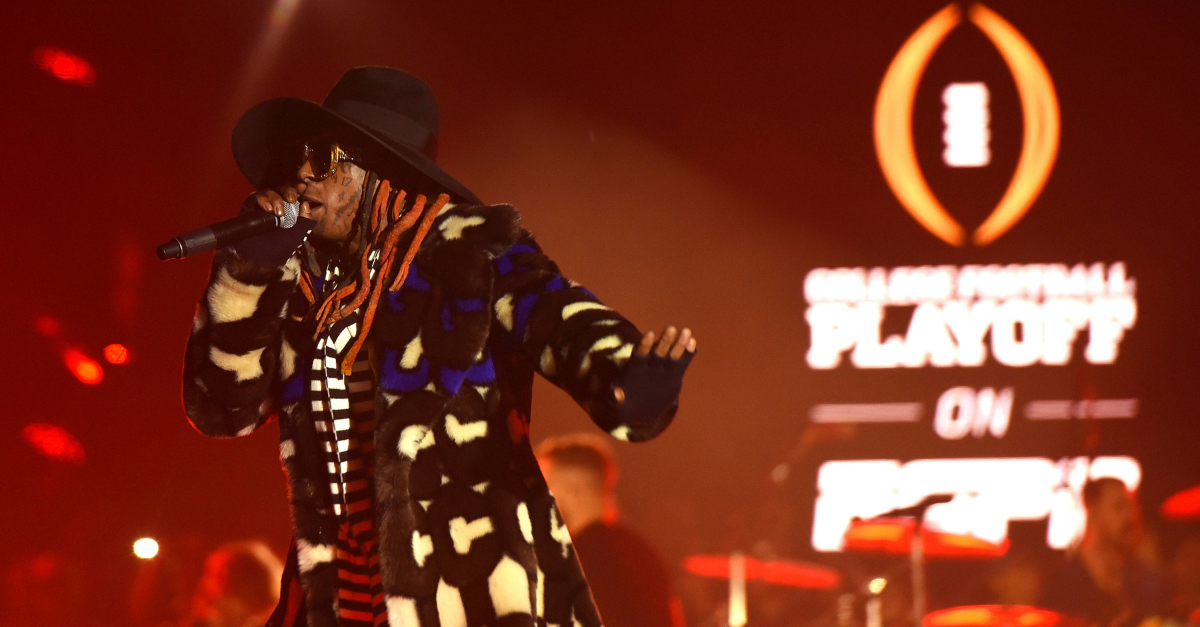 Photo: imageSPACE/MediaPunch /IPX, via AP
Photo: imageSPACE/MediaPunch /IPX, via AP
For starters, I loved Lil Wayne's performance in the College Football Playoff National Championship halftime show. Despite the sobering fact that I had no idea what the guys in the band Imagine Dragons looked like until Monday night, I at least knew the songs they played leading up to the appearance of the iconic rapper known as Tunechi.
When the 36-year-old Chief Executive Officer of Young Money Entertainment emerged onstage, the fact that the Clemson Tigers were absolutely rolling the Alabama Crimson Tide inside Levi's Stadium took a back seat. Lil Wayne, also known as Birdman Jr., President Carter and the honorable Dr. Carter, showed off one of the most ridiculous outfits ever assembled, and it immediately became the real star of the show.
Wearing a giant hat, Elton John-style sunglasses, knee-high boots, red pants, and a full-length fur coat complete with zebra scarf, Dwayne Michael Carter Jr. wasn't fooling around.
Keep in mind: it was 62 degrees that night on Treasure Island, a small man-made island in the San Francisco Bay.
In classic social media fashion, a storm descended on Lil Wayne, otherwise known as Young Weezy, Lil Weezyana and the Best Rapper Alive. The five-time Grammy Award winner left his guest appearance with one more nickname to add to his collection.
Lil Wayne took the form of fabled McDonald's villian, The Hamburglar.
RELATED: Dabo Swinney's Postseason Bonus Check Will Make You Want to Change Jobs
Whether you were in the slim majority that actually liked Lil Wayne's outfit, or if you hated it like most everyone else, the legend was out in full force living his best life. A rock rendition of his song, "Uproar" from Tha Carter V, followed by an electric collab of "Believer" with Imagine Dragons kept us entertained the entire way through.
I mean, that's exactly what the halftime show is supposed to do, right?
Lil Wayne's outfit was ridiculous, but it had to have come from somewhere. While I'm in no way a fashion icon, nor am I well-versed in anything related to fashion, I set out to try and build Lil Wayne's outfit for myself, and here is what I discovered.
The Floppy Hat
For starters, the main thing I needed to find with Lil Wayne's hat was the band around the base of the crown. While I'm 100-percent certain this isn't the right hat, I bet you wouldn't be able to tell the difference?
The Bedazzled Sunglasses
Next, of course, I need my shades. These oversize rhinestone sunglasses will do just nicely, especially considering they're only $12.98, and we're well on our way to a great look.
The Iconic Fur Coat
Not only was the biggest piece of the puzzle a complete stunner, the price tag on this thing makes it even more absurd. I'm sparing no expense to embody Lil Wayne on this night, but that means getting this Bergdorf Goodman Faux-Fur Coat, complete with blue pattern inlay, which goes for a cool $9,300.
Don't worry, though. They offer free shipping and free returns…
The Zebra Scarf
This was an easy find. Black and white scarf for $12.99? That's a steal, especially considering when I go out in 62-degree weather, the first thing I'm think about is grabbing a scarf…
The Knee Boots
These were the hardest to settle on. Wayne's boots needed to be roomy and comfortable to compliment those red pants, but with these modestly priced boots right here, I think we've found a winner.
Lil Wayne may not be balling on a budget like me, but I'm sure that if I was walking down the street wearing exactly what the global icon was wearing, I'd get just as many funny looks whether my hat was $12 or not.
The College Football Playoff national championship game halftime performance lived up to the hype, if for no other reason than we got a great laugh watching a 36-year-old man run around like he got dressed in the dark in Santa Clara. Much respect to the legend on this night, but this outfit is going to be remembered for all the wrong reasons.