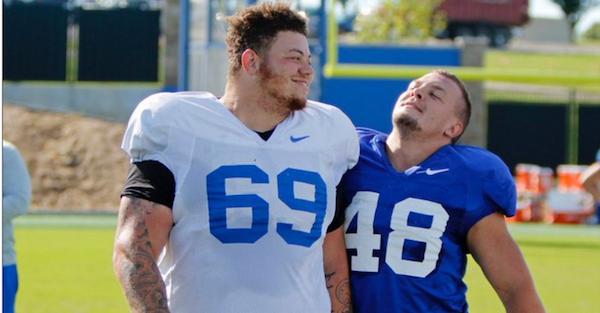 Twitter/Matt Elam
Kentucky's 7-5 campaign in 2016 was a massive step in the right direction for the program, and the Wildcats are being discussed as a sleeper in the SEC East for 2017.
Related: Despite recent 1-31 record, CFB analyst thinks one lowly team can take out potential title contender
SEC Network analyst Greg McElroy said at SEC Media Days that if Kentucky is going to contend and make another step in the East, they will need more production from former five-star defensive lineman Matt Elam.
McElroy didn't mince words when discussing Elam's effort last season.
"Step up," McElroy said about Kentucky's defensive line. "Right now. Step up. It was an embarrassing effort. The linebackers covered their bases an awful lot, who are really good and played their tails off. But this defensive line, they need to be issued a challenge.
"It was an embarrassing effort last year, particularly by the former 5-star Matt Elam, who was lazy and as underachieving a player as I?ve seen in this league in some time."
Elam is 6'7, 360 pounds, and he is projected to be the starting defensive tackle for the Wildcats. He only made nine total tackles as a junior last season.
If Mark Stoops and the Wildcats are going to make another leap next season and contend for the SEC East, they will need Elam to step and dominate on the defensive line.
(h/t Saturday Down South)