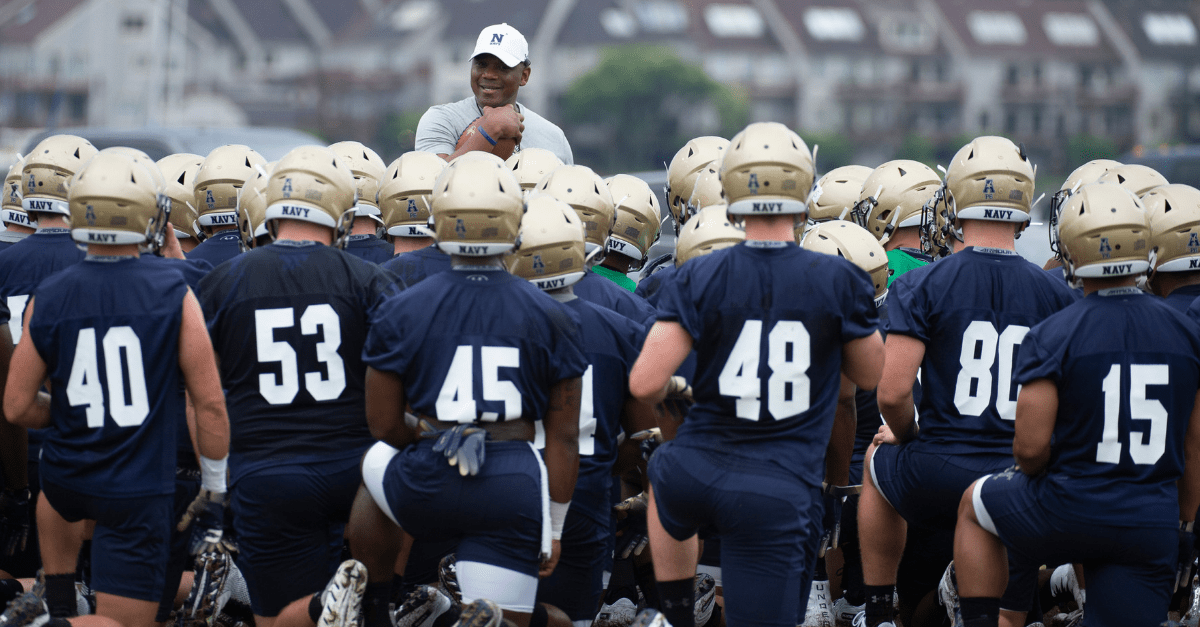 AP Photo/Tommy Gilligan
At the United States Naval Academy, college football is not everything. It doesn?t hurt they have dominated the Army-Navy rivalry since the turn of the century and have been to seven bowl games this decade, but it?s obviously not even the top priority. Just when everyone thought it was smooth sailing for the Midshipmen as they geared up for the upcoming season, they decided to change their team motto.
Late last week, Navy Football team captains Ford Higgins, Malcolm Perry, Paul Carothers and Nizaire Cromartie came up with a new team motto for 2019 in ?Load the Clip.? However, when reporters from The Capital Gazette asked Navy officials whether or not the new slogan was inappropriate, it was quickly changed.
The questions was pertaining to several mass shootings, including one where a gunman killed five people at the newspaper newsroom last year, which is just a few miles away from Navy-Marine Corps Memorial Stadium in Annapolis, MD. All of this took place before mass shootings in El Paso, Texas and Dayton, Ohio over the weekend.
RELATED: The 10 Sitting Presidents to Attend the Prestigious Army-Navy Game
The new motto will be ?Win the Day? and head coach Ken Niumatalolo apologized on Saturday at Navy?s Football Media Day and Fan Fest, according to The Capital Gazette.
?It was a one-minute meeting. I explained that some people had deemed the motto to be insensitive. Our captains didn?t need to hear another word. They immediate said, ?Coach, let?s just change it,?? he said. ?We sincerely apologize if it upset anyone, but it was not meant to be taken the way it may have been by some? We understand that it probably wasn?t appropriate considering the currently climate and certain things that are happening in our society.?
The Naval Academy?s superintendent, Sean Buck, also released a statement just prior to the change:
?It is always my priority, part of my mission statement, for the Navy to be a good neighbor. The bottom line is, we missed the mark here. The initial internal football team motto selected, ?Load the Clip,? was inappropriate and insensitive to the community we call home, and for that, I take responsibility for, and apologize to not only the Capital Gazette, but the entire Annapolis community.?

? U.S. Naval Academy Superintendent Vice Admiral Sean S. Buck
Game day is right around the corner for the Navy Midshipmen. They host Holy Cross on August 31, and will look to be bowl eligible once again, led by their four senior captains.
Until then, they will do all they can to ?Win the Day? and get ready for American Athletic Conference (AAC) games this season.