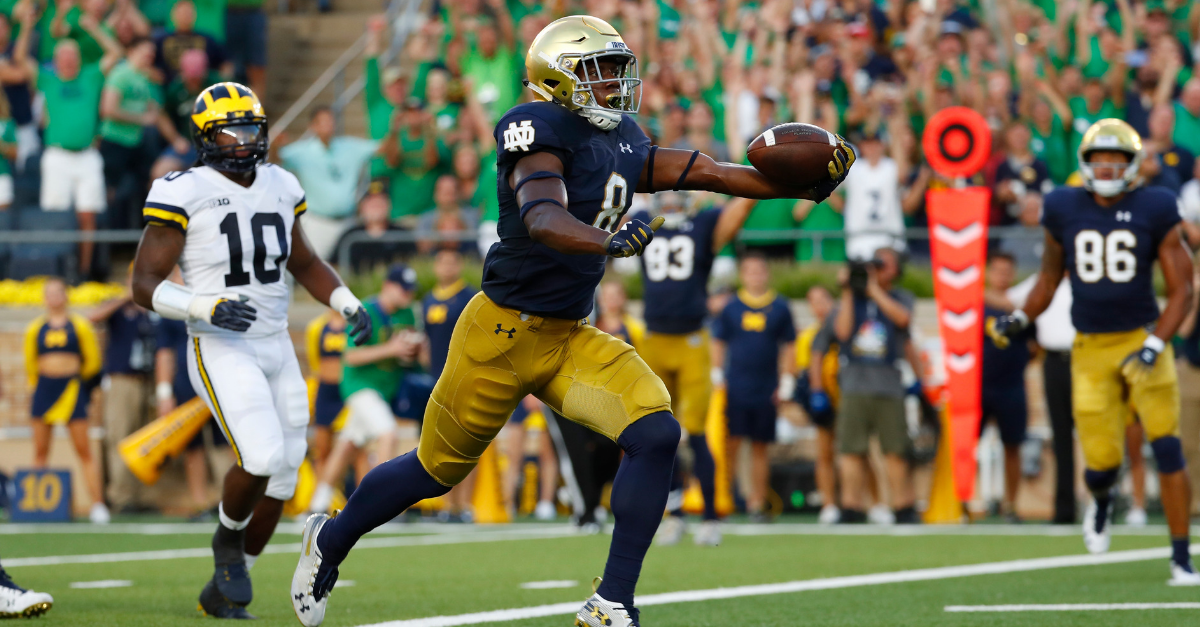 AP Photo/Paul Sancya
Maybe it was the fact the rivalry returned and both teams were ranked in the Top 25. Perhaps it was the hype, and even shade thrown, leading up to the game. Whatever the case might be, No. 14 Michigan playing at No. 12 Notre Dame drew quite the national television audience on Saturday.
So how big was the first meeting between these two teams since 2014? Try the biggest game of the entire opening weekend of college football.
The Fighting Irish and Wolverines earned a 4.5 overnight rating on NBC, which was up a whopping 275 percent from Notre Dame's opener against Temple last season.
That is the highest rating for any Notre Dame game on NBC since 2006, which was also against Michigan.
College football fans saw a pretty good game from Notre Dame Stadium, too. Fighting Irish quarterback Brandon Wimbush threw for 170 yards with a touchdown while adding another 59 yards on the ground, and running back Jafar Armstrong scored twice to help the home Irish escape with a 24-17 victory.
Wolverines quarterback Shea Patterson finished 20 of 30 for 227 yards and an interception in his team debut.
It's a solid rating, for sure, and especially considering it had tons of other games to compete against Saturday.
To put it into perspective, ESPN said Sunday night's game between LSU and Miami was a big hit with a 4.1 overnight rating and that was up 41 percent from last seasons game featuring West Virginia and Virginia Tech.
Ratings for ESPN's Labor Day MegaCast between Virginia Tech and Florida State were at 3.8.
Of course, networks are going to battle to say they had the most viewers. It's as competitive as the actual games themselves. ESPN had College GameDay in South Bend, Indiana. NBC televised the game. It was a win for everyone.
This was a fun game with a lot of fanfare and the rivalry better not go away ever again.