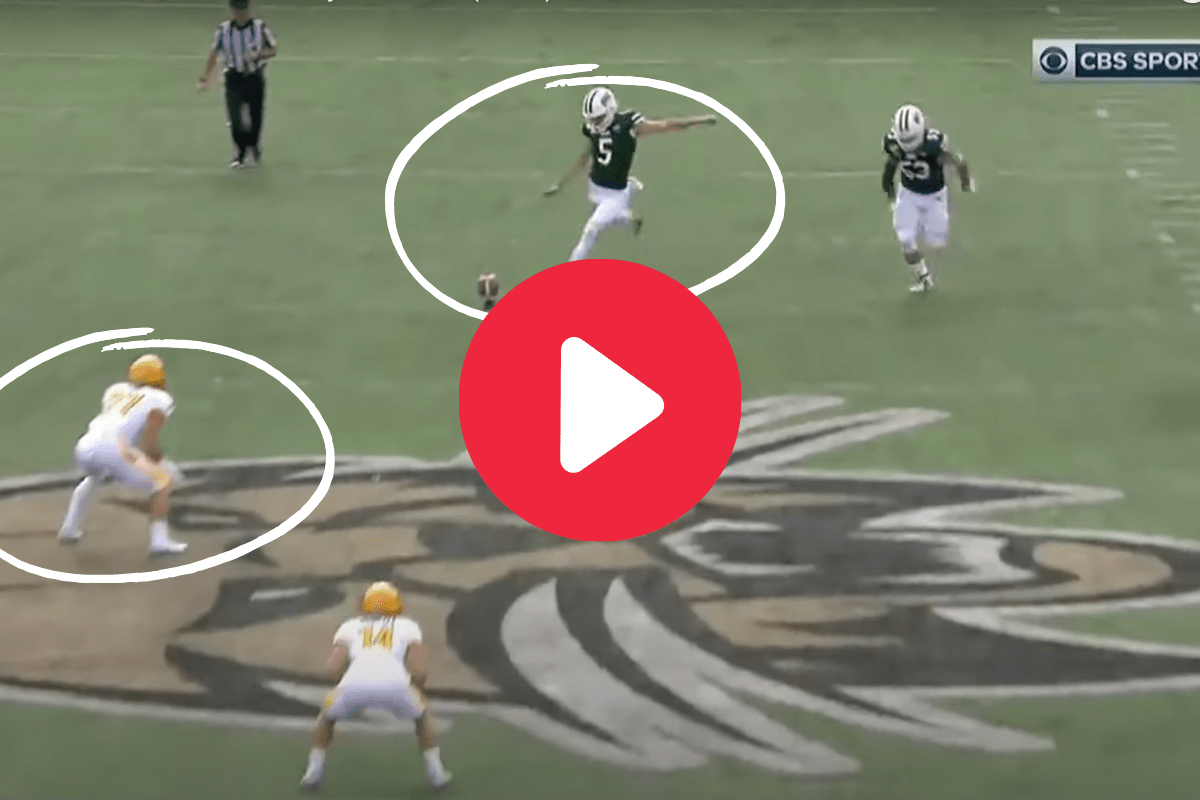 Screenshot from YouTube
This might be the only time a coach will tell a player not to use his head on the football field.
During a game between the Ohio Bobcats and Kent State Golden Flashes in 2019, fans at Peden Stadium in Athens, Ohio were gifted with one of the most beautiful accidental trick plays in college football history.
Here's how it unfolded:
Ohio's "Squib Kick Headshot" Trick Play
RELATED: High School's "Super I" Trick Play TD Confused the Defense
There's no doubt this was 100 percent accident.
Ohio had just tied the game at 24-24 near the end of the second quarter against Kent State. With just 10 seconds left on the clock before halftime, all kicker Michael Farkas was trying to do was execute a squib kick on the kickoff to prevent a return touchdown.
Farkas must have had some incredible accuracy, because he drilled KSU return man Isaac Vance right in the head. There was nothing Vance could even do. He had zero time to dodge the football as it came zipping toward his dome.
That wasn't the end of the play, either.
The ball caromed high into the air and down into the hands of Ohio wide receiver Camryn Snow, who happened to be in the right place at the right time.
Similar kicks have happened before at the high school level, but they were intentional. Ohio's version was a one-in-a-million type of play. I'm not sure anything like this has ever taken place in college football or the NFL.
Ohio did attempt a pass with three second left in the quarter, but it fell incomplete. Their luck continued the rest of the game, however, because the Bobcats went on to win, 45-38.
It's only a matter of time before Alabama head coach Nick Saban sees this and pulls it off to perfection every kickoff, thus achieving his dream of never letting his opponent get the ball.
I, for one, can't wait.
Related Videos