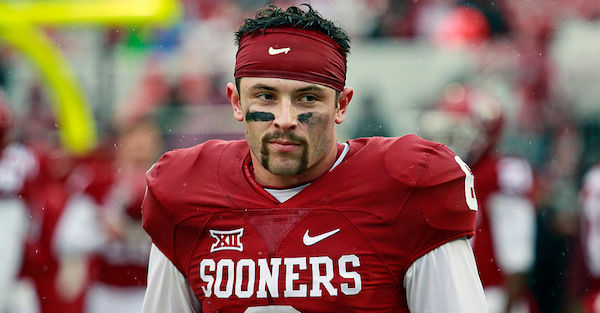 Brett Deering/Getty Images
NORMAN, OK - DECEMBER 3: Quarterback Baker Mayfield #6 of the Oklahoma Sooners during warm ups before the game Oklahoma State Cowboys December 3, 2016 at Gaylord Family-Oklahoma Memorial Stadium in Norman, Oklahoma. Oklahoma defeated Oklahoma State 38-20 to become Big XII champions. (Photo by Brett Deering/Getty Images)
It feels great to have college football back in full gear, doesn't it? In fact, it feels like it's never left.
Week 1 of the 2017 season definitely lived up to the hype, but the reality of a football season is that no matter the results you've always got to go onto next one. As big as getting a good start was for many teams across the nation, maintaining that momentum and jumping out to 2-0 is just as important. There are also many teams looking to turn things around from last week. Starting 0-2 feels terrible, so there's a lot on the line in Week 2 as other programs look to even up their win-loss record.
Related: Upset alert for Week 2 of the season
With that in mind, these four teams have the most on the line.
No. 17 Louisville Cardinals
vs. North Carolina, Saturday, Sept. 9, 12:00pm ET at Kenan Stadium, Chapel Hill, NC (ESPN)
Louisville (-10) vs. North Carolina (O/U: 62.5)
With last season's Heisman Trophy winner, Lamar Jackson, running the offense, No. 17 Louisville is a borderline CFP team and the Cardinals are certainly a threat to make some major noise in the ACC.
With that said, the Cardinals had themselves somewhat of an unexpected test in Week 1 going up against a very game Purdue team in Indianapolis. Louisville did escape with the win, 35-28, but it was much closer than many expected.
Louisville did fumble and lose the football three times, so there are certainly some things the Cardinals can clean up as they head into Week 2.
The thing is, it's not going to get any easier. Lousiville will square off at North Carolina this weekend. And while that's not the same as playing North Carolina's basketball team at home, the football Tar Heels are coming off a Week 1 loss to Cal and they're going to be hungry to get back on track in front of the home crowd.
This is a tough ACC matchup for Louisville and its second test in a row. If the Cardinals want to be contenders in the ACC and even on a national scale, though, they'll have to play better than they did in Week 1.
Again, it's not going to get any easier.
No. 4 Penn State Nittany Lions
vs. Pittsburgh, Saturday, Sept. 9, 3:30pm ET at Beaver Stadium, University Park, PA (ABC)
Penn State (-21) vs. Pitt (O/U: 66.5)
There's a very good chance Penn State ends up in the College Football Playoffs this year and checking in at No. 4 this week in the rankings, there are some very high expectations for the Nittany Lions.
Week 1 against Akron was as easy as they come. PSU won 52-0 and wasn't even challenged.
Week 2 is going to be a much different game, though, because Patt Narduzzi's Pitt team is going to be coming to play ball for real, and the Panthers are going to be hungry to stick it to the Nittany Lions for the second year in a row.
Penn State was great last season, going 11-2 and winning the Big Ten, so it's easy to forget that PSU lost to Pitt in Week 2, 42-39.
This is going to be a knock-down, drag out battle between two physical and talented teams, not to mention two good coaches in James Franklin and Narduzzi.
Pitt will be playing with nothing to lose and everything to prove. PSU, on the other hand, has a ton to lose with a loss.
No. 3 Clemson Tigers
vs. No. 13 Auburn, Saturday Sept. 9, 7:00pm ET, Memorial Stadium , Clemson, SC (ESPN)
Clemson (-5) vs. Auburn (O/U: 53.5)
Clemson is playing in one of the biggest matchups of the weekend, but if the No. 3 Tigers can't find a way to beat No. 13 Auburn at home, they may be in for a rough 2017 season. Or at the very least, a loss will severely decrease their chances of lifting that CFP championship trophy for the second year in a row.
Keep in mind, Dabo Swinney and crew are looking at a very tough Week 3 opponent in the aforementioned Louisville Cardinals, and that game is on the road for the Tigers. They also have a game at No. 18 Virginia Tech coming up before the schedule changes to October, so there's a chance that Clemson could have three losses before the weather even gets that cold.
Momentum is huge in college football and that's what makes this game against Auburn so big. Not only are the Tigers are big-time SEC opponent, but a win over Auburn would prove to Clemson that it has what it takes to do the championship thing all over again this season.
It's tough to take anything away from a 56-3 win over a woeful Kent State team. It was basically a glorified scrimmage, so at this point, we don't even know just what kind of team Clemson is in 2017 yet.
No. 5 Oklahoma
vs. No. 2 Ohio State, Saturday, Sept. 9, 7:30pm ET at Ohio Stadium, Columbus, OH (ABC)
Oklahoma vs. Ohio State (-7.5) (O/U: 64.5)
Clemson and Auburn are playing in a huge contest, but No. 2 Ohio State and No. 5 Oklahoma take the cake in Week 2. They've got the marquee matchup for the weekend, and there's a ton on the line for both schools.
Here's the thing, though, Oklahoma may need this win just a bit more. Last season, the Buckeyes invaded Norman and stormed away with a 45-24 victory. The Sooners went on to win the rest of the games on the schedule, but that still wasn't enough to get them into the CFP. The loss to OSU, as well as a season opening loss to Houston, was just too much to overcome, and the Big 12 schedule didn't help much.
This season, the Sooners need to get revenge on OSU. They're once again a potential CFP team, but another loss would severely hamper their chances. Their Big 12 schedule is pretty soft outside of a matchup at Oklahoma State, so getting this huge win would be massive for their resume.
If OSU loses, the Buckeyes could still bounce back with games against Penn State and Michigan still remaining as resume boosters.
Oklahoma needs this win badly in order to have a shot at the National Championship in 2017.