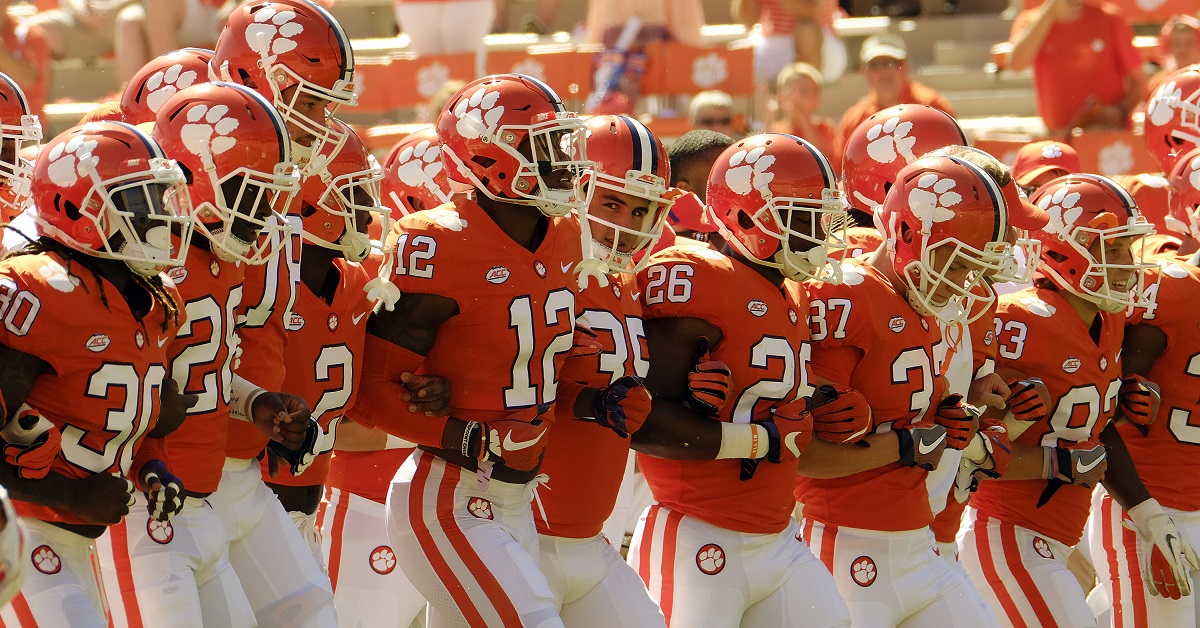 Todd Bennett/Getty Images
CLEMSON, SC - SEPTEMBER 2: Players for the Clemson Tigers walk to the end zone during pregame warmups before their game against the Kent State Golden Flashes on September 2, 2017 at Memorial Stadium in Clemson, South Carolina. (Photo by Todd Bennett/Getty Images)
Upset alert is back, and unlike last year, Week 2 of the season is FAR from a let down in terms of available games, as several top ranked teams are facing stiff competition this week. Which of those teams is most prone to an upset this week?
One team you may notice missing here is No. 2 Ohio State, who does battle with Oklahoma on Saturday. It's not that I am predicting Ohio State to win or that Oklahoma has no chance, but rather that Oklahoma is ranked the No. 5 team in the nation. If the Sooners do win… it's not that much of an upset.
However, these three games would legitimately be upsets, and the following favored teams should be on alert for Week 2:
---
No. 3 Clemson
Sept. 9 vs. No. 13 Auburn
Remember last year's game when Auburn was sort of in it thanks to their defense, but the team's offense was a mess while trying to play three quarterbacks? Yeah, well, they should have that fixed thanks to Baylor transfer Jarrett Stidham settling in to the starting role. Of course, Clemson has a stout defense of their own, so an improved Auburn offense won't necessarily equate to tons of points here.
Both teams took care of business in Week 1 and appear to be legitimate contenders, so this game should be a blockbuster with Auburn finally getting a chance to break through after a couple of years of underwhelming play compared to their preseason rank.
---
No. 6 USC
Sept. 9 vs. No. 14 Stanford
USC has been the team that has been most hyped out of the Pac-12, but without a doubt Stanford has been the most consistent one over the past few years. USC nearly stumbled out of the gate last week with a rather unimpressive performance against Western Michigan, so there is definitely a chance that Stanford is able to sneak away with a win here like they have before.
USC is currently trending as a nearly touchdown favorite, but Stanford has won eight of the last 11 games in the series dating back to Stanford's 41-point upset in 2007.
---
Georgia Tech
Sept. 9 vs. Jacksonville State
Georgia Tech isn't a ranked team, but losing to an FCS squad this week? That's a possibility.
The Yellow Jackets showed against Tennessee that they are a talented squad, but now they are dealing with a disappointing loss and a short week heading into a game against a good Jacksonville State team. This could definitely be a game to watch as Georgia Tech tries to get back on track after such a grueling game.