Before the 2023-24 college football season kicks off, teams participate in spring practice.
This is a time for players to refine their skills and technique, and it's a great way for incoming freshmen to integrate into their teams. Teams are allowed 15 practices, and it can last anywhere from two to six weeks. It's usually capped by an intra-squad game.
One team that will participate in that kind of game is the Colorado Buffaloes.
So why are we focusing on Colorado and its spring game?
Well, in case you haven't heard, their new head coach is Deion Sanders, an eight-time NFL Pro Bowler, a six-time All-Pro pick and a Hall of Famer.
According to Brian Howell of BuffZone and the Boulder Daily Camera, the game has sold 35,000 tickets and will air on ESPN on April 22 at 1 p.m. MT. As Howell points out, this is "by far" the highest-attended spring game in the program's history.
Colorado's spring football game will be broadcast by ESPN on April 22 at 1 p.m. MT. It's the only spring game that will air on ESPN's main network. Per a CU release, 35K tickets have been sold for the game. It will be, by far, the highest attended spring game in #cubuffs history

— Brian Howell (@BrianHowell33) March 13, 2023
In a separate tweet, Howell points out that Colorado won't receive any additional compensation since it's part of the media rights deal with the Pac-12.
They don't. Part of the media right deals with the Pac-12

— Brian Howell (@BrianHowell33) March 13, 2023
So what led to this? Why is Colorado receiving so much attention now? We'll look to explain that here.
The Deion Sanders Effect
RELATED: Deion Sanders' Contract Shows Colorado Coughed Up Serious Cash
Before coming to Colorado, Sanders was the head coach at Jackson State from 2020 through last season. The Tigers went 27-6 and 19-2 in conference play during his tenure.
So on top of his NFL success, he has had success in college football, albeit at a lower level of competition.
His impact was immediately felt in their recruiting class. He also saw several top players come over in the transfer portal, including his son, quarterback Shedeur Sanders.
Since arriving in Colorado, Sanders has been confident in his and the team's ability to turn things around.
"We're not recruiting just no ordinary Tom, Dick, and Harry," Sanders said. "We recruited some guys that can light up the scoreboard and prevent touchdowns from occurring. We're coming. We're serious about that.
"Hope is in the house. Hope is in the air. Hope is in the city. Hope is in the community."
The Buffaloes have been dreadful, coming off a 1-11 season last year. The program hasn't had a winning season since 2016, when they went 10-4. Since 2000, the team has had just five winning seasons and two seasons with double-digit wins.
With Sanders on board, his personality, confidence and accolades give fans a sense of — as he put it — hope, and his presence is instilling confidence in incoming players. The Buffaloes are recruiting well beyond what they would with another coach.
Colorado Buffaloes 2023 Recruiting Class and Transfer Portal
According to ESPN, the Buffaloes brought three ESPN 300 commits, including one five-star, three four-star and 15 three-star players. Leading the way is Cormani McClain, the No. 1 cornerback in the country, out of Lakeland, Florida. Considering that Sanders was a cornerback during his NFL playing days and recruited another top corner in Travis Hunter to Jackson State (who's now transferred to Colorado), Sanders will continue to bring in top cornerback prospects — something the program would have no chance of before his arrival.
Some other top recruits, according to ESPN, include the following:
Dylan Edwards, running back, Derby, Kansas

Adam Hopkins, wide receiver, Thomasville, Georgia

Omarion Miller, wide receiver, Vivian, Louisiana

Isaiah Jatta, offensive tackle, San Diego, California (Snow College JUCO)
From the transfer portal, Colorado will have the following players:
Travis Hunter, cornerback, formerly of Jackson State

Shedeur Sanders, quarterback, formerly of Jackson State

Seydou Traore, tight end, formerly of Arkansas State

Demouy Kennedy, linebacker, formerly of Alabama

Jimmy Horn Jr., wide receiver, formerly of USF
The transfer portal group includes one five-star and four four-star players.
The Head Coach's Son Will Be The Starting Quarterback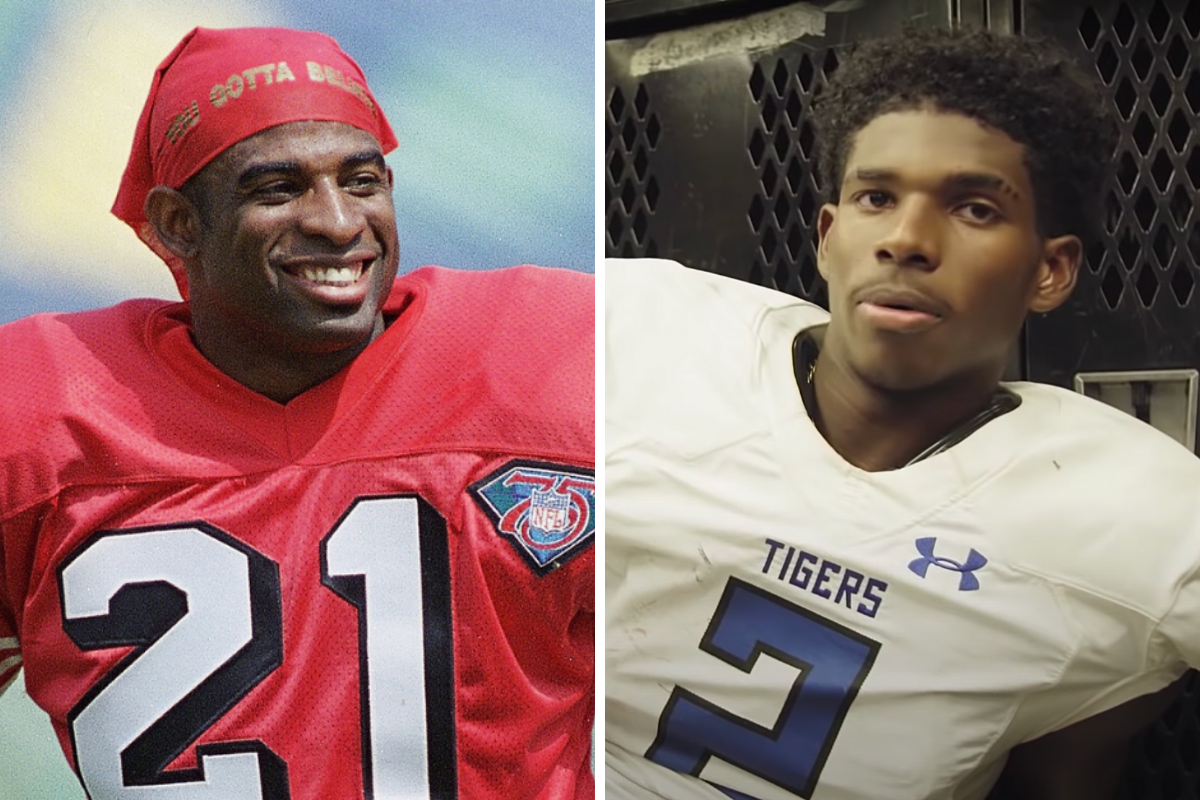 Another factor we should consider is that the head coach will play his son as their starting quarterback. While this may leave a sour taste in some mouths, Sanders was excellent at Jackson State, throwing 70 touchdowns and 14 interceptions. He completed 70.6% of his passes last season.
Of course, going from Jackson State to Colorado will be an uptick in competition. Still, the Pac-12 isn't the most challenging college football conference. Not only will fans see Sanders coaching in his first "game," but onlookers will see how his son performs.
Colorado Buffaloes 2023 Season Outlook
With Colorado coming off a 1-11 season, it won't be difficult for "Coach Prime" to top that. That said, the Buffaloes will face some competent teams in the Pac-12 such as Utah, UCLA, Oregon and the Caleb Williams-led USC Trojans. They also open the season against the TCU Horned Frogs, who appeared in the College Football Playoff national championship game in January.
Chances are the Buffaloes will finish closer to .500, but Sanders' presence should pay dividends this year in terms of fan support — as seen by the spring game attendance — and for future recruits.
The stadium holds around 50,000 fans — and expect the attendance to be closer to that number throughout the season.
Want More Sports News?
Get the biggest and best sports news sent directly to your inbox.