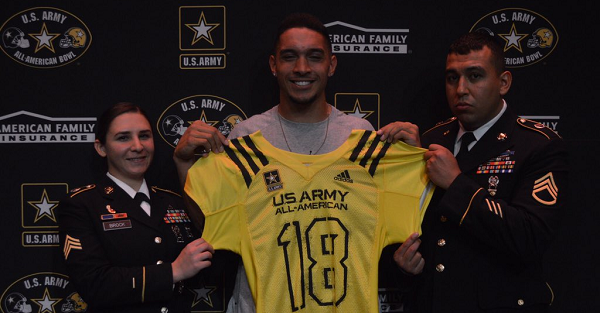 @ArmyAllAmerican/Twitter
@ArmyAllAmerican/Twitter
Talanoa Hufanga is one of the most sought after recruits in the Class of 2018 and he will be making his decision on Dec. 28. For nearly two months, the public has known that the No. 1 ATH prospect nationally is set to choose between a six-pack of teams including Utah, Oregon, Michigan, Nebraska, UCLA and USC but, this week, a surprise team has seemingly reentered the mix.
Andrew Nemec of The Oregonian brings word from Hufanga, who revealed that the Oregon State Beavers could be in the mix for the in-state prospect from nearby Crescent Valley.
"We visited with (Oregon State head coach Jonathan Smith) for close to an hour, 45 minutes – just hearing about the direction of the program."

"I have to discuss that with my parents. We'll see where it goes from there."
It should be noted that the 6'0, 193-pound high school senior wasn't exactly committal toward Oregon State but the mere gesture of spending nearly an hour with a new head coach is interesting. At this point, it does seem like OSU would be a long-shot to lure a prospect ranked within the top 20 nationally by 247Sports player rankings but, in the same breath, geography matters and Hufanga could be attracted to the (very) short commute to OSU's campus in Corvallis.