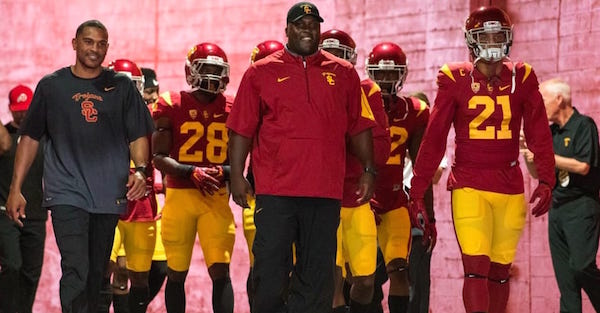 @SECCountryVols/Twitter
@SECCountryVols/Twitter
USC offensive coordinator Tee Martin has reportedly agreed to a multi-year contract extension, according to Sports Illustrated's Bruce Feldman.
Martin reportedly interviewed for several notable coaching positions over the past few months, including an offensive assistant position with the Oakland Raiders under new head coach Jon Gruden, as well as the head coaching position at his alma matter, Tennessee, where he won a the inaugural BCS national championship as a quarterback in 1998.
The 39-year-old has quickly risen up the ranks as a young assistant with a bright head coaching future, having been named as a Broyles Award semi-finalist in November.
USC ranked No. 13 overall among FBS teams in total offense during the 2017 season, which included finishing with an 11-3 (8-1 Pac-12) overall record and Pac-12 championship.