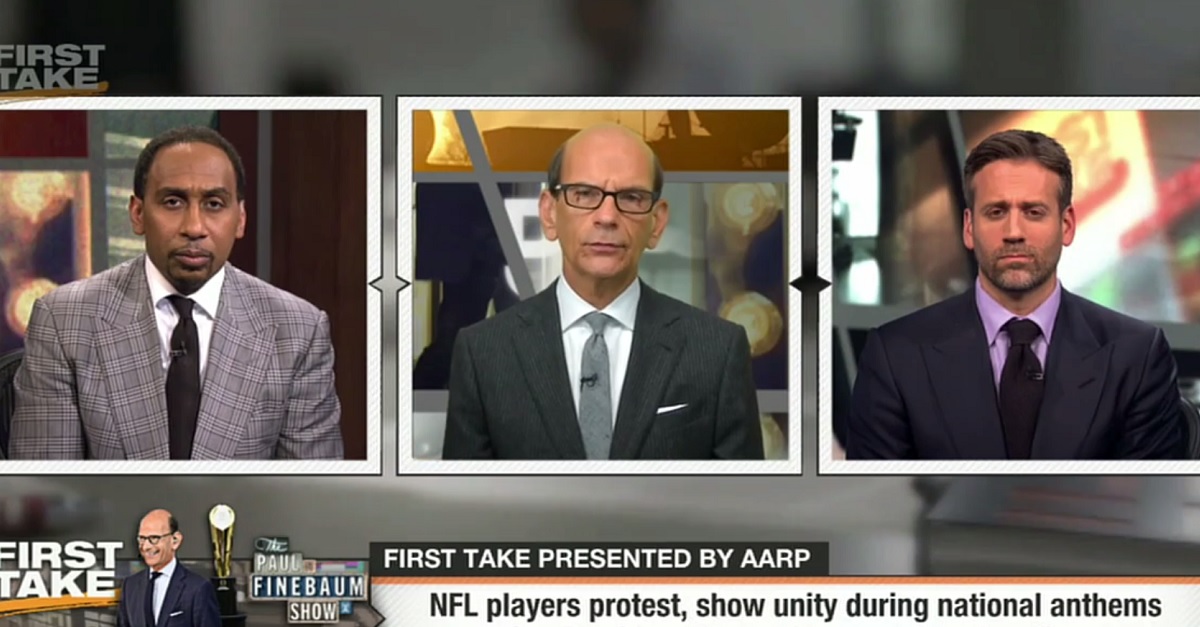 Clippit/Screenshot
ESPN's Paul Finebaum isn't having it with President Donald Trump's recent comments directed at players in the NFL and NBA.
Speaking on ESPN program First Take with Stephen A. Smith and Max Kellerman, Finebaum had several questions for the President's recent behavior, and even said that Trump has been behaving "like a child".
"I don't think it matters what side of the political spectrum you are, he does behave like a child," Finebaum said on the show. "Who tweets at 3 am in the morning, when you are supposed to be getting a little rest so you can wake up the next day and hopefully try to keep this country out of a nuclear war."
Finebaum also mentioned on the show that he would like to see Trump get together with some of the players so the two sides can address their issues in person in a public town hall sort of setting. Finebaum noted it was unrealistic, but he would like it if the two sides "listened to one another instead of screaming at each other".
Though the protests have been taking place for over a year after started by then 49ers quarterback Colin Kaepernick, the situation really escalated on Friday when Trump went off on the protesting players during an event in Alabama.
Wouldn't you love one of these NFL owners… when someone disrespects our flag say, "Get that son of a bitch off the field, right now, out, he's fired."
The remarks caused outrage from all over the sports world, as mostly seen during the NFL's Week 3 set of games. Several players took a knee during the anthem, while other teams chose to lock arms as a sign of unity. The Pittsburgh Steelers declined to come out for the pre-game anthem ceremony at all, save for left tackle Alejandro Villanueva.