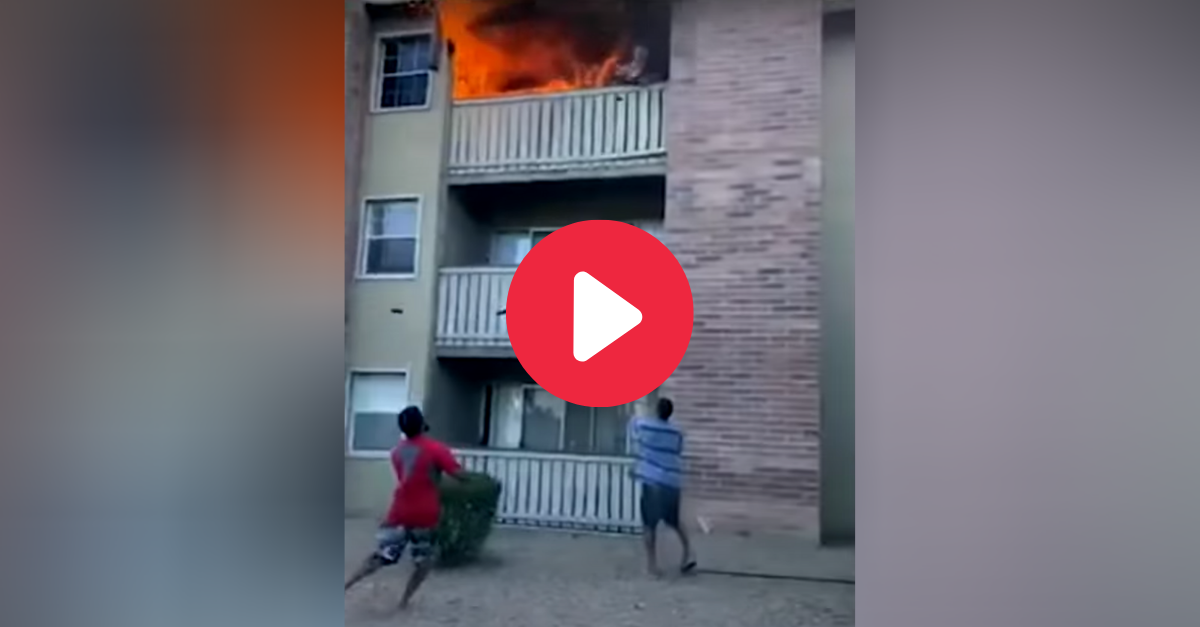 Screenshot from YouTube
Not all heroes wear capes. Many live in our communities right now, looking for the opportunity to assist others each day. Oftentimes, the acts of kindness go unnoticed. Not Phillip Blanks, though. What he did in Phoenix was truly incredible.
Blanks, a former wide receiver for Kalamazoo Central High School in Michigan and Saddleback College in Mission Viejo, California, recently made the catch of his life. That?s not hyperbole, either. The 28-year-old retired U.S. Marine rushed to the scene of a burning building and caught a 3-year-old boy thrown from a third-floor apartment balcony.
Tragically, Rachel Long, the 30-year-old mother, did not survive the Phoenix apartment fire, according to ABC15 News in Arizona, but her young son and his 8-year-old sister suffered burns and are expected to live thanks to the help of willing bystanders last week.
?The mother, she?s the real hero of the story because she made the ultimate sacrifice to get her children out,? Blanks said.
Although Blanks doesn?t want a lot of credit, he most certainly deserves some. The former football player couldn?t have made a better catch to save the boy?s life.
Phillip Blanks Catches Boy from Burning Apartment
RELATED: ?Glee? Actress Naya Rivera Missing in Lake After 4-Year-Old Son Found Alone in Boat
Fire crews were called to an apartment building near 19th and Dunlap in Phoenix around 9 a.m. on July 3, according to ABC15 News in Arizona. Approximately 100 firefighters responded to the scene and used a ladder to help multiple people down to safety.
There were several bystanders around the chaotic scene, including Phillip Blanks.
According to WWMT, Blanks was in the area to workout with his friend, who lived next to the apartment, when he heard screaming. That?s when his instincts kicked in.
Despite not having any shoes on, the video shows Blanks ran over, dove, and caught the 3-year-old boy thrown off the balcony. The former high school football star and former college football wide receiver told WWMT that the kid damaged his foot, but his head was safe.
?I just had tunnel vision on the patio and when the boy got thrown off the balcony, it was just me and the boy. I didn?t hear anything. I didn?t see anything else,? Blanks told ABC7. ?He was twirling in the air like a propeller. His head landed perfectly in my elbow.?
The boy?s sister, an 8-year-old girl, was also saved. The mother, Rachel Long, did not survive, and it?s heartbreaking.
Blanks is on a new mission now. He plans to "track those two children and their father down, and to help them as much as I can,? according to WWMT.
A GoFundMe page has been set up for the family.
During the coronavirus pandemic and COVID-19 outbreak, Phillip Blanks did what he could to help in a desperate and chaotic situation. That should never go unnoticed.