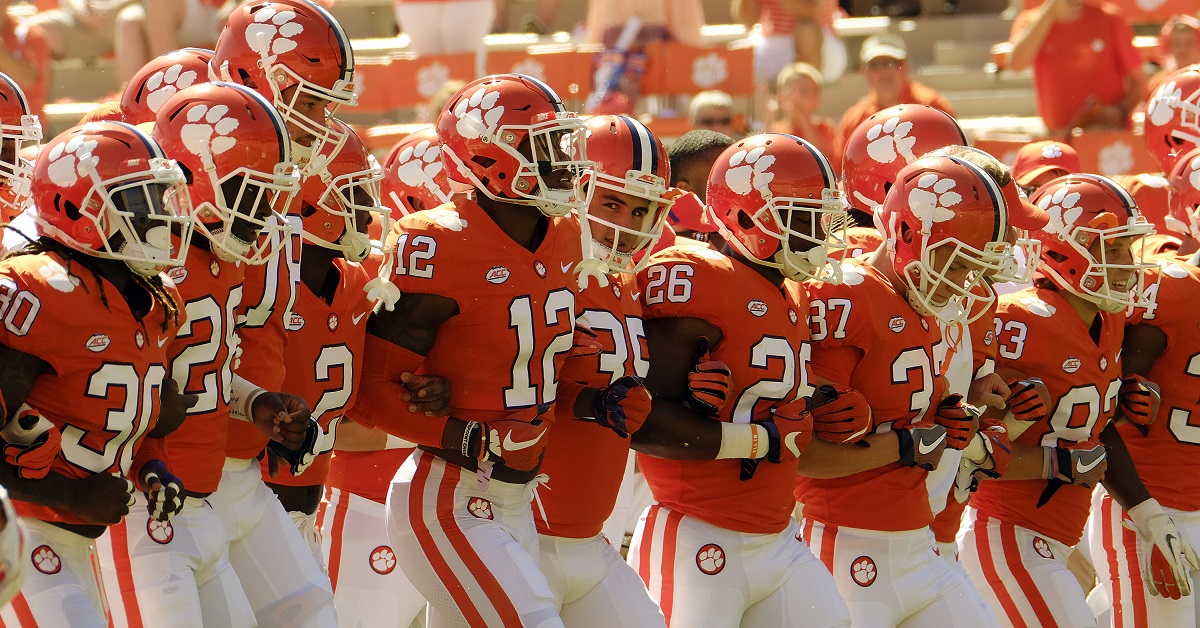 Todd Bennett/Getty Images
CLEMSON, SC - SEPTEMBER 2: Players for the Clemson Tigers walk to the end zone during pregame warmups before their game against the Kent State Golden Flashes on September 2, 2017 at Memorial Stadium in Clemson, South Carolina. (Photo by Todd Bennett/Getty Images)
Week 1 of the 2017 college football season technically isn't over, but we have some fresh power rankings for you to help sort out some of the mess that the first full Saturday of the season left for us.
There are some big changes near the top, as Florida State lost to Alabama, leaving a power vacuum that a familiar team in our rankings has now taken over. Let's take a look at the FanBuzz Top 25!
---
1. Alabama — SEC, 1-0
Result: W, 24-7 vs. FSU
Alabama deserves this spot. I really liked Florida State going into the season, especially with Derwin James back, but the Tide just simply crushed them into submission. Playing a major opponent to open the season is always a big risk-reward situation, and Alabama is winning big already with a quality win notched on the schedule. Things get a bit easier next week with Fresno State.
2. Clemson — ACC, 1-0
Result: W, 56-3 vs. Kent State
Alabama at No. 1 and Clemson at No. 2? Hmmm, where have we seen this before…
Clemson won't be the same team with Deshaun Watson gone for the NFL, but Kelly Bryant looked like a capable replacement in his first start. More importantly, though, is that the Clemson defense is still ridiculous, and that should carry them while Bryant is able to get more reps under center. Clemson has Auburn next week in a true test of how good this young team really is.
3. Ohio State — Big Ten, 1-0
Result: W, 49-21 at Indiana
Indiana is a decent enough team, and they were able to stay with the Buckeyes for a solid 40 minutes before the floodgates finally opened and Ohio State just poured it on. I think this was a quality road win and a good way for Urban Meyer and his growing squad to start the season.
4. Oklahoma State — Big 12, 1-0
Result: W, 59-24 vs. Tulsa
Tulsa doesn't scream "quality opponent", but they won 10 games last year with a high-powered offense. This was exactly the kind of game that could sneak up and prove to be difficult for Oklahoma State, but Mike Gundy had his team prepared and they steamrolled over the Golden Hurricane to get their first win of the season.
5. Penn State — Big Ten, 1-0
Result: W, 52-0 vs. Akron
This is the first time that Penn State has opened the season with hype in quite a few years, but they didn't disappoint at all. They dominated like they should against a team like Akron, with Saquon Barkley strolling to 172 yards on just 14 carries. Next week will prove to be slightly more difficult with a nationally televised game against Pitt, who beat Penn State last season.
6. Stanford — Pac-12, 1-0
Result: W, 62-7 vs. Rice
I'm higher on Stanford than most. They place Rice last week in Australia, and they've now had a week off before a huge matchup against USC next week. I think Stanford wins that game, and they will solidify themselves as the top team out on the west coast.
7. Oklahoma — Big 12, 1-0
Result: W, 56-7 vs. UTEP
Oklahoma only needed one half of Baker Mayfield to take care of this one. Mayfield was 19-for-20 in the passing game, which might be the most absurd performance of the opening weekend. Things will of course get more difficult next week, as Mayfield isn't doing that against Ohio State.
8. USC — Pac-12, 1-0
Result: W, 49-31 vs. Western Michigan
Glad to see that Western Michigan was still very competitive with coach P.J. Fleck gone, as well as some of the team's top talent from last year. However, this game should not have been this difficult for USC, as the Trojans were struggling until some Western Michigan mistakes helped them score four touchdowns in the final period.
9. Florida State — ACC, 0-1
Result: L, 7-24 vs. Alabama
There should be no shame is losing to Alabama in a game that was super competitive for three quarters. That said, this could be the start of a freefall for Florida State, as starting quarterback Deondre Francois could be out for an extended time after suffering a knee injury late in the game.
Even if Francois's injury isn't major, Alabama still exposed Florida State's major weakness: the offensive line. It's still a sieve for the Seminoles, and it's something Jimbo Fisher desperately needs to improve on if he ever wants to compete with Clemson again in the ACC Atlantic.
10. Michigan — Big Ten, 1-0
Result: W, 33-17 vs. Florida
I expected the defense to take a slight step back after Michigan lost so many starters from last year's team. While Florida's offense is a mess, there definitely wasn't any "step back" from those that have taken over this defense.
The offense has some kinks to work out for sure, but if Michigan's defense is really this good yet again, then Michigan will have lots of time to figure out the offense, as they shouldn't have any super difficult games until they get Indiana and Penn State back-to-back in the middle of the season.
11. Georgia — SEC, 1-0
Result: W, 31-10 vs. App State
Georgia was throttling App. State in the first half before they let their foot off the gas, which is quite the accomplish considering that App. State isn't a bad team at all. The Bulldogs may have some quarterback questions with Jacob Eason injuring his knee early in this game, but true freshman Jake Fromm stepped in and performed well in the interim.
12. Washington — Pac-12, 1-0
Result: W, 30-14 at Rutgers
So this isn't the same awful Rutgers team from last year, but the Huskies did not play well in this game and it is a bit concerning since I believe the Pac-12 is pretty strong year. Jake Browning is great at quarterback, but he lost several weapons from last season and he still has some issues with dealing from pressure from opposing defenses.
13. Auburn — SEC, 1-0
Result: W, 42-7 vs. Georgia Southern
Considering that Auburn has put up some stinkers in recent years against mediocre opponents, this game was a fresh sign for Tigers fans. Baylor transfer Jarrett Stidham looked solid at quarterback, and the defense held up its end of the bargain against a Georgia Southern team that has been known to sneak up on SEC teams in recent years.
14. Wisconsin — Big Ten, 1-0
Result: W, 59-10 vs. Utah State
I remember distinctly thinking "what is wrong with Wisconsin?" after the Aggies took a 10-0 lead that they then held to the end of the first quarter.
Well… I guess not too much, as Utah State didn't score again after that and Wisconsin scored a bunch. They're probably fine.
15. LSU — SEC, 1-0
Result: W, 27-0 vs. BYU
I wasn't a huge believer of LSU heading into this season, but goodness, they absolutely dominated BYU in a game that was moved to New Orleans over damage from Hurricane Harvey. I don't know how much the game being moved may have had an effect on BYU, but they don't usually get manhandled like this by anyone.
16. Virginia Tech — ACC, 0-0
Result: Plays West Virginia on Sunday
A lot of people are preferring Miami in the ACC Coastal right now, but I have my eyes on Virginia Tech. Justin Fuente did a lot with not a ton going for him last year, and I think a second year around will only help even with some key departues. The Hokies open the season with West Virginia in an neutral site game at Fedex Field.
17. TCU — Big 12, 1-0
Result: W, 63-0 over Jackson State
Former Texas A&M quarterback Kenny Hill — remember him? — is now the guy for TCU, and he opened the season in blowout fashion as the Horned Frogs over Jackson State. TCU does have some hype to live up to, as Kirk Herbstreit recently picked them to win the Big 12 this season.
18. Utah — Pac-12, 1-0
Result: W, 36-17 vs. North Dakota
Utah seems to fly under the radar every year, and granted, opening the season in "meh" fashion against North Dakota might not be the game to sway a lot of people in their favor. However, new quarterback Tyler Huntley looked pretty good once the offense started flowing, and the defense should be there once the important games of the season start to come around.
19. Louisville — ACC, 1-0
Result: W, 35-28 vs. Purdue
If you watched Louisville extensively last season, then you've seen this exact game before. The Cardinals looked bad against a mediocre opponent, and were only saved due to Lamar Jackson being a whimsical wizard on offense with the ball. Louisville got the win over Purdue, but any more performances like they and they won't last very long in the rankings.
20. West Virginia — Big 12, 0-0
Result: Plays Virginia Tech on Sunday
West Virginia flew under the radar last season, largely because they went so long without putting some quality wins on the schedule. That shouldn't be an issue this season, as they have a chance to make an early statement against Virginia Tech. They should do their best to make the most of it.
21. Miami — ACC, 1-0
Result: W, 41-13 vs. Bethune-Cookman
A lot of people are wanting to claim that this is the year Miami finally breaks through and wins the ACC Coastal… I'm still on wait and see mode here. A solid performance to open the season, but I still have questions on if Miami's offense will be up to the task during the entire season against tougher opponents.
22. UCLA — Pac-12, 0-0
Result: Plays Texas A&M on Sunday
UCLA's season was derailed last year when they lost quarterback Josh Rosen to injury. Rosen is now back, and I expect them to be a reasonably solid Top 25 team for most of the season. They will open the year on Sunday at 7:30 EDT on FOX.
23. Kansas State– Big 12, 1-0
Result: W, 55-19 vs. Central Arkansas
This was another Week 1 game that was head-scratchingly close early, as Central Arkansas forced a 10-10 tie by the end of the first quarter. Like Wisconsin, though, Kansas State quickly shrugged that off by scoring 28 in the second quarter, as superior athlete eventually won out in the end.
24. Colorado — Pac-12, 1-0
Result: W, 17-3 vs. Colorado State
Perhaps an unspectacular win, Colorado did what it needed to do to get a victory over Mike Bobo's Rams. The offense for Colorado wasn't great, but the defense did its job and that defense should put them in a good spot throughout the year.
25. Florida — SEC, 0-1
Result: L, 17-33 vs. Michigan
Things should get better for the Gators once they get their suspended players back… if they get them back.
The defense was solid, but the offense was an absolute dumpster fire that neither Feleipe Franks nor Malik Zaire could save. Jim McElwain really needs to figure out something that works here, and quickly, because while Michigan is good, the Wolverines shouldn't have been able to do THAT to Florida's offense. Sheesh.