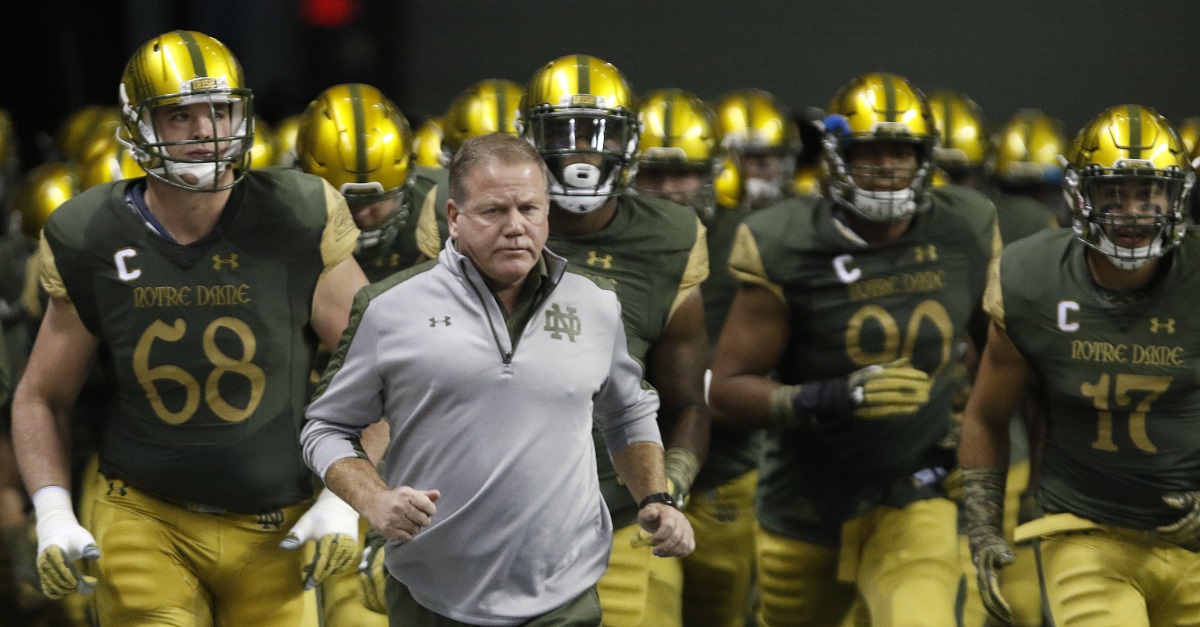 Ronald Cortes/Getty Images
SAN ANTONIO, TX - NOVEMBER 12: Notre Dame head coach Brian Kelly leads his team onto the field before the start of their game against Army in a NCAA college football game at the Alamodome on November 12, 2016 in San Antonio, Texas. (Photo by Ronald Cortes/Getty Images)
Notre Dame has added another Big 10 power to its future schedule.
The Fighting Irish and the Wisconsin Badgers have announced a two-game series set for 2020 and 2021. But the two Under Armour schools won't be playing a home-and-home. Instead, they will play at Lambeau Field in Green Bay in 2020 and Solider Field in Chicago in 2021.
RELATED: Notre Dame reportedly in "serious" talks to add another big-time series to future schedule
The Badgers and the Irish haven't played since 1964. Notre Dame is 10-0-2 at Soldier Field all-time, while Wisconsin defeated LSU at Lambeau Field last season.
Notre Dame has five ACC games scheduled each season and they also have numerous Big 10 games scheduled over the next few years. They play Michigan State this season, and they play Michigan in 2018. The Irish also have home-and-homes scheduled with Purdue and Ohio State.
Wisconsin has a home-and-home with BYU set for 2017 and 2018 and Syracuse in 2020 and 2021. They have later home-and-homes scheduled with Washington State and Virginia Tech.
This isn't necessarily a home-and-home between Wisconsin and Notre Dame, but it is a cool chance for both schools to play in historic NFL stadiums.
(h/t Chicago Tribune)