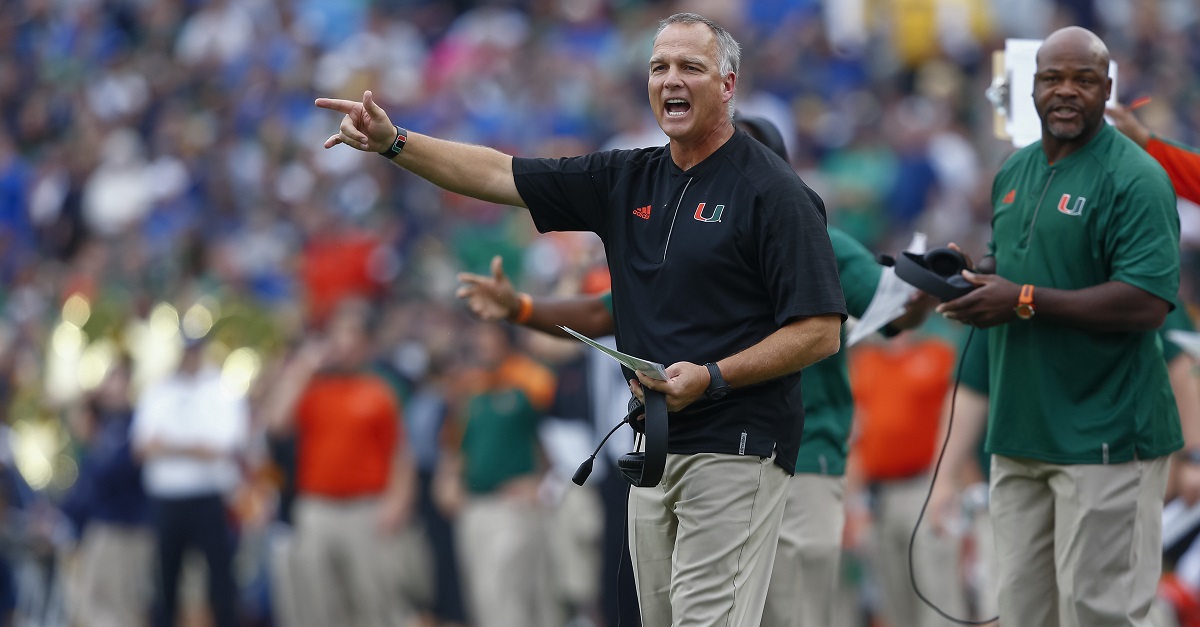 Michael Hickey/Getty Images
SOUTH BEND, IN - OCTOBER 29: Head coach Mark Richt of the Miami Hurricanes is seen during the game against the Notre Dame Fighting Irish at Notre Dame Stadium on October 29, 2016 in South Bend, Indiana. (Photo by Michael Hickey/Getty Images)
Hurricane Irma is bearing down on the southeastern portion of the United States and, first and foremost, the worry is for people that reside in the path of the powerful storm. However, the sports world has already been greatly affected by the weather patterns associated with the storm, from ESPN essentially cancelling a show based in Miami to various scheduled football games being moved, rescheduled or postponed due to concerns.
With that said, CBS analyst Rick Neuheisel has a skeptical slant toward the actions of the Miami Hurricanes, indicating that it is "suspicious" that Mark Richt and his program would not want to play its game against Arkansas State this weekend.
The concerns for Miami would be an inability to travel back to Florida and that makes perfect sense. If nothing else, these comments appear to be in poor taste from Neuheisel, especially in putting forth the idea that the 'Canes have some sort of ulterior motive that would be in play in the decision-making.
No one outside of Miami and its principle decision-makers would know the full scope of consideration when it comes to the choice to cancel the game. For anyone to say otherwise or even cast doubt on the proceedings without knowledge is fairly shameful.