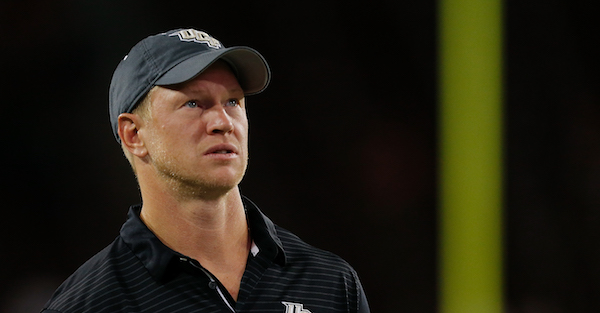 Michael Reaves/Getty Images
CINCINNATI, OH - OCTOBER 07: Head coach Scott Frost of the UCF Knights looks on against the Cincinnati Bearcats during the second half at Nippert Stadium on October 7, 2017 in Cincinnati, Ohio. (Photo by Michael Reaves/Getty Images)
New Nebraska head coach Scott Frost just capped off a perfect 13-0 season at UCF, and his Knights defeated Auburn in the Peach Bowl.
Frost made an appearance on ESPN's National Championship Game coverage, and he took the opportunity to criticize the SEC ahead of the all-SEC national title game. He said it's a big advantage for the SEC to only play eight conference games instead nine like the Big 10, Pac-12 and Big 12.
Related: Florida?s Governor becomes latest to name UCF national champions
Here's what he said in the video:
"The other things I really was standardized is the number of conference games you play," Frost said. "It?s a big advantage to play eight instead of nine. There were a couple times at Oregon when we would play USC or Stanford in Week 11 and Alabama was playing Georgia Southern and Western Carolina. And we lost those games. This year Wisconsin had to play two extra conference games than Alabama did and they lost one of them."
The SEC and ACC each play eight conference games, while the other three Power 5 conferences play nine conference games. It would make sense for there to be a mandate requiring every conference to play the same number of conference games, and nine would make the most sense.
The nine-game argument makes sense for every league, and it would eliminate some of the late season cupcake games that Frost alluded to. As conferences continue to expand, it would make more sense to play nine league games teams from different divisions play each other more often.
(h/t SEC Country)