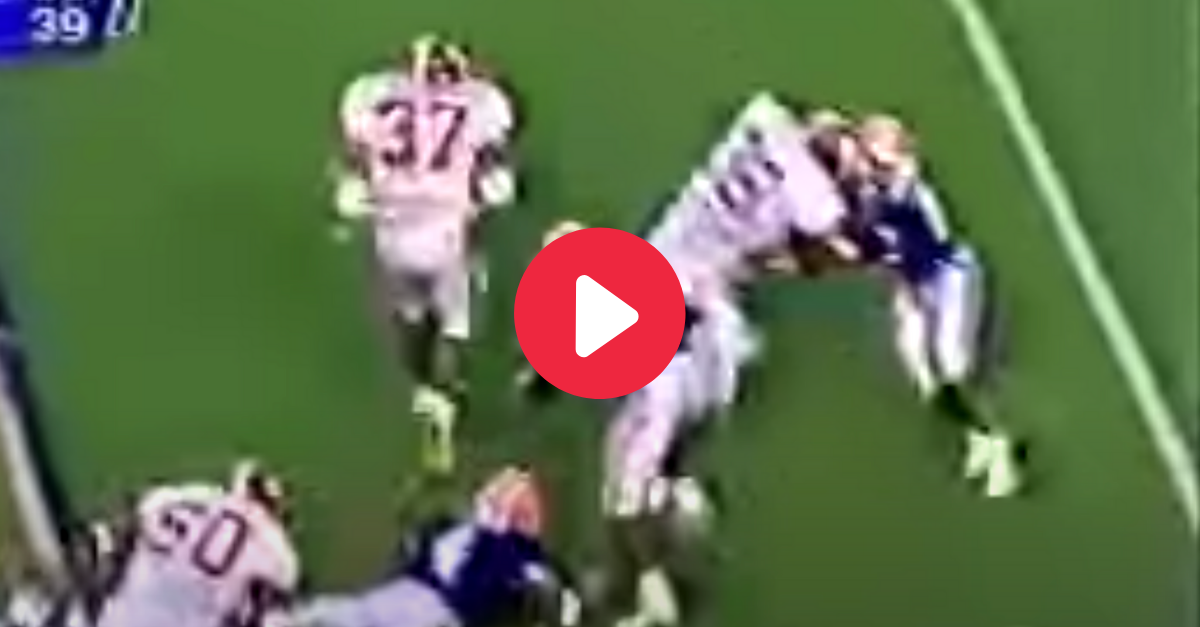 Screenshot from YouTube
No matter the year, you can expect fireworks when the Alabama Crimson Tide and Florida Gators meet on the gridiron. The two SEC powerhouse programs have so much talent, it?s scary. There have been some classic showdowns over the years, but perhaps none were as crazy as the 1999 regular-season game in Gainesville.
It was October 2, 1999, and so much was at stake. Both teams were undefeated in league play and No. 3 Florida was riding a 30-game winning streak at The Swamp. No. 21 Alabama had big plans for an upset, however, and they made it happen.
Behind running back Shaun Alexander?s four touchdowns and a wild kicking fiasco, the Crimson Tide escaped with a thrilling 40-39 victory in overtime. The ending was as insane as it gets in an NCAA college football.
1999 Alabama vs. Florida at The Swamp
RELATED: Marcell Dareus? Pick-Six Sealed Alabama?s National Title
Heading into the top-25 matchup, the University of Alabama football team had an uncharacteristic loss to unranked Louisiana Tech at Legion Field in Birmingham. With the next five games coming against ranked opponents in the Southeastern Conference, it?s maybe understandable why head coach Mike DuBose?s team tripped up. Playing third-ranked Florida was going to be the toughest game all year, though, and the Crimson Tide came to play.
Alabama held the ball for over 40 minutes and racked up nearly 450 yards of offense behind quarterback Andrew Zow, running back Shaun Alexander, and wide receiver Freddie Milons. Most importantly, they were able to put points on the scoreboard to match Steve Spurrier?s explosive Florida offense.
A touchdown run by Alexander in the fourth quarter kept the game alive, and then overtime was just pure madness.
After Florida scored to start the extra period, Florida kicker Jeff Chandler pushed his extra point attempt wide right. Then, on the next play, Alexander found the end zone and left Alabama?s fate up to kicker Chris Kemp.
Kemp missed his extra point attempt, too, and it sent Gainesville into a frenzy. However, Florida?s Bennie Alexander was called offsides and Kemp was given a second chance, which he squeaked through the uprights.
The upset was complete. The winning streak snapped.
A week after Alabama took down Auburn in the Iron Bowl, the Crimson Tide met Florida again for the SEC Championship Game at the Georgia Dome in Atlanta. The Gators didn?t stand a chance in the rematch that night as Alabama cruised to a 34-7 victory.
Ironically enough, Alabama kicker Ryan Pflugner missed an extra point attempt in overtime of the 2000 Orange Bowl against Michigan to end the season with a heartbreaking loss.
The 1999 season was a lot of fun for Alabama. Sure, losses to Louisiana Tech, Tennessee, and Michigan stung, and there wasn?t a national championship opportunity, but big wins over Arkansas and LSU in Tuscaloosa were great. So was winning the SEC title game.
Nothing can compare to that thriller at Florida, however. That football game was in a league of its own.