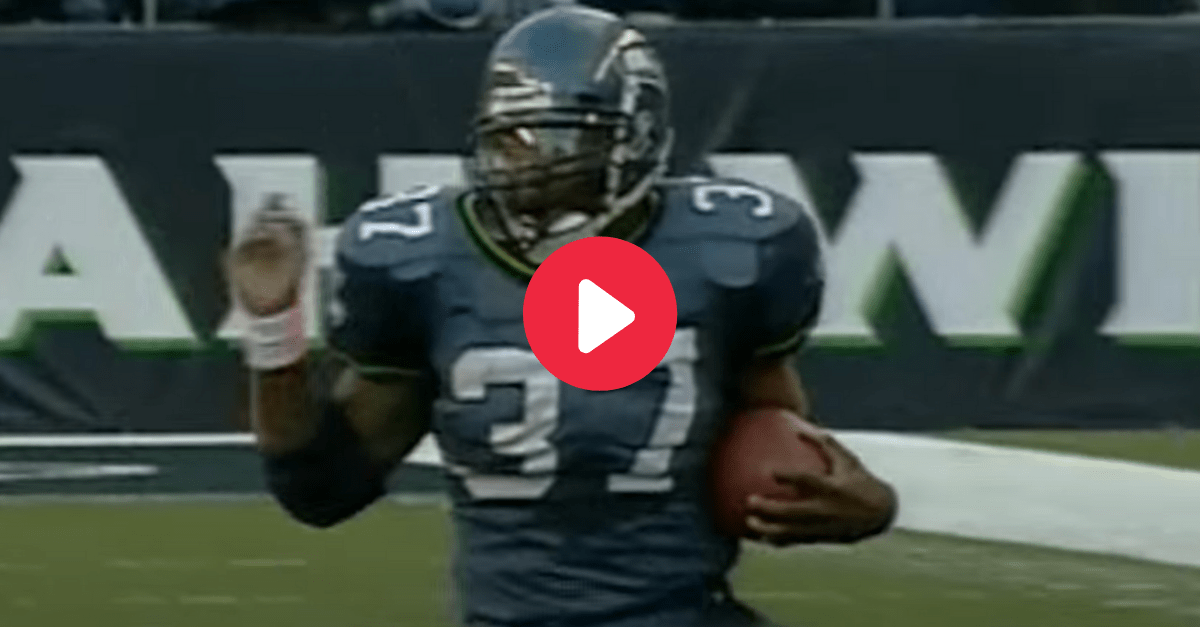 Screenshot from YouTube
For most NFL players, it doesn?t get much better than Sunday Night Football during the regular season. The primetime matchup has been one of sports? biggest stages for years and it?s where the game?s top stars shine the brightest. Nobody lived up to that hype more than former Seattle Seahawks running back Shaun Alexander.
Back on September 29, 2002, history was made. What was originally expected to be a potential high-powered NFC shootout against the Minnesota Vikings quickly became a game of desperation. Both teams were winless and needed a spark to get the season back on track. Then, Alexander delivered.
With over 65,000 fans in attendance at Seahawks Stadium, Alexander bullied his way to five touchdowns, including four rushing touchdowns and one receiving, in the first half alone. The five scores and 30 points in a half remains an NFL record to this day.
Shaun Alexander?s 5 Touchdown Half
RELATED: Barry Sanders Retired in His Prime, But Why Did He Do It?
Shaun Alexander was no stranger to playing well in big-time games on national television. It?s what made him an All-American at the University of Alabama and a first round pick by the Seahawks in the 2000 NFL Draft.
After a quiet rookie season playing behind Ricky Watters, Alexander burst onto the scene in his second year. His most notable performance was on Sunday Night Football when he racked up a franchise-record 266 rushing yards against the Oakland Raiders.
Less than a year later, the 5-foot-11, 230-pound running back and future NFL MVP had the game of his life on ESPN.
In a game that featured stars such as Daunte Culpepper and Randy Moss, it was Alexander who completely stole the show that night. He scored twice in the first quarter and three more times in a 65-second span in the second quarter to break the record.
He scored rushing touchdowns from two yards, 20 yards, three yards, and 14 yards out, and raced into the end zone on an 80-yard pass by Seahawks quarterback Trent Dilfer in the middle.
It was a dominating performance that probably doesn?t get enough credit. Alexander finished the night with 139 rushing yards on 24 carries with four touchdowns, while adding three catches for 92 yards and another score in the 48-23 victory.
"I think it's national television. I like playing in front of a lot of people,? he told Seattle PI. ?I usually get excited and everybody gets excited to play, and good things happen.?
After that special game of over 230 total yards and five total touchdowns, Alexander enjoyed an amazing career. He made three-straight Pro Bowls, won the 2005 NFL Most Valuable Player, and played in Super Bowl XL against the Pittsburgh Steelers.
Alexander, a Florence, Kentucky native and former Boone High School star, racked up over 10,000 all-purpose yards and 112 total touchdowns during his NFL career with the Seahawks and Washington Redskins.
Although those numbers might not ever get him to the Pro Football Hall of Fame, nobody will ever forget that night and the way he destroyed the Vikings.