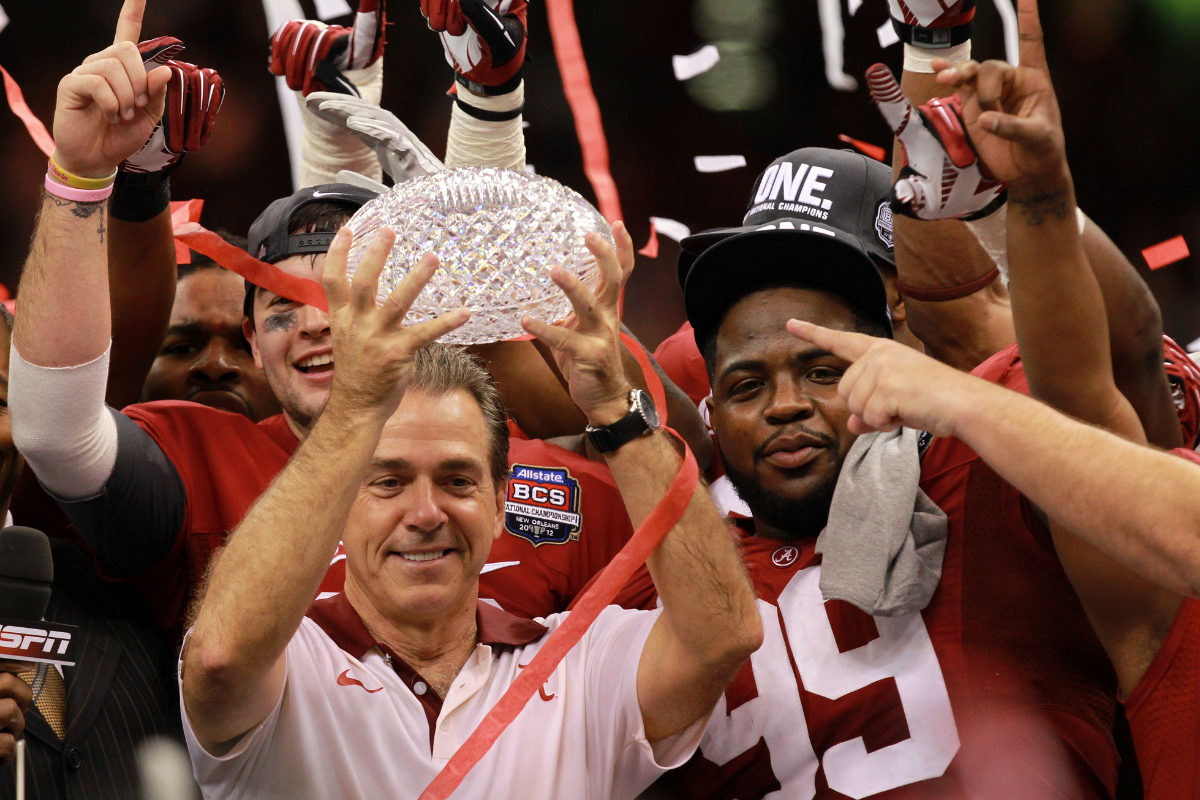 Ronald Martinez via Getty Images
The Alabama Crimson Tide football program has a crowded trophy case. When the athletic department is talking about spending on new facilities, they mean they're expanding the trophy room. What a dreadful problem to have.
Nick Saban has added six of college football's most precious hardware since he arrived in Tuscaloosa in 2007. Well, five actually. One didn't last long in its new home.
Let's remember this wild story nearly 10 years later.
Alabama's Broken 2012 BCS Trophy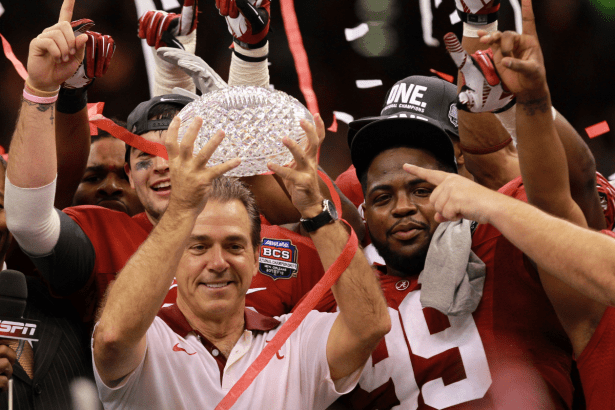 Remember the crystal football trophy from the BCS days? You know, one of the greatest championship trophies in sports history. The crystal football was the crown the sport deserved. The current College Football Playoff national championship trophy doesn't hold a candle to coaches hoisting the crystal gem post championship victory. It was appointment television.
Anyway, back in 2012, Alabama beat LSU and claimed the second national title of the Nick Saban era. Fast forward to that year's A-Day, Alabama's spring game. Carleton Tinker, the father of long snapper Carson Tinker, accidentally bumped into the trophy and smashed it into a million pieces.
RELATED: Ranking Nick Saban's 7 National Championship Teams From Worst to Best
He recapped the story to ESPN's Ivan Maisel:
"In my mind, it was slow motion," Tinker said, "as it rolled off the top of the trophy case onto the table onto the floor. I'm not sure if I bumped the table when I turned around, or if my foot caught on the large tablecloth they had draped and puddled on the floor. That's exactly what happened."

Tinker can say that because he has seen it happen over and over again.

"At night, as I went to sleep, every time I closed my eyes," Tinker said. "I kept seeing it roll off and hit the floor. That marble floor in the trophy room — it wasn't going to be a soft landing. It shattered. It spread out all over the place."
Tinker offered to pay to replace the trophy, which cost $30,000, by working in the athletic department. The university declined and assured insurance would cover it.
What were they going to do with the shattered pieces though?
They say one man's trash is another man's treasure. This proved true when the broken pieces were put in a bowl instead of the wastebasket. Why not? Maybe someone wanted a piece of Alabama history regardless of condition.
The Trophy Was Auctioned For $105,000
Turns out there was someone out there who was willing to pay a pretty penny. The pieces were auctioned for a measly $105,000 at the 2013 UA Celebrity Golf Tournament.
As for Tinker, he shouldn't feel bad nor receive any grief. Stuff happens. Could've been anyone. In hindsight, it was a great business decision.
I suggest the CFP award the championship trophy in several broken pieces from here on out. It makes victory more than three times as sweet.
Related Videos