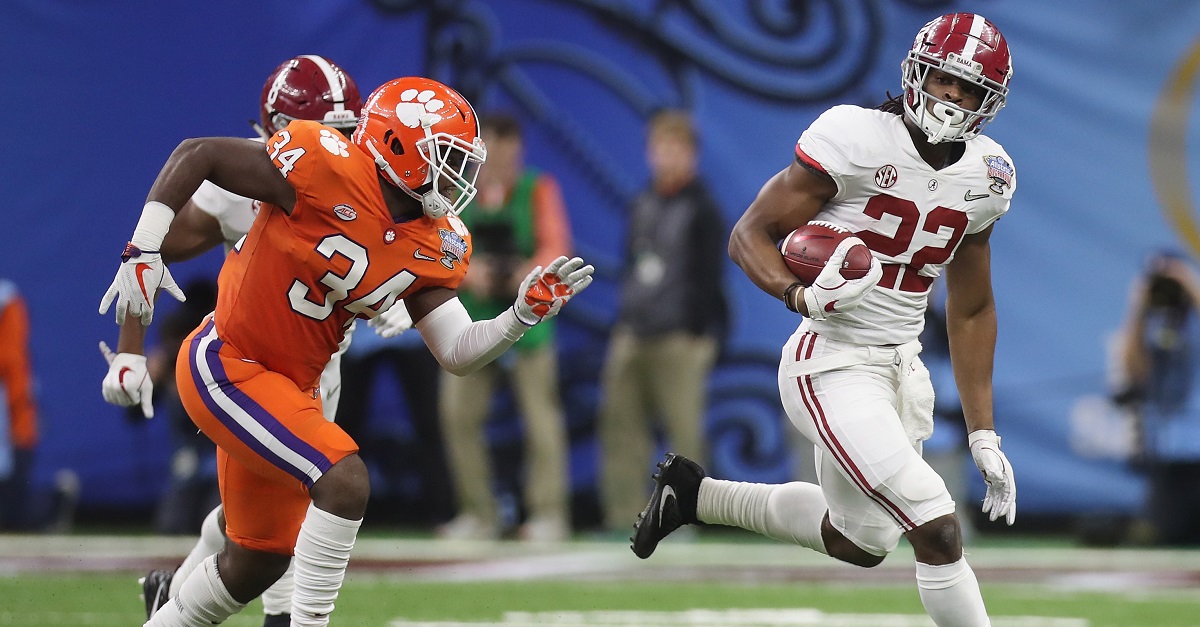 Chris Graythen/Getty Images
NEW ORLEANS, LA - JANUARY 01: Najee Harris #22 of the Alabama Crimson Tide runs with the ball as Kendall Joseph #34 of the Clemson Tigers defends in the first half of the AllState Sugar Bowl at the Mercedes-Benz Superdome on January 1, 2018 in New Orleans, Louisiana. (Photo by Chris Graythen/Getty Images)
The much anticipated Alabama-Clemson rematch didn't quite give us everything we hoped for as the offense was not nearly as exciting as the last two matchups. It was a real slug fest on the way to a 24-6 win for Alabama.
Both teams went three-and-out on their first offensive possessions, but Alabama put up three points on the board on their second possession. Clemson failed to get anything done on yet another possession after that field goal and the Tide ended up going down the field and scoring on a pretty much broken play:
Clemson got its first first down of the game about a minute into the second quarter and seemed to get a little more comfortable on that drive. It ended with a field goal though to make it 10-3 with about 10 minutes left in the half. However, they lost star freshman running back Travis Etienne early in the game to concussion-like symptoms.
Fortunately for Clemson, a missed field goal by Alabama kept the deficit to only seven points. Neither team got a foothold on offense, but the Crimson Tide just seemed to dominate and even held Clemson to 73 total yards in the first half. Alabama also more than doubled that with 182 of their own in the half.
Despite a fumble by Alabama to start the second half, Clemson was only able to get three points out of it to make it a 10-6 game as the offense still couldn't get anything going. On the next possession, they seemed to be getting momentum as Kelly Bryant had gotten a few passes to go and was converting third downs, but had a costly turnover due to bad protection.
That led directly to a touchdown from Alabama and ironically enough, the receiver who caught it was the same guy who got the interception to get the Crimson Tide the ball in the first place. Fat guy touchdowns are truly a thing of beauty:
And when Clemson got the ball back, things really unraveled as Bryant threw an interception that was returned for a touchdown by linebacker Mack Wilson.
That 24-6 score would hold to the fourth quarter as the total yards advantage went up to 225-99 in favor of Alabama after three quarters of play. This game was easily the worst offensive output of the season, if not the last few seasons, for Clemson and will surely send them back to the drawing board next season.
Clemson finished with 188 total yards while Alabama had 259 and the Tigers' two turnovers were just too much to overcome as they both resulted in touchdowns for the other team. Crimson Tide running back Damien Harris had 18 carries for 75 yards while quarterback Jalen Hurts threw for 120 yards and two touchdowns on the game.
Georgia and Alabama will meet for an all-SEC National Championship Game after the Bulldogs beat Oklahoma in overtime in the Rose Bowl. The game will be played on Jan. 8 with a kickoff set for 8 p.m.