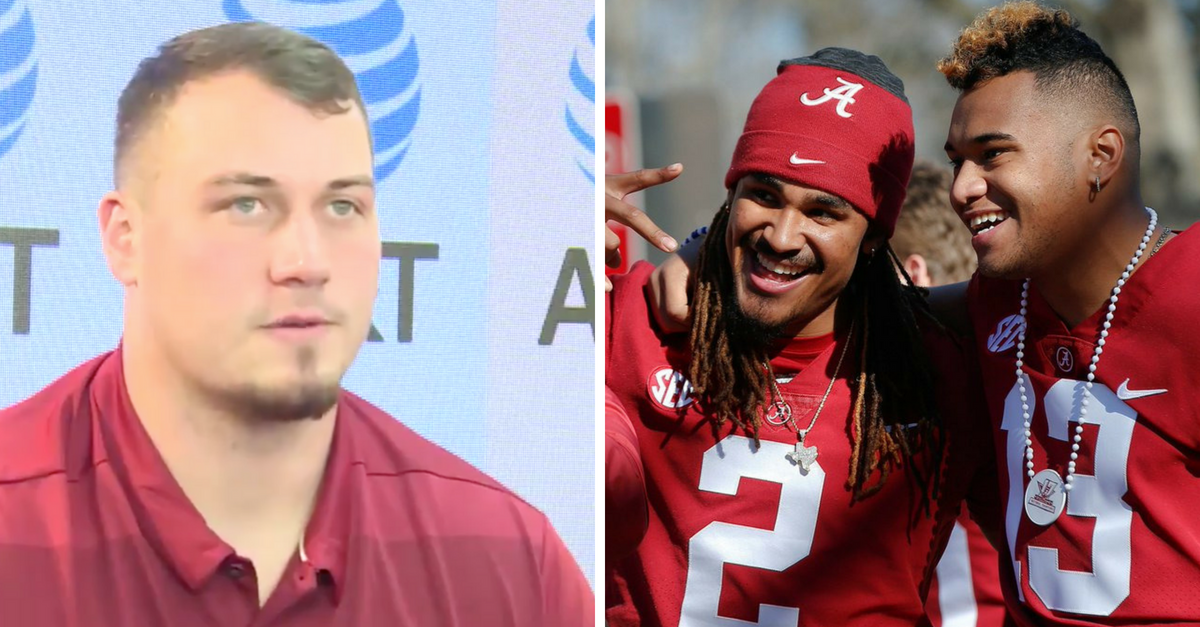 Twitter: @Grace_Remi, @DuaneRankin
Twitter: @Grace_Remi
Twitter: @DuaneRankin
The Alabama Crimson Tide's title defense this season has been anything but focused on team football. The narrative outside the Tide locker room the entire offseason became, "Who will be the Crimson Tide quarterback?"
At Alabama Media Days, junior quarterback Jalen Hurts let loose very pointed comments directed at how Alabama's staff handled the rumors that swirled all offseason. The team responded, and they held a meeting to clear the air heading into key weeks of August training camp.
On Tuesday, fifth-year senior offensive lineman Ross Pierschbacher made it clear during his media availability that the entire Crimson Tide team had met to address elephant in the locker room.
The message was simple: moving forward, the focus is on Alabama football, not the Jalen Hurts/Tua Tagovailoa quarterback drama.
?We are all ready to move forward. It?s not about those two guys, what happens with that. We are going to play regardless,? Pierschbacher said. ?We are just excited to get back out on the field, be together and grow as a team; and grow as a family as well, closer together and just get ready for the season.?
Pierschbacher, who will move to center this season after 42 starts at left guard for Alabama, will be a highly touted NFL draft pick in next year's NFL Draft regardless of his position.
Last year's first team All-SEC guard is already on the Rimington Trophy watch list, given to college football's top center, and was named preseason All-SEC in 2018 without having played a snap as the quarterback of the Crimson Tide offensive line.
If anyone has say over the identity of this team, and what Alabama football is truly focused on, it's Pierschbacher.
Nick Saban's quarterback controversy has spiraled out of control, and received even more fuel to the fire when Jalen Hurts sounded off at Alabama Media Day over the weekend.
"No one came up to me the whole spring, coaches included, no one asked me how I felt. No one asked me what was on my mind," Hurts told reporters. "Now when we're trying to handle the situation now, for me it's kinda late. It's too late. The narrative has already been created."
It's going to be Hurts, a junior whose 26-2 record speaks for itself, or rising sophomore Tua Tagovailoa, billed as the better passer and overall quarterback prospect, who wins the starting job for the Tide.
General consensus is that the loser of the battle, who many believe will be Hurts, especially after what he said this week, will likely transfer out of the program for another opportunity.
The quarterback battle will loom early in the season, but the rest of the Crimson Tide team has had enough.
Alabama won't be defined by one position battle, no matter how much the rest of the country wants to talk about it.
Ross Pierschbacher acted like a leader, and he addressed the issue loud and clear.